How you can get involved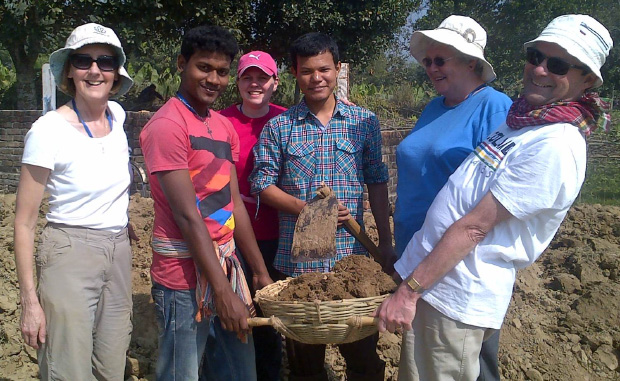 Twinning is a relationship in which congregations or presbyteries link with partner churches across the world for mutual learning and mission engagement.
The Vision
Through the World Mission Council, the Church of Scotland invites you to discover, experience and share the challenges and opportunities of connecting with the world church through Twinning. This is an excellent opportunity to work together in mission.
Why Twinning?
For over 100 years congregations have been linked to Mission Partners or Missionaries, people appointed by the Church of Scotland to serve overseas. This helped to bring a global dimension to the ministry of the local congregation. However, over time, fewer people have come forward to serve in this way and the need for personnel declined as partners trained their own personnel. It became necessary to develop new and creative ways to enable congregations to link with churches overseas. Twinning is one way of doing this which has greatly benefited congregations and their surrounding communities.
Click here for our partner churches profiles.
The Benefits
Sharing and Learning. Partners in a twinning relationship share with each other, and learn from each other as they are exposed to new ideas, perspectives and experiences. These communities have witnessed the strengthening of friendships as twinned congregations learn together
Increased Understanding. Twinning opens the door to deeper understanding between cultures. With more opportunities for interaction, dialogue and first-hand experience through visits, participants can better understand what it is like to walk in another person's shoes
Fruitful Fellowship. The relationship can provide space for sharing experiences and expressions of faith, and often fosters growing faith and lasting friendships
Joint Action. Twinning is an opportunity to engage with the big issues in the world - like climate change, trade justice and poverty. Pooled resources and combined efforts can tackle seemingly insurmountable problems. This enables partners to be a blessing to, and be blessed by, each other. Programmes and activities could potentially involve a wide cross-section of the membership of your congregation and community including children and young people
Participating in God's Mission
The twinning relationship is rooted in our faith in Jesus Christ, our love of God and each other. It is an opportunity to participate in God's mission based on the understanding that we all have gifts to offer and experiences of life and faith to share
God invites us to participate in His mission in the world. This mission is not confined to the locality of a congregation's ministry, nor to the boundaries of a nation. The Church of Scotland's special relationship with our partner churches provides a rich context for our involvement in world mission. These relationships demonstrate our understanding as a Church of being part of the Body of Christ
As part of the Body of Christ we belong together, strengthening, helping and building each other up. Partnerships provide a framework for joint working and learning and Twinning is a concrete way of demonstrating that we belong together.
Is Twinning for you?
Here are some questions for you to consider.
Why do you want to be part of such a relationship? Consider carefully the reasons behind your interest in Twinning. Could this be an opportunity for your congregation to look outwards? Is this a way of commemorating a special milestone in your congregation's life? Would this bring your presbytery closer together as congregations collaborate through twinning?
What do you hope to gain from a Twinning relationship? Consider how such a partnership could enrich the life of the congregation, presbytery and the community. Think about the needs and demographics of your church/community/presbytery. What would be of most benefit to them? What would most appeal to them?
What can you share in a Twinning relationship? Consider the gifts, skills and experiences of those who make up your congregation. Think about the congregations which comprise the presbytery
What are the strengths within these communities? Who are the constituent groups: young people, professionals, retired persons? Is this a rural or urban setting? How could the uniqueness of your congregation's location contribute to this relationship?
Are you open to being challenged and changed by this Twinning relationship? Spend time in prayer, enquiry and discussion. Find out more about Twinning and how to begin a Twinning relationship
How do you begin a twinning relationship?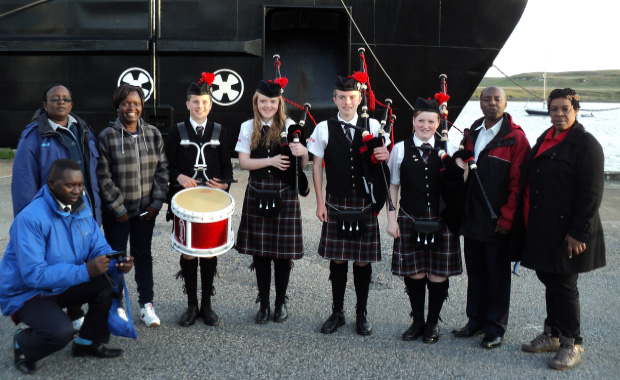 Catch the Vision. Listen to the stories among you. Often presbyteries/congregations find the spark of a possible Twinning in enthusiastic individuals who have had some connection with another country. They may have shared their interest with a small group of persons who could enthuse others in the congregation or presbytery. Hear/read other people's stories, we can connect you with others who have already embarked on this journey
Understand the Concept. Invite a speaker to share about Twinning. Contact the Twinning Development Officer in the World Mission Department
Pray and Discuss. Gather a core group to pray for God's direction for how your congregation or presbytery might participate in God's mission through Twinning. If possible, reflect on characters in the Bible and stories which could provide insight for your exploration. Your minister and the World Mission department can provide help with resources. Share the idea of Twinning with key leaders and consider how you will encourage the whole congregation or presbytery to own the partnership.Is there a particular area of the world or a specific focus of ministry to which you are drawn? Perhaps there are links or interests which could be developed such as trade justice, climate change or the development of children and women
How do you find a 'Twin'?
Twinnings can be formed by developing an existing link or creating a completely new one. Here are some key steps in the process:
Complete a Profile form. This may be obtained from World Mission. The information on this form provides a profile of the life and work of your congregation and should include what you hope to gain and to give in the twinning relationship. Return your profile to The Twinning Development Officer
Receive profiles from partner churches. The World Mission Department will work with you to decide on the sort of church you could twin with, and will give you a selection of congregational profiles from partner churches for you to explore
Make a choice. Select the one you think is most suitable for you. It's important to take the time you need to make a choice. Once this selection has been made, World Mission staff work with you and the Partner Church to get the relationship agreed on both sides. The time it takes to find the right twin for you can vary hugely, so be patient!
Form a Twinning Committee. By now the people with the passion for the Twinning will have become evident. At this point it is important to decide who will lead the Committee. Think carefully about the skills, experiences, gifts and passion necessary for this role. Think too about key groups in the congregation whom you may want to involve here. The team then will set some guidelines for the Twinning, initiate communication and keep the congregation on board
Begin communicating. Once there is mutual agreement, begin communicating using whatever channels are most appropriate. In the early stages of the Twinning it is important to know which methods of communication are most effective as well as who the key communicators will be. It is important to share what each side wants to gain from the Twinning and what each is able to give to it. From this a common vision can be formulated. You will need to identify goals and share ideas of how the goals could be .Once goals are set, the formulation of a Twinning Agreement can commence. World Mission staff can help with this too
The World Mission Council - Here to help!
People
The World Mission Council through the Local Development Committee supports and facilitates the Twinning process. If your congregation or presbytery decides to commit to Twinning, we can provide advice, guidelines, practical suggestions and other help. Our role is to facilitate and help the process of thinking, choosing a partner and the initial introduction. As well as the staff directly responsible for twinning, we have people with specialist knowledge of the regions: Africa and the Caribbean, the Middle East, Europe and Asia. All which is available to support your Twinning.
Funding
Visits can help to advance the twinning relationship in very powerful ways. Funding is available for parties from congregations or presbyteries in the twinning relationship to visit each other. Through our Faithshare programme, you can apply for funding to assist with the cost of fares, visas and travel insurance. The programme enables more people in a congregation to be involved in the experience of the visit. Applications must be made through the Local Development Committee and appropriate forms may be obtained by contacting the Senior Administrator - agrahame@churchofscotland.org.uk
Why not embrace this opportunity to embark on a journey of discovery of how God is at work in the world?
You can be a part of that work....through TWINNING.