General Assembly
The General Assembly is a significant annual event in the Church of Scotland calendar. Throughout the week, commissioners to the General Assembly examine its work and laws and make decisions that affect the future of the Church.
Due to COVID-19, the 2020 General Assembly, which was originally scheduled to take place at the Assembly Hall in Edinburgh from 16-22 May 2020, will now be held online the evening of Friday 2 October and all day Saturday 3 October.
Commissioners, Youth Representatives and Corresponding Members will take part remotely, with all discussions, voting and amendments taking place online through a new Assembly Hub on the Church of Scotland's Website.
The event will be live streamed on the Church of Scotland website, so anyone who wishes to can be a part of the General Assembly. More details are available on our General Assembly 2020 page.
In May, a special ceremony to install the new Moderator was held at the Assembly Hall, and an online version of Heart and Soul was streamed live. Video of both events, as well as copies of the speeches, are available on our General Assembly 2020 page.
Matters which would normally be decided by the General Assembly, and which cannot wait until 2021, are now being considered by a Commission of Assembly. The outcome of those deliberations will be announced in due course.
If the health crisis passes and government guidelines permit, the 2021 General Assembly will be held in the General Assembly Hall on the Mound in Edinburgh. It will open on Saturday 22 May and will close on Friday 28 May. The public gallery will be open for anyone who wishes to watch the Assembly.
Relive the General Assembly 2019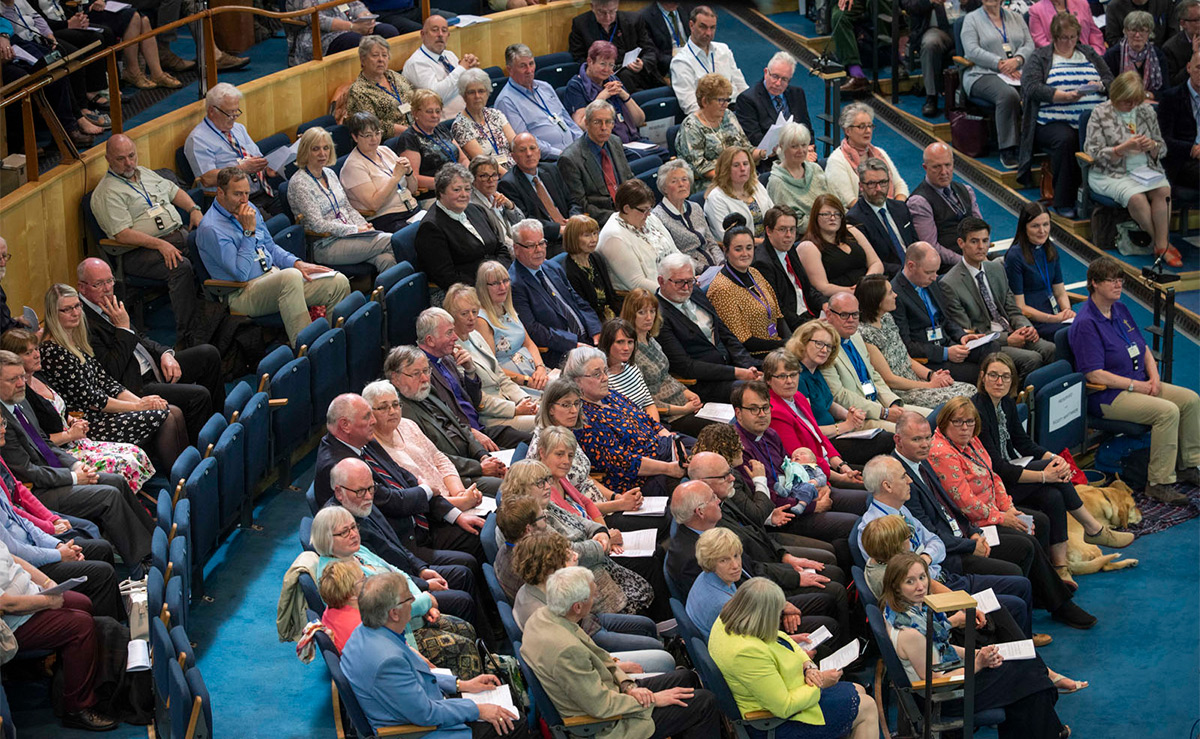 The General Assembly 2019 was held from 18-24 May and had more than 700 commissioners.
The Assembly notably debated the radical action plan, fossil fuel divestment, and the future of the National Youth Assembly.
Convener speeches, Moderator's worship, and supporting documents, are all available in the General Assembly 2019 section. You can also re-watch any session of the Assembly or listen to the summary podcasts of the Assembly's morning and afternoon's business.
Moderator of the General Assembly 2020
A minister who set up a mental health support service following the suicide of Frightened Rabbit frontman Scott Hutchinson is the newly appointed Moderator of the General Assembly of the Church of Scotland.
Rev Dr Martin Fair, the minister of St Andrews Parish Church in Arbroath, begins his year-long role of ambassador for the Church of Scotland in May 2020, succeeding the 2019-20 Moderator, Rt Rev Colin Sinclair.
Laws of the Church of Scotland
Visit our Church Law section for more information about the Acts, Regulations, and Constitution of the Church of Scotland, and the Barrier Act.