General Assembly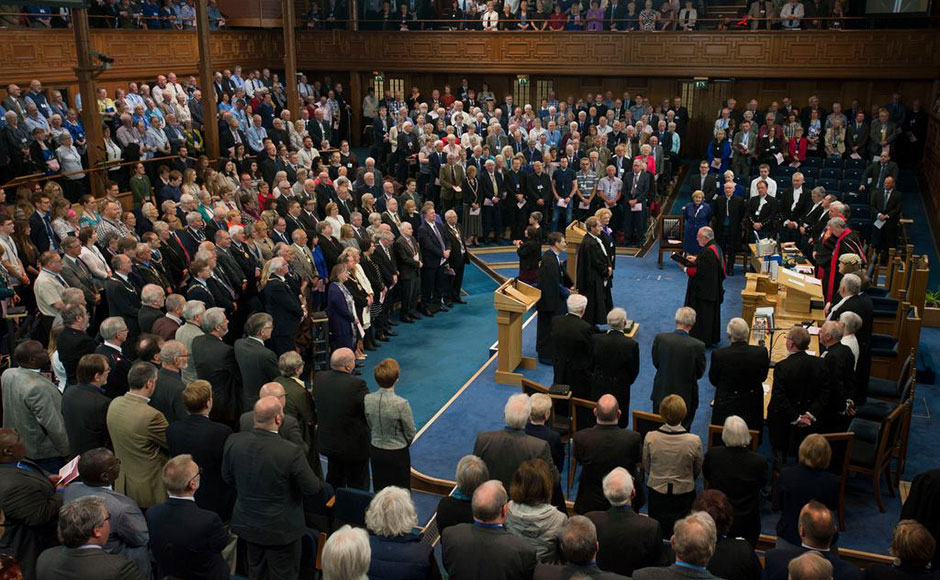 The General Assembly is the Church of Scotland's decision-making body, bringing together commissioners drawn from every congregation annually to make and refine church laws.
The 2019 General Assembly
The 2019 General Assembly will be held in the General Assembly Hall on the Mound in Edinburgh. It opens on Saturday 18 May and closes on Friday 24 May.
Background
Considered the highest court of the Church, the General Assembly meets in May each year for a week, usually in the Assembly Hall on the Mound in central Edinburgh. The other courts in the Church are the kirk session and the presbytery. Commissioners to the General Assembly must be ministers, elders or members of the diaconate.
The first General Assembly was held in December 1560, which was the year of the Scottish Reformation and which marks the beginning of the Church of Scotland as we now know it.
During the Assembly
Chairing the daily business of the Assembly is the Moderator of the General Assembly. At times when the Moderator has to be absent from the debating chamber, a former Moderator will take the chair.
The 850 commissioners who attend are sent from the Church's parishes and presbyteries. Different commissioners are usually sent each year. Debates on matters contained in reports presented by the Assembly's various councils and committee can be lengthy and complex, sometimes resulting in many votes having to be taken in respect of a particular motion or amendment.
The Lord High Commissioner, or Queen's Commissioner, is appointed by the Queen as her representative at the General Assembly and attends daily business as an observer.
Also attending the Assembly are delegates invited from other Christian denominations in Great Britain, Ireland and overseas, together with guests of the Lord High Commissioner and civic dignitaries and politicians, who are seated in the throne gallery.
Sometimes a distinguished visitor will be invited to address the Assembly. The late Baroness Thatcher, Gordon Brown and Most Rev Desmond Tutu are among former distinguished guests. In 2017, Loretta Minghella, then head of Christian Aid and HRH Prince Ghazi bin Muhammad of Jordan addressed the General Assembly.
Each year, we provide a live webcast of the Assembly, with the help of Sanctus Media, as well as stories, reports and online updates on each day's business. The webcast will be available on the Church website as well as through a dedicated General Assembly website which will also host daily papers, council and committee reports and other information for commissioners and anyone who wishes to follow the proceedings.