Spiritual styles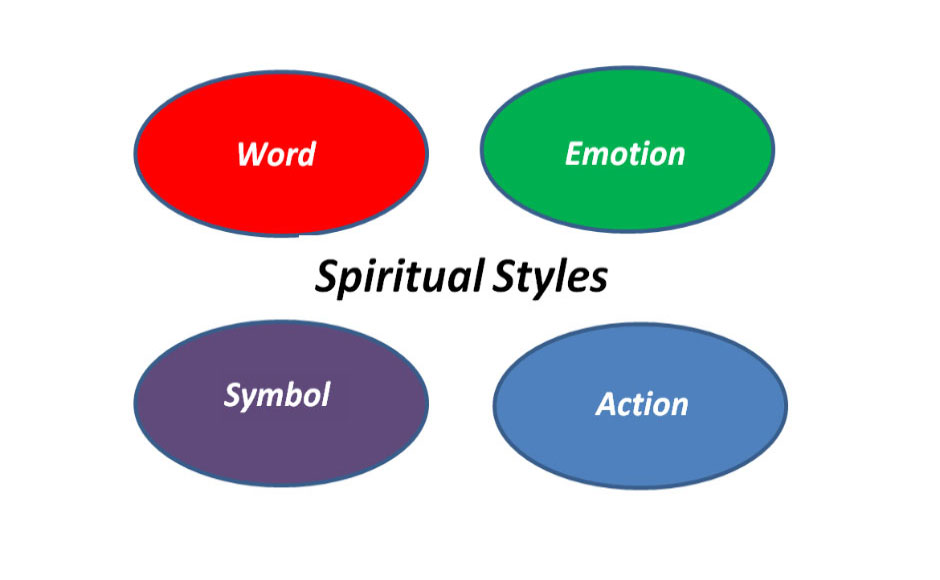 Worship is an integral part of faith formation; it is as we encounter God that our faith forms and develops. But creating worship that everyone is able to engage with can be a real challenge as we all appear to like different things. This has led some to consider if there are any patterns to how adults worship; Gary Thomas in his book Sacred Pathways suggests that there are nine spiritual temperaments. As leaders it is worth exploring these ideas, as it helps us to understand how our own preferences in worship affect the worship opportunities we prepare for others.
More recently Dave Csinos has extended this line of thinking to how children worship and having conducted a piece of research with children from different congregations in Canada he concluded that there are four different spiritual styles - word, emotion, symbol and action - and children have a marked preference for one of them. He goes on to suggest that when children disengage from worship it is most likely because what is being offered is not enabling them to encounter God as it doesn't fit their spiritual style, rather than being because they are not interested in God.
Young people and adults also have preferences that are contained in these same spiritual styles, although as we get older, developing cognitively and have more experiences of worship our preferences broaden so that we can become more adept at encountering God through more than one of the different styles.
Over recent years times of all age worship have been known to instil fear in those preparing and those attending as by trying to reach people of all different ages at the same time they don't really work for anyone. If we change our focus from being all age worship to being all styles worship we have the potential to unlock these times and create worship experiences that enable all to encounter God together.
Word
Those that have a preference for the word style, know God when they know about God. For them, the spoken and written words used in worship are important; they encounter God through well read Scripture readings, through the words of hymns, through the words of prayers, through the exposition of the Word through sermons. Knowledge about God is important so enabling people to understand how the different stories in the bible fit into a whole is a worthwhile activity. When praying, people with a preference for the word style are likely to feel uncomfortable with extemporary prayer as they would struggle to muster the right words to use on the spot. For them taking time to craft prayers, selecting what they consider to be the right words in the right order, enables them to encounter God.
Emotion
Those that have a preference for the emotion style, know God when they can feel God, especially when they're with others. For them a sense of personal renewal and getting in touch with their feelings as they worship are important; they encounter God through music, drama, dance, being with and sharing with one another. Jesus is most often perceived in relational terms, as divine friend so emphasising the personhood of God through the different bible stories is a worthwhile activity. Personal relationships are treasured by people with a preference for the emotion style, so enabling them time within worship to cultivate them is important, as is the sharing of personal testimonies. Conversely long periods of silent reflection or not being able to actively participate in worship makes them uncomfortable and doesn't enable them to encounter God.
Symbol
Those that have a preference for the symbol style, know God through mystery, symbols and images. They value abstract symbols and metaphors as they find that words can't describe the transcendent adequately. They sense God through beauty, awe and wonder, and in the natural world so God can be felt in the mountains or in a stained glass window. For them meditation and chants can be really worthwhile activities and they value times for silent reflection as they like being alone to wonder about God. They are more likely to be uncomfortable participating in group activities too often or being asked to pray out loud.
Action
Those with a preference for the action style, know God when they are doing the work of God. Spirituality for them is very much something to be lived so they have an unquenchable thirst for justice, seeing God in the cry of the poor. They really like welcoming people as they come into church, writing letters, signing petitions and raising money for charity campaigns. Their zeal for such activity can sometimes be isolating for them, and they get really uncomfortable when no one shows enthusiasm for such things. For them being part of groups filled with only bible stories and craft activities is uncomfortable and doesn't enable them to develop their faith.
Throughout all we do we must respect the uniqueness of each child's spirituality. Some will prefer to seek God intellectually with their head, like Paul. Others will lead with their heart as did Peter. Some, like David, will prefer to lift God up to the heavens with song and speech; others like Elijah and Elisha, will find more meaning in serving the powerless as they work to enact God's kingdom in this world.
Roots all age and age related material consciously tries to bring in all these learning styles in their materials. Visit the Roots website for more information.
Useful reading
David M. Csinos
David M. Csinos is an author and speaker in the areas of children's spirituality, church and culture, and spiritual formation. Dave's first book, "Children's Ministry that Fits," was acclaimed by academic and pastoral publications in North America and Europe. He is the founder and executive director of Children, Youth and a New Kind of Christianity and he studies practical theology at Emmanuel College of Victoria University in the University of Toronto, where he is a doctoral student and a Teaching for Ministry Fellow. He gave this keynote address at the 2012 Conference given by the Centre Excellence in Christian Education in Toronto: Making it Easier to Serve.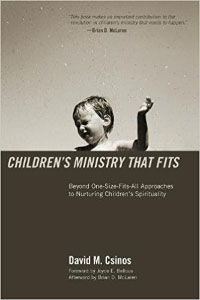 Children's Ministry that Fits – David M. Csinos
Children's Ministry that Fits blends insightful research, relevant theory, and practical ministry into a guidebook for discovering and understanding children's spiritual styles. David M. Csinos offers practical wisdom that will help ministers, worship leaders, parents, and children's workers to move beyond one-size-fits-all approaches to children's ministry and begin nurturing the spiritual lives of children in welcoming and inclusive environments.