Ecumenism
As part of the universal Church, we believe that God calls us to celebrate and move towards visible unity, to strive to work more closely with our Christian sisters and brothers, both in Scotland and throughout the world. We therefore work ecumenically, wherever possible, engaging with other churches in a variety of ways at local, national and international levels.
More and more around Scotland, men and women are working, studying and worshipping together with other Christians. In this way, Christians living in local communities find their faith enriched through the discovery that there is more that unites us than divides us. The Church is a major supporter of Action of Churches Together in Scotland and is a member of Churches Together in Britain and Ireland.
The Ecumenical Relations Committee is responsible for encouraging and enabling an ecumenical vision within the Church of Scotland.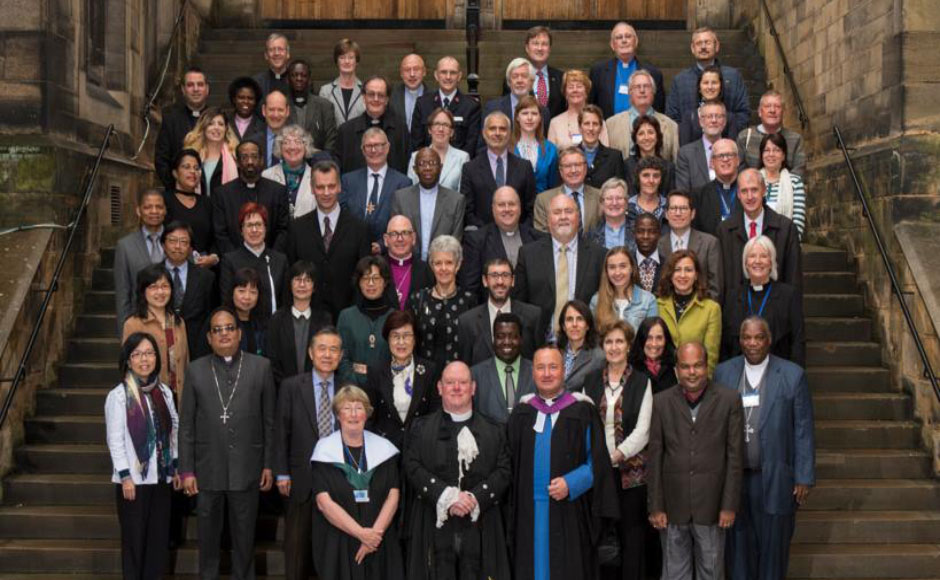 Resources
Our resources section contains study documents and information about:
Grants for ecumenical study, ie Growth in Communion, Partnership in Mission - Columba Declaration (Church of England/Church of Scotland Joint report)
Baptism: Catholic and Reformed study booklet
Liturgy for the Reaffirmation of Baptismal Vows
Our Fellowship in the Gospel (joint study group – Church of Scotland/Church of England
Convergence text from the World Council of Churches Faith and Order Commission The Church: Towards a Common Vision
Our global family
The Church works with a number of partners and other churches throughout Scotland and across the world.
Action of Churches Together in Scotland (ACTS)
ACTS is an expression of the commitment of nine trustee member Churches to one another. It is governed by a Board of trustees which consults with the Members' Meeting. The Members' Meeting is composed of representatives from the nine trustee member Churches. ACTS has moved from Networks to project-based work, funded from a designated Programme Fund. It's work is focused on local ecumenism, faith and order matters and issues related to the church, society and justice.
ACTS is staffed by a general secretary, an assistant general secretary and two programme officers. These structures facilitate regular consultation and intensive co-operation among those who frame the policies and deploy the resources of the churches in Scotland. At the same time, they afford greater opportunity for a wide range of members of different churches to meet in common prayer and study.
Visit ACTS online at www.acts-scotland.org
Churches Together in Britain and Ireland (CTBI)
In September 1990, Churches throughout Britain and Ireland, solemnly committed themselves to one another, promising to do everything possible together. To provide a framework for this commitment to joint action, in addition to Action of Churches Together in Scotland and sister organisations in Wales and England, the churches established Churches Together in Britain and Ireland.
CTBI works with member churches to co-ordinate responses, share resources and learn from each others experiences.
There are currently eight subject-based areas:
Church and Public Issues
Theology and Unity
Mission
China Desk
Inter-Religious
International Students
Racial Justice
Action on Asylum and Refugees
There are also three theme-based work areas:
Environment and Climate Change
Culture, Identity and the Public Square
Migration and Movements of People
Visit CTBI online at: www.ctbi.org.uk
Conference of European Churches (CEC)
The Church of Scotland is a founder member of the Conference of European Churches (CEC), formed in 1959. More than 100 churches, Orthodox and Protestant, are members. Its working groups focus on theological issues and a wide range of church and society concerns. It works closely with the Churches' Commission for Migrants in Europe (CCME).
Although the Roman Catholic Church is not a member there is very close co-operation with the Council of European Catholic Bishops' Conferences. With the removal of the long-standing political barriers in Europe, CEC has opportunities and responsibilities to assist the Church throughout the continent to offer united witness and service.
CEC covers the whole of Europe, not just the European Union, and its member churches come from every country from the Atlantic to the Urals.
CEC's 15th General Assembly is to be held in Novi Sad, Serbia from 31 May – 6 June 2018. The Assembly theme is "You shall be my witnesses". Find out more about the General Assembly by visiting the CEC Europe website.
Visit the CEC online at: http://www.ceceurope.org
Community of Protestant Churches in Europe (CPCE)
The Church of Scotland is a founder member of the Community of Protestant Churches in Europe (CPCE), which was formerly known as the Leuenberg Church Fellowship. The Fellowship came into being in 1973 on the basis of the Leuenberg Agreement between the Reformation churches in Europe, and the name was changed to the CPCE in 2003. The Leuenberg Agreement stipulates that a common understanding of the Gospel based on the doctrine of Justification by Faith, and interpreted with reference to the proclamation of the Word of God, Baptism and the Lord's Supper, is sufficient to overcome the Lutheran-Reformed church division.
Over 100 Protestant churches in Europe, and a number of South American Chuches with European origin, have been signatories to the Leuenbeg Agreement, including Lutheran, Reformed, United and Methodist churches, as well as pre-reformation Waldensian, Hussite and Czech Bretheren, and they grant each other pulpit and table fellowship.
Visit the CPCE online at: www.leuenberg.eu
World Communion of Reformed Churches (WCRC)
The World Communion of Reformed Churches (WCRC) brings together 80 million Reformed Christians worldwide united in a commitment to making a difference on the big issues of our day - climate change, human rights, economic justice.
Its 230 member churches are Congregational, Presbyterian, Reformed and United with roots in the 16th century Reformation led by John Calvin, John Knox and others.
WCRC was born through an historic merger of the World Alliance of Reformed Churches (WARC) and the Reformed Ecumenical Council (REC) in June 2010. Delegates meeting in June 2010 in Grand Rapids, United States, launched a landmark effort to unite Christians for common witness and service to the world.
Rev. Alexander Horsburgh is the Secretary to the WCRC Europe Council.
Visit WCRC online at: wcrc.ch
World Council of Churches (WCC)
The Church of Scotland is a founder-member of the World Council of Churches (WCC) formed in 1948. The WCC was established as a "fellowship of Churches which confess the Lord Jesus Christ as God and Saviour according to the Scriptures, and therefore seek to fulfil their common calling to the Glory of the one God, Father, Son and Holy Spirit".
Its member churches, which number more than 300, are drawn from all continents and include all the major traditions: Eastern and Oriental Orthodox, Reformed, Lutheran, Anglican, Baptist, Disciples, Methodist, Moravian, Friends, Pentecostalist, and others. Although the Roman Catholic Church is not a member, there is very close co-operation with the departments in the Vatican. The WCC holds its assemblies every eight years.
At the 10th Assembly of the WCC held in Busan, Republic of Korea, in November 2013, Miss Miriam Weibye, Church of Scotland, was appointed to serve on the WCC's Central Committee.
Visit WCC online at: www.oikoumene.org