March 2022: Rev Dr Fiona Tweedie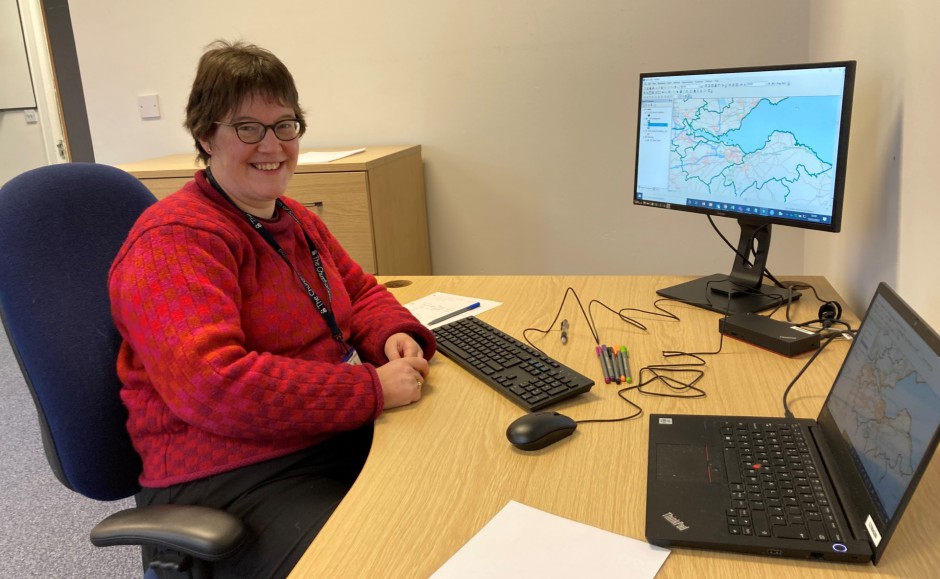 Each month throughout 2022, the Church of Scotland's 'Talking Ministry' series will share a personal story from those serving in Christian ministry, along with resources filled with questions, prayers and reflections to help encourage reflection on how God might be calling you at this time.
For March, Fiona Tweedie speaks about her role as a statistician with the Church of Scotland and we explore the theme: What is God's plan for me?
My ministry: Rev Dr Fiona Tweedie, Ordained Local Minister and Statistician with the Church of Scotland
Rev Dr Fiona Tweedie became the first ever ordained local minister (OLM) in 2011. Since then, her roles have included serving within Edinburgh Presbytery as a mission facilitator, and in the national offices as a statistician. As the church's mission statistics coordinator, she compiles the Statistics for Mission, which provides information for all Church of Scotland parishes. Here, Fiona explains why she felt called to part-time ministry.
What is your current role?
At the moment I'm the statistician for the Church of Scotland, translating data into things that people can understand. I'm not in an official ordained local minister (OLM) role, but I also lead worship and do various things around Edinburgh and West Lothian Presbytery and surrounding presbyteries, including pulpit supply.
OLMs are voluntary and we can do everything that a full-time minister of word and sacrament can do except be in sole charge of a parish. For example, an OLM can do the sacraments, communion, be a chaplain, be a locum, and work at a presbytery level. It's being a part-time and non-stipendiary minister of word and sacrament. There's nothing necessarily local about being an OLM .
How do you balance your different roles?
I try to fit things in as and when I can. I try not to take on too much pulpit supply for example. Now I'm much better at saying 'I have so many hours to give to that thing'. I always have a variety of things on, so it's different things to juggle. Ordained local ministry fits into that – the training is part time, and I could fit it in with the time I had.
I can serve in the way I can serve. I have colleagues who have taken early retirement and are available during the day so they are able to take funerals and the like and other colleagues who work full-time but are then available in the evening. You have the flexibility to negotiate what contribution that you can make and what skills and gifts you bring as an individual. You don't have the pressure to have to be able to do everything all the time.
I was able to be a mission facilitator as part of Edinburgh Presbytery to begin with which involved coming alongside congregations to help them to understand more about their community. After three years I switched to exercising my ministry in the national offices as the statistician and I also looked after the chapel in 121, which involved looking after communion and arranging worship there and any special services such as Christmas, Easter and Remembrance Day. In July 2021 my role was moved onto an employment contract.
I was ordained on the 30 September 2011 in my home church of Barclay Viewforth in Edinburgh and I was the first ever ordained local minister (I started my training for what was then called auxiliary ministry).
What have been the highlights of your time in ministry?
We organised a day of reflection in the chapel for the Scottish Independence Referendum and we had three services during the day, including a communion service over lunchtime which had the best sermon I've ever heard given by Rev Graham Blount.
Also finding ways to reach out appropriately to people and staff members as there's not an occupational requirement for people to be Christian in the national offices.
For me, producing the Statistics for Mission Census profiles was a highlight too – it was an absolute calling for me to do. There's something about God using what you can bring, like the wee boy in the Bible bringing what he had, and Jesus feeding the 5,000 with it.
I had been working with the congregations in Cumbernauld, and it took me eight hours to find the populations of the five parishes there and I vowed after that I'd never do that again and that no-one else would have to either. We had to digitise all of the parish boundaries, then get the Census data and work out the technological side of things. It was rewarding to see the data coming through easily for people at a local level and helping them to understand their communities better or apply for grant funding. I didn't go into ordained local ministry to do that, but I would never have got involved in that if I hadn't been a minister.
I assumed I'd be going into team ministry somewhere in Edinburgh. You take a step and then another step and you assume God knows where it's leading and for me it was absolutely perfect. We're looking forward to the next Census this month [March] and what that will tell us about our communities.
What have been the challenges?
Juggling different things has been quite difficult. Another challenge has been people saying 'why aren't you a parish minister?', but I wasn't called to that.
To be able to train part-time and to be able to carry out the sacraments were what were important to me. To find out there was this type of ministry that I could do was great – at the time I had very small kids and could fit the training in around them. I didn't expect to be where I am but God has a sense of humour!
I felt called to teaching and preaching but not pastoral ministry at this point and had experience as a statistics lecturer at Edinburgh, Napier and Glasgow universities. I felt more called to coming alongside a congregation and helping them in mission to find out about their local community. Finding out I could use my statistics training in ordained local ministry was a real turning point. I suppose the Church has needed what I'm able to offer at the moment.
Any advice to someone who might feel called to ministry?
Take the first footsteps, if it's speaking to the minister or picking up the phone, but don't worry about what comes after. You have no idea what's ahead and what your situation will be, but God does and knows what you're able to do. Even if you can't see the end point or don't know what it should be just take steps, even if you go off in a completely different direction. Take that first step.
March Discernment Resources: What is God's plan for me?
Called according to God's purpose
The idea of 'calling' is one the most recurrent and evocative themes in the New Testament. The almighty, loving Creator is the one who calls (e.g 1 Peter:1:5) and those who respond inherit the esteemed honour of being 'called according to God's purpose' (e.g. Hebrews 9:15).
Our principal calling is to be formed into ever greater Christlikeness. Just like everyone who is privileged to be adopted as a son or daughter of God, we are not suddenly cloned into conformity, but rather invited to be formed progressively into a unique expression of the fullness of the character of Jesus, an inimitable manifestation of the Spirit's fruit (love, joy, peace and much, much more) expressed and revealed in and through a unique personality.
God knew what he was doing from the very beginning. He decided from the outset to shape the lives of those who love him along the same lines as the life of his Son. The Son stands first in the line of humanity he restored. We see the original and intended shape of our lives there in him. After God made that decision of what his children should be like, he followed it up by calling people by name. After he called them by name, he set them on a solid basis with himself. And then, after getting them established, he stayed with them to the end, gloriously completing what he had begun.

Romans 8:29-30, MSG
Along this way of faith there are many things that are true for all of us – and there are tasks and trials, wonders and opportunities that unique to us. In the providence and grace of God our particular set of life experiences, skills and aptitudes, gifts and passions, and, not least our wounds and weaknesses, limitations and vulnerabilities, are both a snapshot of a work in progress and preparation for the opportunities and challenges that lie ahead.
If, as Paul wrote to the Christians in Ephesus, we are God's workmanship, formed anew in Christ for 'good works, which God prepared beforehand to be our way of life' (Ephesians 1:10, NRSV), then what could be more vital than to discern what those 'good works' are? However, we do well to remember that we discern and encounter the 'good works' that constitute part of the adventure of faith for us in the context of that wider, ultimate journey into Christian formation. If our obedience to God is to be more than 'an annoying noise' (1 Corinthians 13:1), it needs to be rooted in the love he is cultivating in us.
But he's already made it plain how to live, what to do,

what God is looking for in men and women.

It's quite simple: Do what is fair and just to your neighbour,

be compassionate and loyal in your love,

And don't take yourself too seriously—

take God seriously.

Micah 6:8, MSG
For surely I know the plans I have for you, says the Lord, plans for your welfare and not for harm, to give you a future with hope.

Jeremiah 29:11, NRSV
To contemplate/discuss
What might a map of my 'adventure of faith' to this point look like?
How do I perceive 'God's workmanship' in progress in this particular season of my life?
What attitude or posture might best facilitate God's priority for the formation of 'ever greater Christlikeness' in me?
How might I regularly remind myself that I am 'called according to God's purpose'?
Who is best able to help me discern the unique blend of experiences and gifts, wounds and weaknesses that characterise me at this point in life?
What inklings of the 'good works' God has prepared for me might be stirring in me today?
Prayer
Take my life, and let it be
Consecrated, Lord, to thee;
Take my moments and my days,
Let them flow in ceaseless praise.
Take my hands, and let them move
At the impulse of thy love;
Take my feet, and let them be
Swift and beautiful for thee.
Amen.
(Frances Ridley Havergal)
An obsession merely with doing all God commands may be the very thing that rules out being the kind of person that he calls us to be

Dallas Willard
More information
If you would like to consider how God might be calling you to serve at this time, you may want to discuss further with your minister or be in touch with your Presbytery to explore local opportunities.
If you are interested in exploring a call to the recognised ministries of the Church, you can find more information on our vocations page and can contact ministry@churchofscotland.org.uk for a Discernment Conversation with one of the Recruitment Team.