Obituary: Rev Breda Ludik
Published on 14 September 2023 4 minutes read
Rev Dr Cornelius Breda Ludik, minister of St Andrew's Lhanbryd and Urquhart (SALU) in Moray, died in South Africa on Thursday 7 September, after just over two and a half years in the charge.
Following a ministerial career in the Dutch Reformed Church in South Africa, Breda was accepted for ministry in the Church of Scotland in 2019. After a familiarisation year in the Canongate Kirk in Edinburgh Breda accepted a call to SALU, conducting his first service there on Christmas Sunday, 2020.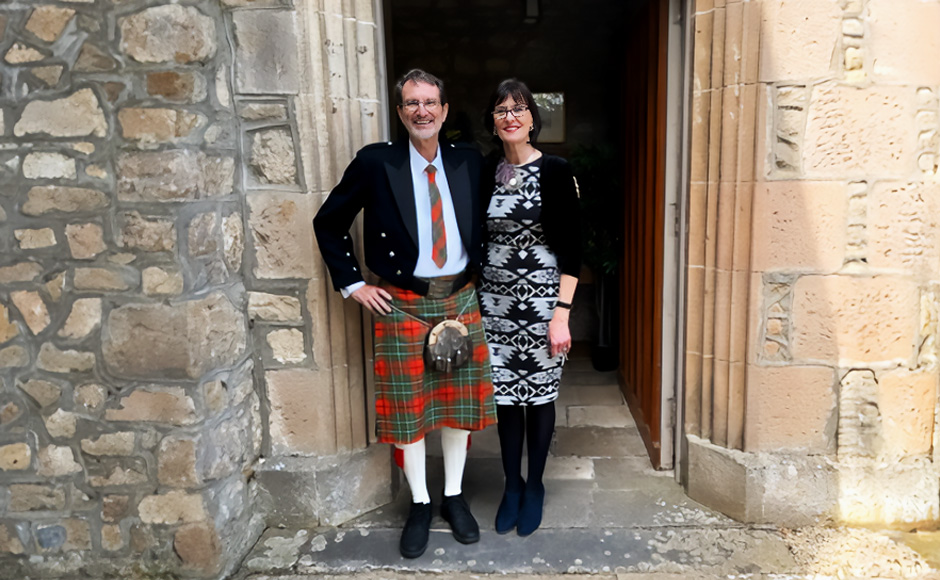 The move to Scotland followed 40 years of ministry in South Africa. After theological studies at the Universities of Stellenbosch and Pretoria, Breda's first ministry appointment was as a chaplain in the South African Air Force while undertaking compulsory military service. Over the next 7 years he held posts in several churches before joining the ministry team of the Dutch Reformed Church in Helderberg, Somerset West, in the outskirts of Cape Town. He was to serve this congregation with distinction for some 32 years.
Throughout his ministry Breda immersed himself in biblical and theological studies. He developed the habit of spending a month at a time with a different book of the Bible, reading, re-reading, reflecting and consulting commentaries to capture fully the message of the book. As a result, he acquired a profound biblical knowledge and a wide theological understanding. These were further enhanced through visits to the United States – in 1995 on a sabbatical in Atlanta, Georgia, and later in 1999 undertaking doctoral research at Columbia Theological Seminary. During his 1995 sabbatical Breda was offered the opportunity to continue his ministry in the United States. Attractive to him though this was, he felt he owed it to his church and his homeland to continue serving in South Africa as it emerged from the Apartheid era into a new democracy. He never regretted this decision.
Approaching 65 – the retirement age in the Dutch Reformed Church – Breda felt he could still spend some useful years in ministry. As the Dutch Reformed Church at that time had a surplus of ministers he considered a move abroad. He was attracted to Scotland partly because of the significant influence Scots Presbyterians had historically had in his own denomination, but also because of his personal roots in Scotland, his great-grandfather, a son of the manse, having emigrated to South Africa from Scotland in the 19th century. It was a source of immense pleasure to Breda earlier this year to visit the church at Avoch in the Black Isle where his great-great-grandfather, Rev David Henderson Philip, had once ministered.
As Breda considered where he might serve in Scotland he felt drawn to a smaller and more rural parish – Helderberg was an urban congregation of some 7,000 members! After considering several possibilities, he eventually accepted the invitation to preach as Sole Nominee for SALU, fully convinced that this call was from God.
Sadly, early in 2021 Breda was diagnosed with cancer and in August underwent a major operation. Despite the challenges of his illness it is a measure of his commitment to SALU and the Church of Scotland that he chose to remain, when he might justifiably have returned to South Africa. He served the congregation well, drawing on the wealth of wisdom and experience garnered over his many years in ministry. In leading worship and preaching he displayed a rare combination of clarity, relevance and depth of scriptural understanding. Faced with challenges which none could have foreseen when he first came to SALU – particularly those arising from the Presbytery Planning process - he guided the congregation wisely and sensitively as it grappled with hard decisions.
Breda was a man with wide interests and broad sympathies, well-versed in both church matters and current affairs, nationally and internationally. He took a keen and active interest in sport: rugby, golf and fishing were his main passions. An avid reader, in Scotland he enjoyed discovering authors previously unknown to him; he particularly admired Lewis Grassic Gibbon, George MacKay Brown and Andrew Greig. An open, engaging and truly human individual, spending time in his company never failed to be an enriching experience.
At the end of July Breda was called to a consultation with his surgeon: his cancer had returned and was terminal. Following medical advice, he and his wife Francé returned to South Africa within a week. After some days enjoying being back with his family, his condition deteriorated and he passed away peacefully last Thursday morning. He leaves his wife, their three grown-up children and two grandchildren.
For Breda, the essence of ministry was to keep the congregations and communities he served attentive to God. This he did, by prayer, precept and example, leaving an invaluable legacy. The Church of Scotland has been privileged to have had such a humble, gracious and godly man in its service.