Moderator pays tribute "from the heart" to longest serving female minister
Published on 23 May 2023 1 minute read
The Moderator of the General Assembly of the Church of Scotland has paid tribute "from the heart" to the longest serving female minister, Rev Jean Montgomerie, stating "we stand on the shoulders of giants".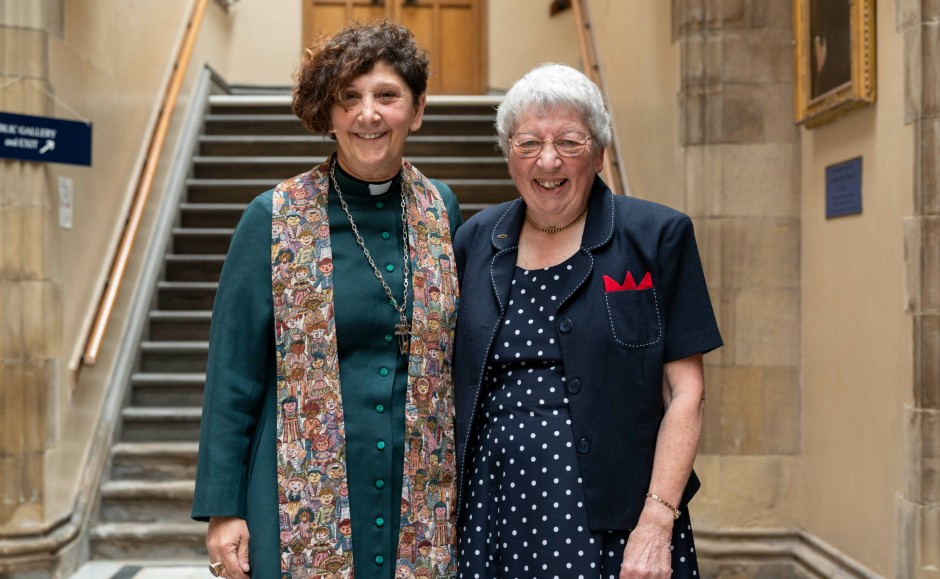 On 11 January, 1973 Ms Montgomerie was one of the first women to be ordained as a minister of Word and Sacrament within the Church, and was also the first to convene a committee of the General Assembly.
"Jean also told me whilst we were having coffee that the General Assembly passed the act allowing women to be candidates for ministry on Wednesday and her application was mailed on Sunday," Mrs Foster-Fulton added.

Addressing commissioners Mrs Foster-Fulton praised Ms Montgomerie as a trailblazer, saying: "Thank you for hearing that call and saying 'I hear you' and it is for me, and being brave enough."

"Thank you from the General Assembly, thank you from both the charges that you so wonderfully led, Kelman Memorial in Peterculter and Forfar St Margaret's Thank you for convening the board of ministry. Thank you for serving this church so beautifully, and you continue to do it. So thank you."

Reflecting on her 50 years in ministry, Ms Montgomerie said: "It's been absolutely amazing to get this far.

"I believe the church has given me a lot of support during that time. There has obviously been lots of ups and downs but by in large it's been a good journey.

"The highs have been preaching and pastoral work. Now I'm retired I still enjoy preaching, although it takes a lot out of me."

Paying tribute to Ms Montgomerie earlier this year on the anniversary of her ordination, Rev Shuna Dicks said: "It is on behalf of the women that followed in your footsteps that I add my gratitude for showing that women could and should lead in the Church of Scotland.

"Please never forget the role you have played through your example in encouraging many more of us to follow our calling."