Lasting peace is within "reach" in South Sudan
Published on 3 February 2023 4 minutes read
The President and the Vice Presidents of South Sudan have it within their "reach" to extend justice and compassion to all the people of the world's youngest nation, the Moderator of the General Assembly has said.
Addressing President Salva Kiir Mayardit and his Vice Presidents in Juba this afternoon, Rt Rev Dr Iain Greenshields told them that the world "needs churches and leaders who are generous of heart, liberal of love, and profligate with God's grace".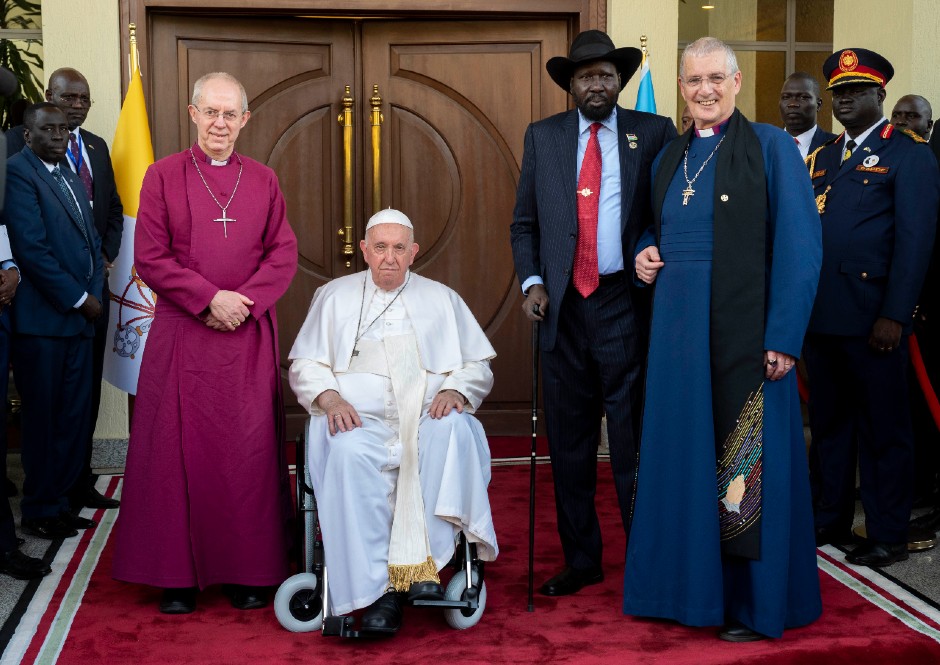 The Moderator made the remarks at an official ceremony held at the "Palais de la Nation" alongside Pope Francis and the Archbishop of Canterbury.
Dr Greenshields said the world needs leaders who care about values, the conditions in which people live and act out their faith and work amongst the most vulnerable and marginalised.
"These things make for peace," he added.
Earlier this afternoon, a bright and colourful ceremony was held at Juba Airport to greet Pope Francis's plane.
Excitement
The Moderator and the Archbishop of Canterbury boarded to meet him before he emerged from a different exit, to accommodate his wheelchair, and they officially began their historic, three-day Ecumenical Pilgrimage of Peace.
Hundreds of thousands of people, many waving the British flag, lined the streets, cheering, waving and singing as their three spiritual leaders' convoy made its way from the airport to the Palais de la Nation.
The Moderator, the Principal Clerk. Rev Fiona Smith, Rev Ian Alexander, who leads on international relations for the Church of Scotland, and Rev Shavon Starling- Louis, co- Moderator of the Presbyterian Church USA held a private meeting with President Salva Kiir Mayardit and his vice-presidents.
The Republic of South Sudan has an estimated 10.9 million people and gained independence from Sudan in 2011.
The purpose of the visit is to renew a commitment to peace and reconciliation and stand in solidarity with millions of ordinary people who are suffering profoundly from continued armed conflict, violence, floods and famine.
Around 400,000 people are said to have lost their lives over the years, 9.4 million people need humanitarian aid and an estimated two million people have been displaced in the country.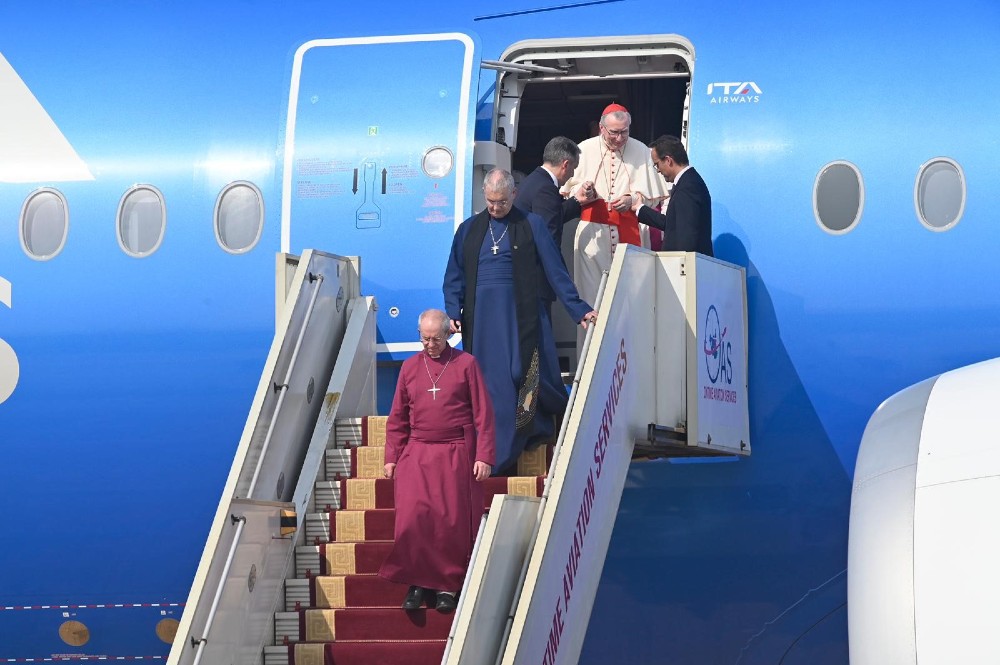 Dr Greenshields's address in full: -
"Brothers and sisters, I greet you in the name of Jesus Christ.
"I come to you in this time of pilgrimage, with my brothers in Christ - Pope Francis and Archbishop Justin – we come in humility, unity and love.
"We come from our different traditions as servants of Christ and seek to share His hope that all will be one in Him, that churches and people will work together and witness together for a better future for the people of South Sudan, and for the whole world.
"Blessed are the peacemakers, said Jesus, who is the Prince of Peace, a peace which brings justice for all - families, tribes, nations.
"Today, we need that peace.
"We need churches and leaders who are generous of heart, liberal of love, and profligate with God's grace.
"We need leaders who care about the values by which our countries live, who care about the conditions in which people live, and who act out their faith in work amongst the most vulnerable and marginalised. These things make for peace.
"All the people are essential co-workers in God's desire for a world in which all people can live life in fullness.
Life in fullness
"I believe it is in the reach of the President, Vice-Presidents, leaders and people of South Sudan to extend the reach of justice and compassion to the whole of this young and optimistic country, full of people ready to work for a vibrant and fulfilling future
"Today, we seek the wisdom and power of the Spirit to help us discern the way forward, to offer hope for everyone in South Sudan in the peace that comes from God through Jesus. A peace which will bring a chance for people to live as the prophet Isaiah promised:
"They shall build houses and inhabit them; they shall plant fields and eat their fruit; for like the days of a tree shall the days of my people. (Isaiah 65)
"May all political, civic and international leaders join together in seeking God's holistic promise of life in fullness for all God's people.
"And may God's blessings and peace be upon the resilient people of South Sudan. And thanks be to God."
The address made by Pope Francis.
The Archbishop of Canterbury also made an address.
The church leaders – representing the worldwide Roman Catholic Church, global Anglican communion and Presbyterianism — pray that communities torn apart by violence can co-exist and develop in a peaceful, just and secure environment.
The pilgrimage was promised during a spiritual retreat at the Vatican in 2019 which brought together Pope Francis, the Archbishop of Canterbury and Very Rev Dr John Chalmers, former Moderator of the General Assembly, with South Sudanese politicians.
In a dramatic gesture at the end of that visit, the Pontiff knelt before the government leaders and opposition, kissing their shoes and urging them to pursue peace.
The Church of Scotland delegation was invited to South Sudan by the President.
The Kirk has a strong partnership with the Presbyterian Church of South Sudan.
They have been working closely together since 2015 on a vital peace, reconciliation and conflict resolution programme.
It has helped local church leaders work at both a grassroots level and political level to try and bring unnecessary conflict to an end and build lasting peace, stability and unity.
The Pilgrimage of Peace continues tomorrow.