General Assembly urged to be bold, take risks and imagine a new future
Published on 22 May 2023 3 minutes read
The Assembly Trustees are encouraging people to be bold, take risks and "imagine" an exciting future for the Church in Scotland.
Convener, Rev David Cameron, said the landscape is changing and people must envision building a model where communities of faith join together at the heart of new and shared priorities.
Addressing the General Assembly in Edinburgh this morning, the minister said: "The report of the Assembly Trustees provides a realistic picture of where our Church finds itself.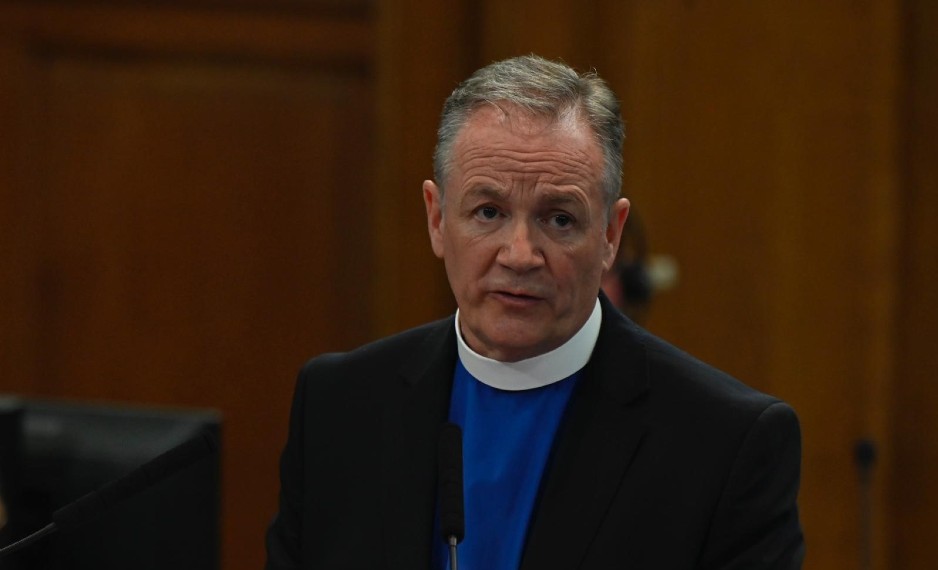 "This is a critical time as we make the essential changes needed to lay a sustainable foundation for the future.
"The reforms we embark on together are to reconfigure and reshape the church for mission and service around fewer buildings and fewer charges."
Serious challenges
Mr Cameron told the General Assembly that the Church must return to the age of the Reformation.
He said the time had come to "lay down burdens which have been exhausting us all" and concentrate on reaching people indifferent to the Church, which will provide an opportunity to thrive.
"From personal experiences as a parish minister, I know how hard the last year has been for congregations and presbyteries," Mr Cameron told Commissioners.
"It has felt harsh and rigid and people have not been as kind and pastorally sensitive as they should have been.
"You are dealing with that hurt on a daily basis.
"We are grateful to the ministers, elders, church members and staff who have been pulling together faithfully to solve the serious challenges we face and making some very difficult decisions for the future of our Church."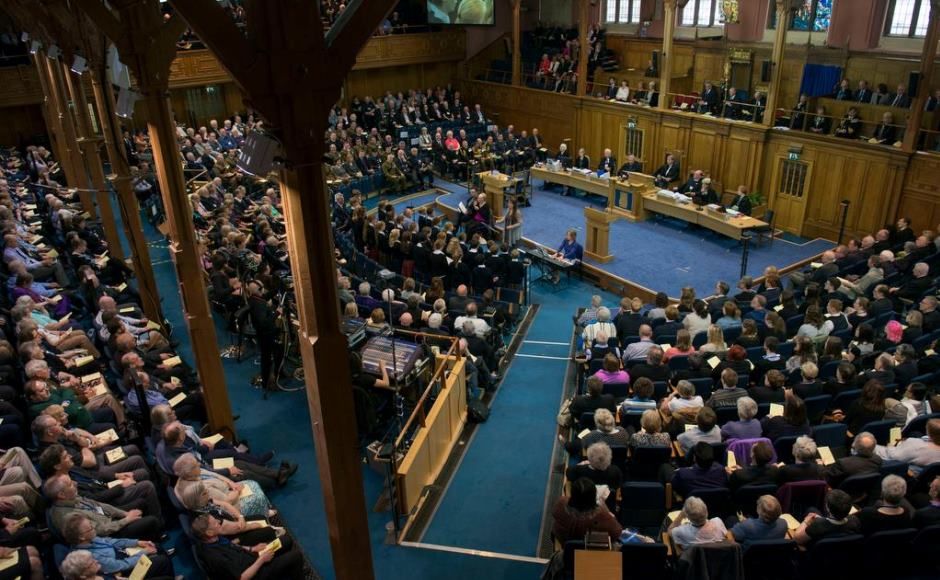 Mr Cameron, minister of New Laigh Kirk in Kilmarnock, East Ayrshire, urged the General Assembly to reimagine the Church in Scotland for the next 10 years - a decade of evangelism.
"Imagine Church where members are enthusiastic about doing things differently," he said.
"Imagine listening to one another and dreaming bold dreams and having the energy and encouragement to experiment and learn in the process.
"Imagine being able to move forward in positive ways tackling serious issues of the day, responding to the real need in Scotland.
"Imagine finding a creative way of getting different people with different views together to create a different future.
"Imagine planting new church communities where they've always been needed, breaking out of our constrained systems to do so.
"Sharing ministry for the pastoral care of the elderly in the aging congregations whilst recognising the need to be intergenerational, fully integrating our young people, shaping the life of the Church.
"The new alongside the old, energising and inspiring with the gospel imperative, 'go and make disciples."
Need for change
According to official figures, the Church has 1,247 congregations and 270,300 members, down from 283,600 in 2021.
A total of 48% of members are aged 64-85, there are currently 593 full-time ministers in post and 58 are expected to retire in 2023.
The Church is planning a future with 600 ministry posts and only 60 vacancies at any given time, subject to annual agreement by the General Assembly.
Mr Cameron said people know how difficult it is to lead a Church into a new space if it has been built on the way things have aye been, or where the prevailing voice is 'it'll never work', or simply 'no'.
"How do we imagine a new discipleship, fund a capacity for community amidst the disrupting changes around us and be the thriving Church of a new era?" he asked.
"You actually have the answer in your own localities.
"You – we - all have the spiritual imagination to look at things differently, all of us who are grappling with the need to change in order to be more effective in mission, all of us who are willing to move forward, shaped by shared purpose and values and, crucially, with a vision of what the church could be in Scotland
"A visible light of hope with the Gospel."
Take risks
Mr Cameron said this is a time that calls for prayer and the coming together with members of other congregations and denominations.
"It is a time for cooperating to generate ideas and test them out, all so that we cultivate a thriving alternative future for the Church," he added.
"This is now our task, we must act with unity of purpose at every level of the Church.
"We now need to be as bold to take risks, try new things," he added.
"Yes, we will make some mistakes.
"Not every new thing will work but for the sake of Christ and the Kingdom we have to try."