'Christian unity a priority' agree Moderator and Pope Francis
Published on 4 November 2023
Artwork depicting the fragility of life created by an Edinburgh man will now take pride of place in the Vatican in Rome.
Pope Francis was gifted a print of "Throwaway People" by Michael McVeigh by the Moderator of the General Assembly of the Church of Scotland.
Rt Rev Sally Foster-Fulton presented it to His Holiness this morning during an audience at his official residence, the Apostolic Palace.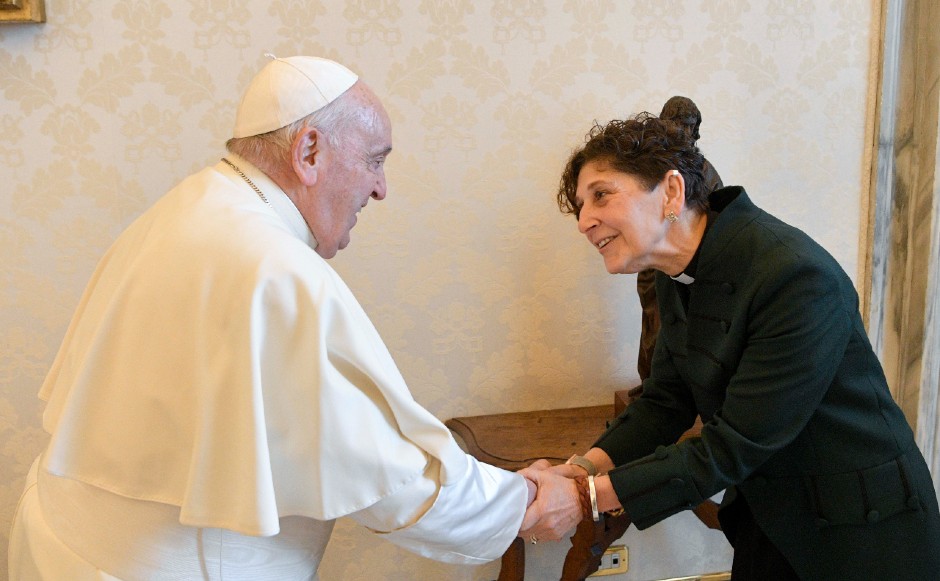 Mr McVeigh is regarded as a modern-day folk artist whose work depicts everyday life in Scotland and 'Throwaway People' is an expression of the plight of those on the margins of society.
Mrs Foster-Fulton has been in the Italian capital since Wednesday to meet with ecumenical and mission partners, attending special services and events and learning more about their work.
The Moderator said: "It was an extraordinary morning with Pope Francis and we talked about a great many important things.
"One of the gifts that I gave to him is a print by the artist Michael McVeigh who sells his work on the corner of Rose Street in Edinburgh and has had an exhibition at the Scottish Gallery.
"It is called the 'Throwaway People' and it is his expression of the fragility of life and how easy it is to fall through the cracks.
"It is a print that I have remembered forever and I said to Pope Francis, who has dedicated his life to try and make sure that does not happen, that I wanted him to have that picture.
"He took it and turned it over and wrote something on the back in Italian so he would remember and was very, very taken by it.
"He asked me to give one of his gifts to Michael McVeigh and say thank you from him and I think that is pretty cool."
Mrs Foster-Fulton said she and Pope Francis discussed the escalation of violence across Israel and the occupied Palestinian territory and the war in Ukraine.
"We talked how we both recognised ourselves in what is happening to the ordinary people there and how we need to recognise our common humanity more openly.
"We talked about how important it is that Christians speak and act together in unity in the world today."
Peace
Mrs Foster-Fulton said she and Pope Francis discussed the St Margaret's Declaration – an historic declaration of friendship between the Church of Scotland and the Catholic Church in Scotland which was signed last November.
"We talked about the intention of that and the energy behind ecumenical and interfaith work in Scotland," she added.
"We talked about how important it was for us, as leaders in the Church, to be counter cultural and challenge some of the status quo around ideas about who comes first in the queue, particularly our Gospel bias to the poor."
"We agreed on the importance of maintaining that prayerful and prophetic voice for peace in our world today and making sure that is something we do not waver from."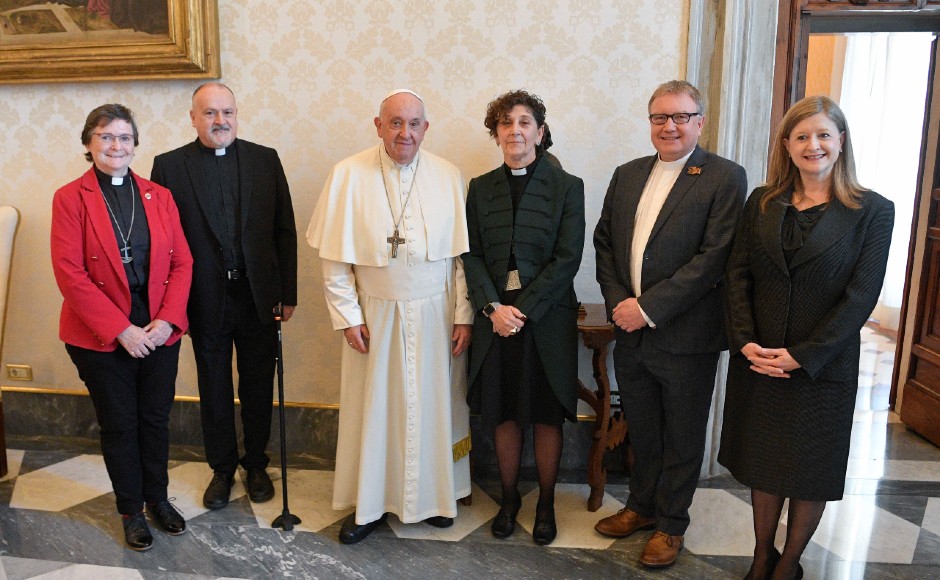 Rev Tara Curlewis, who will tomorrow officially become the new minister of St Andrew's Church of Scotland in Rome and the Reformed Ecumenical Officer for the World Communion of Reformed Churches (WCRC), also attended the meeting.
Church of Scotland Mission Partner Fiona Kendall, who works with Mediterranean Hope, a refugee and migrant programme of the Federation of Protestant Churches in Italy, Rev Ian Alexander, who leads on International Partnerships-Global Justice for the Church and Rev Stuart Fulton, the Moderator's husband were also present.