Chief Rabbi tells the General Assembly of journey towards healing through dialogue
Published on 25 May 2023 4 minutes read
The Chief Rabbi has told the General Assembly that working together with the Church of Scotland there was a determination to "engage in a process of healing through dialogue" whilst acknowledging that "relationships are sometimes difficult to sustain".
Chief Rabbi Ephraim Mirvis, who previously addressed commissioners in 2014, represents the United Hebrew Congregations of the Commonwealth.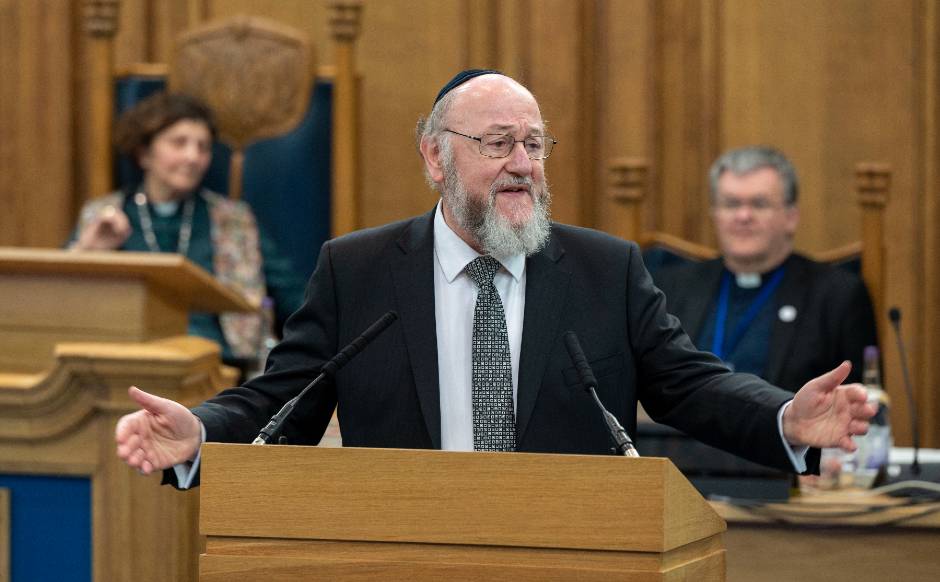 He thanked all those who participated and contributed to their monumental work on a new Jewish-Christian Glossary describing the efforts to bring it to fruition as a sacred journey together.
He encouraged people across the Church of Scotland to make use of the Glossary, published after more than a year of work and discussions involving both Church of Scotland ministers and rabbis.
"Please do read the Glossary - so much was invested in every word of it. It is so informative, so important, let not there be another statement or declaration relating to...Judaism without consulting the document first," he said.

"It is a mine of information and a great resource to inspire.
"You can only achieve peace if there is constructive communication," he added, as "we embark together on a brave journey."
Healing through dialogue
Work on the Glossary began following Chief Rabbi Ephraim Mirvis's previous visit to the General Assembly after he had warned that a Church and Society Council report, The Inheritance of Abraham?, which was critical of Israel, had caused concern within the Jewish community and was putting a strain on inter-faith relations.
He said:
"And the relationship between the Church of Scotland and the Jewish community, unfortunately, suffered a setback...with the publication of the Inheritance of Abraham? report, and as a result, there was a difficulty. There was a crisis. There was a challenge and some of you will recall my previous address to this august body at that time, but what did we do about it?
"We were determined to engage in a process of healing and we achieved that through dialogue."
The Chief Rabbi went on to commend the process of working together:
"So we've been on a journey, and it's been a wonderful journey. I would like to congratulate our Church of Scotland colleagues. Thank you for your openness, for your sincerity, for your honesty for your humility. Thank you for listening.
"Because the most important ingredient of constructive dialogue is not what you say, but it's how you listen. We listened, you listened, and together, we restored a good relationship as was alluded to before by the Very Reverend Dr Susan Brown, it's not yet perfect. We've still got some way to go. We still got some work to do. There are still some painful issues, but we continue to engage with warmth and in friendship on this sacred journey because we cherish the value of unity and peace and we don't ever more want to find ourselves in a position of painful divisiveness.
"You know, we have veered away from the traditional mantra and global interfaith circles where we say, let's focus on all that which we share in common as opposed to dwelling on our differences. And we will then appreciate that what we have in common by far is more than what separates us. We disregarded that. We devoted our attention exclusively to what divides us.
"We tackled the elephant in the room - and that is because it was that previous divisiveness which led to the Inheritance of Abraham report and which led to that nadir in our relationship."
The Chief Rabbi also highlighted that in an increasingly secular world it was important to work together and that whilst there will always be differences between the two faiths, constructive dialogue is essential in order to avoid "painful divisiveness".
The Moderator of the General Assembly of the Church of Scotland, Right Rev Sally Foster-Fulton, warmly welcomed the speech stating "Chief Rabbi, friend, I have rarely heard such powerful inspiring words in this General Assembly.
"Thank you for your challenging, supportive, and uplifting words.
"You have shared your deep wisdom with this General Assembly and our discernment will be enriched by it.

"When faith communities talk together, work, learn, the face of God shines through it.
"God be with you, God be with us all."

Describing the Glossary as "a labour of love", Mrs Foster-Fulton also asked for those across the Church of Scotland to take note of its contents.
"The Jewish Christian Glossary gives us a solid platform for genuine, respectful, informed dialogue between our communities.
"Please use it, listen to it, use the model, get together.
"This Assembly craves your blessings and prayers and assure you of ours," she said.
Commissioners welcomed the Glossary following Chief Rabbi Ephraim Mirvis's speech, with Rev Dr Leslie Milton saying he "hoped it will enter into the life of our congregations".
Dr Yvonne Dianna Wright, who is attending on behalf of the Presbyterian Church of the United States of America also spoke of her support to "affirm the document".