Wedding exhibition a hit for Inverness kirk
Published on 5 August 2022 3 minutes read
An Inverness church has welcomed hundreds of visitors through its doors for a celebration of marriage.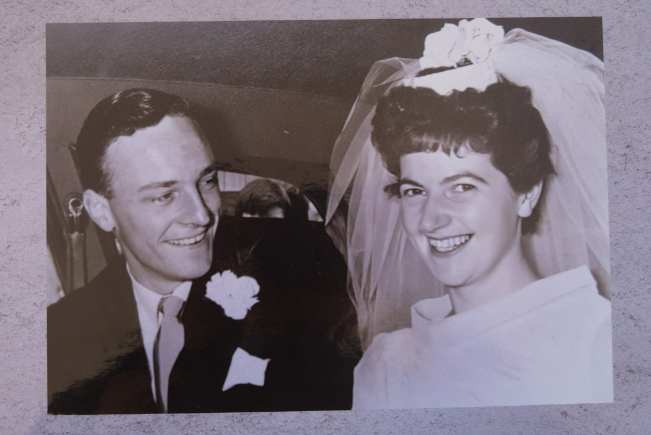 Crown Parish Church's Wedding Reflections Exhibition included more than 40 wedding outfits from across the decades, along with wedding memorabilia and personal reflections and memories from couples connected with the Church of Scotland kirk and their families.
The exhibition was open to the public during the day with visitors to the free event welcomed with a glass of non-alcoholic fizz and a slice of wedding cake. The church also held its own Saturday evening wedding reception, attended by some 75 "wedding guests", that included speeches and a full size wedding cake.
Cutting the cake were congregation members David and Lucy Livingston, who were married in July 1961 and were celebrating their 61st anniversary.
Mr Livingston (87), was born in Bermuda where his father worked as a civil engineer, but he was brought up in the Borders village of Ayton before moving to Edinburgh, while Mrs Livingston (86) is from Fort William where her father, Duncan Grant, was town Provost.
The couple met in Edinburgh in the 1950s, when Lucy was training to be a teacher, but spent most of their married life in Cambridge before moving to Inverness in 2002 and becoming members of Crown Church.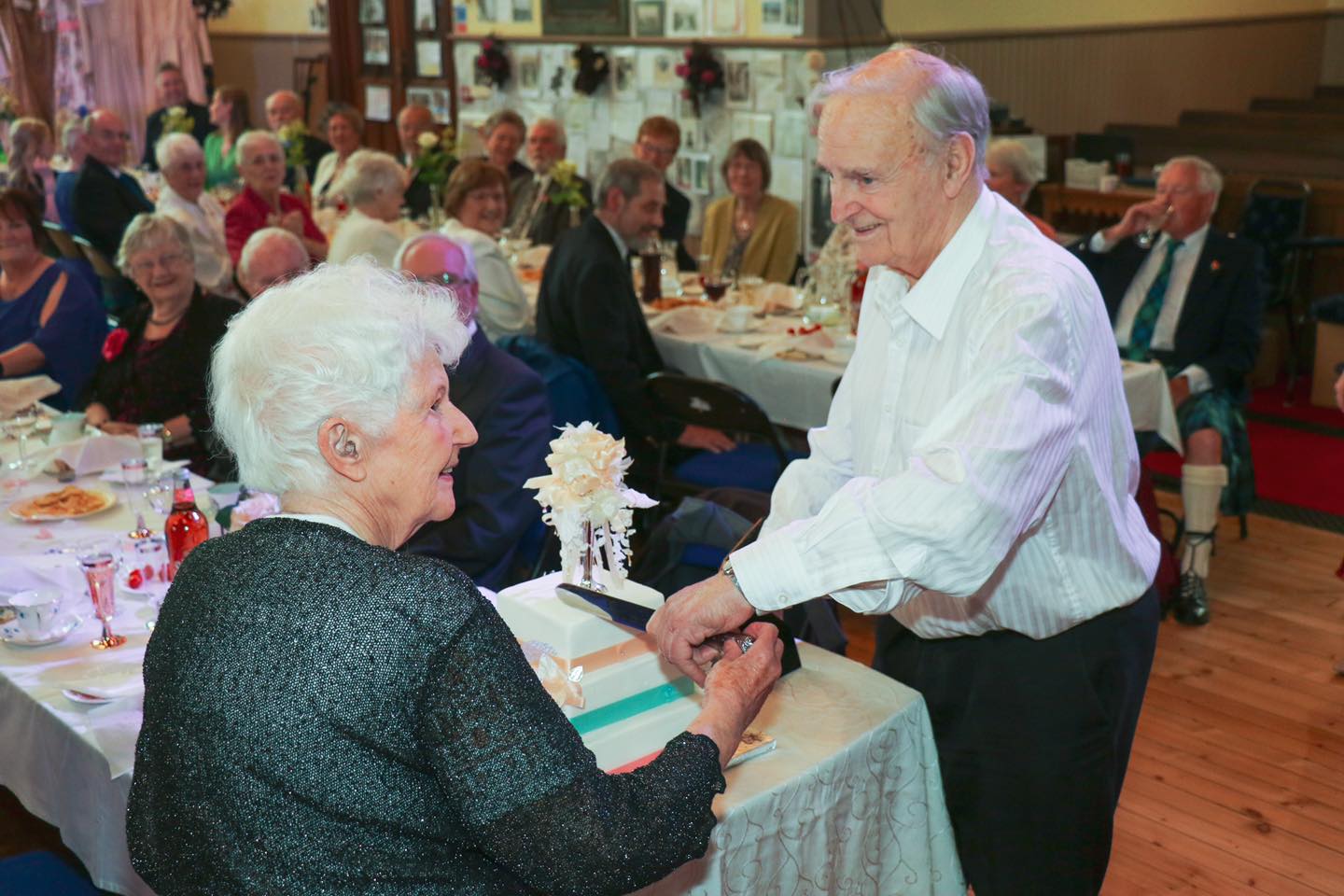 New wedding interest
Lesley McRoberts, one of the organisers of the six-day exhibition, commented: "After a couple of years without celebrations of any kind, we thought it would be a lovely opportunity for some fun.
"Several couples in the congregation have missed out on significant wedding anniversary parties and this is a great excuse to be together in good times after the bad."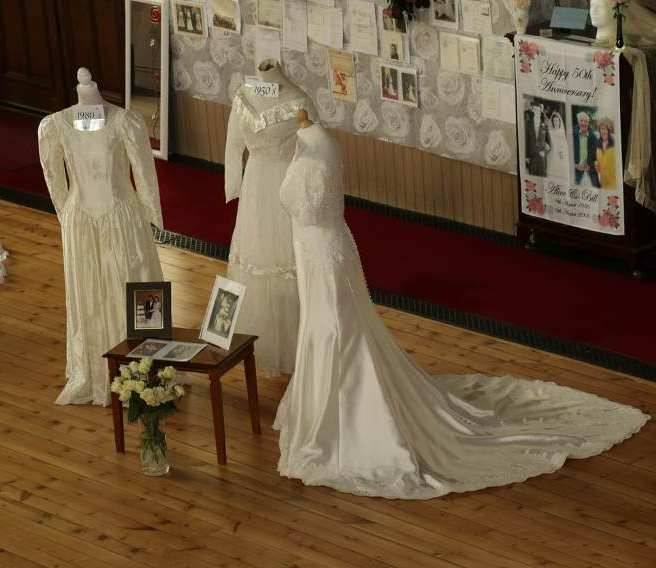 The success of the event, which is estimated to have welcomed in excess of 200 visitors, might even help provide material for a similar exhibition in the future with Mrs MacRoberts revealing that there had been interest from couples who were looking for a venue for their own marriage.
Among the many stories of marriage revealed by the exhibition was that of the tragically short marriage of Duncan McCuaig and Olwen Buchanan.
The couple had been married for just three years before Flight-Lieutenant McCuaig's Spitfire was shot down on a reconnaissance mission over Germany in 1944.
Mrs McCuaig believed that her husband had gone down in the North Sea and had given up hope of his body ever being recovered.
However, in 1994, 50 years after Duncan's final mission and just a few months before Olwen's own death, the family were informed that Duncan had been interred in a military cemetery in Sage in northern Germany after an identification error had resulted in his grave being marked "An Unknown Pilot".
Mrs McCuaig's granddaughter Alison Robertson, wife of Crown Church minister, Rev Douglas Robertson, said: "Duncan was one of thousands taken from us by war, but his story does seem to capture people's imagination."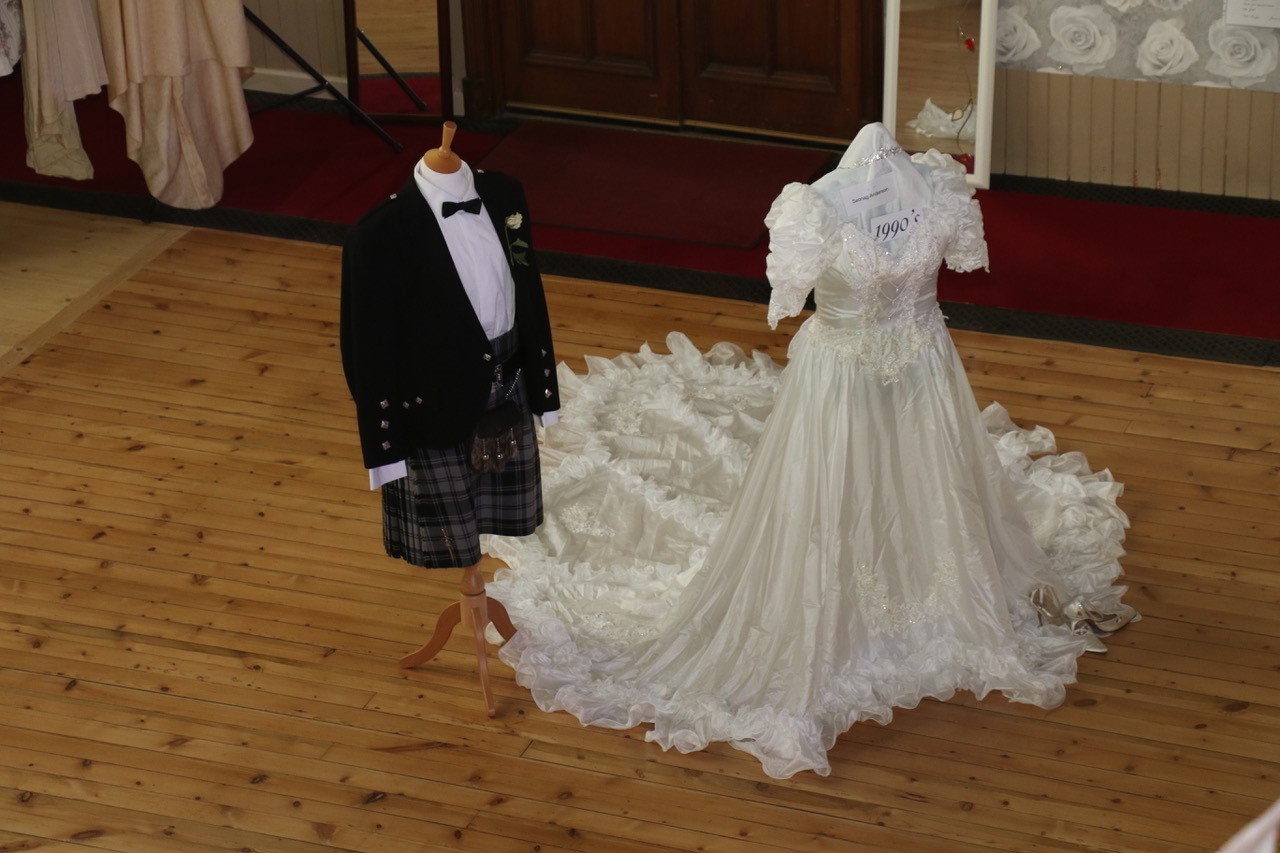 Wedding gift axe
One of the more exotic items on display was a ceremonial axe presented to Chrisanne Robertson, co-founder of charity the Highland Malawi Trust which supports widows, orphans and vulnerable children in the country. Mrs Robertson was given the axe during a visit to Malawi to present to her then fiancé Stewart. Traditionally in Malawian weddings, bridegrooms are gifted a ceremonial axe to ensure they can protect their new bride.
Mrs Robertson also helped organise the exhibition and commented: "It's been a joy and privilege to share in so many memories as the various mementos were dropped off."
Crown Church is currently undergoing a £150,000 refurbishment, which will include the creation of a new meeting room and the relocation of Crown Church's community café, the Olive Grove, within the church building.
An open day to mark the progress of the renovation over the last two years will be held on August 13 between 10am and 4pm.