St Margaret Declaration officially signed at Dunfermline Abbey
Published on 16 November 2022 5 minutes read
An historic declaration of friendship between the Church of Scotland and the Catholic Church in Scotland was signed at Dunfermline Abbey this afternoon.
The St Margaret Declaration was formally endorsed on what is St Margaret's Day during a special service to celebrate the 950th anniversary of the magnificent building.
Her Royal Highness, the Princess Royal, was in attendance along with around 300 invited guests from the local community, ecumenical partners, civic society and heritage organisations.
Named after the 11th century Scottish Queen who is buried in the abbey, the St Margaret Declaration is the culmination of years of ecumenical relationship building between the two Churches which recognise each other as brothers and sisters in Christ.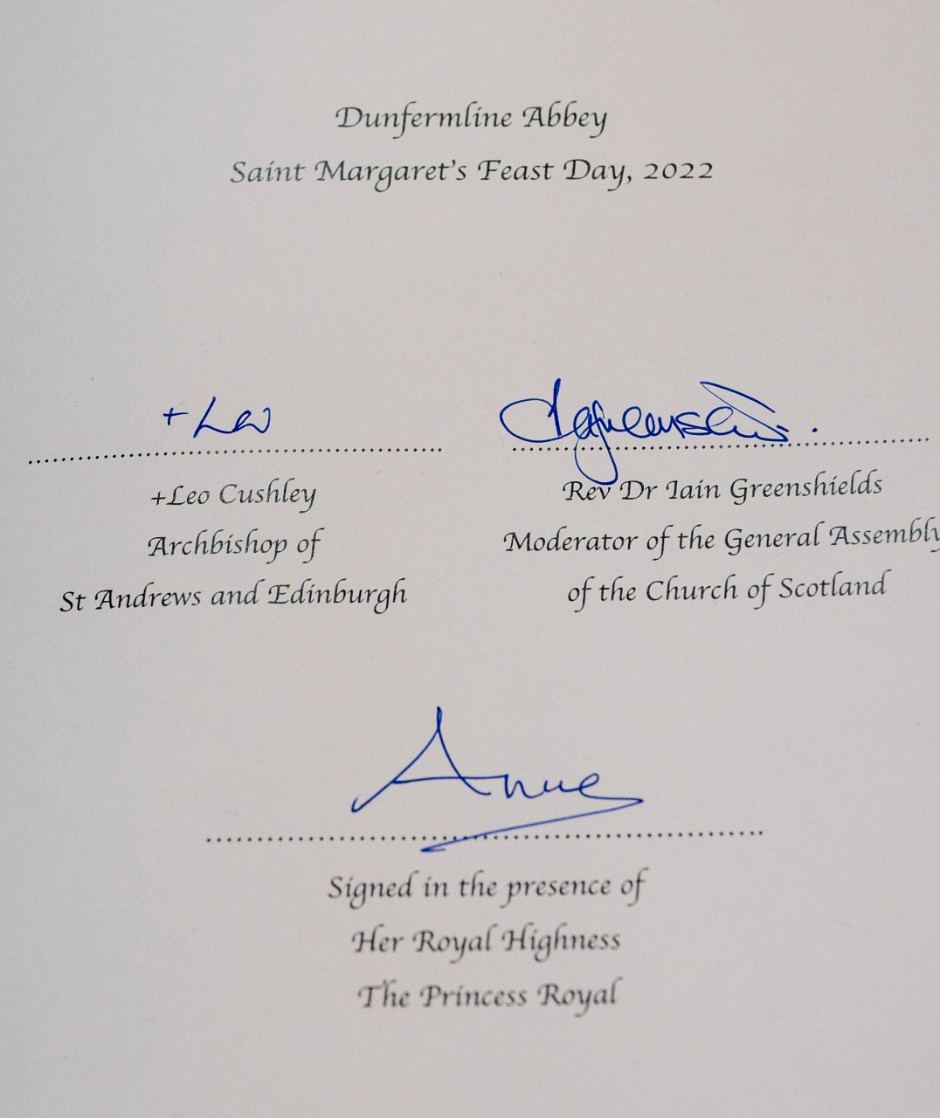 Stand alongside each other
It was signed in the presence of Princess Anne by Rt Rev Dr Iain Greenshields, Moderator of the General Assembly, and Most Revd Leo Cushley, Roman Catholic Archbishop and Metropolitan of St Andrews and Edinburgh.
Dr Greenshields said: "I am deeply honoured and privileged to be one of the signatories of the St Margaret's Declaration at Dunfermline Abbey in its 950th year and on St Margaret's Day.
"This new friendship agreement has been many years in the making and is aptly named after a Scottish Queen who was venerated for her missionary Christian faith and her kindness and generosity to poor people.
"The declaration reflects the steadfast desire of the Catholic Bishops' Conference of Scotland and the Church of Scotland to continue to journey together and to see the healing of division within our nation.
"Friendship is a very deep relationship, a relationship of conscious and deliberate choice in which individuality is respected but there is room for disagreement.
"This is a relationship in which we stand alongside one another, support one another, rejoice together and weep together, pray for and with each other, and work together.
"I would want people across Scottish society to look at this new relationship between the Church of Scotland and the Catholic Church and take away a powerful message – there is more that unites us than divides us as we strive to be an ever more united Christian voice in this land.
"May the presence of our Lord Jesus Christ be in us and between us, may the living hope of the Gospel inspire us and may the deep, enduring, inspiring, renewing and eternal love of God in Jesus sustain us."
Unity and cooperation
Written by senior figures from both Churches, the declaration describes the Churches' shared beliefs, 'rooted in the Apostles, Christ's first disciples,' and acknowledges a common heritage as Christians in Scotland.
It also recognises the divisions of the past, apologises for the hurt and harm caused and seeks to make amends, asserting 'we repent and ask forgiveness of one other.'
It is accepted that some divisions between the Churches remain challenging and more work is needed on reconciliation and healing.
Nevertheless, both Christian denominations say that what they hold in common is far greater than what divides them, and they commit to continue working towards greater unity.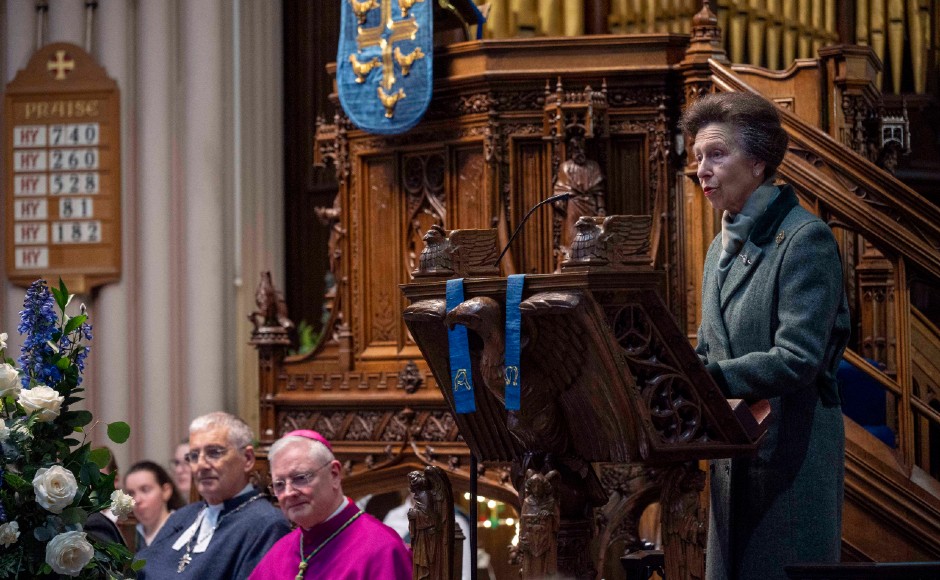 Princess Anne, who served as Lord High Commissioner to the General Assembly in 2017, was invited to the service as the patron of St Margaret's Chapel Guild at Edinburgh Castle.
Addressing the congregation, she said: "This is St Margaret's Day and it is an important St Margaret's message of unity and friendship that we are also celebrating here.
"I was honoured to be asked to be present today for the signing of the Declaration of Friendship between the Roman Catholic Church in Scotland and the Church of Scotland.
"This formalises their close bonds of friendship.
"We have been able to celebrate St Margaret today and I think her legacy has helped to bring us this declaration and I thank you all for that.
"Once again, my congratulations on this significant anniversary for the abbey and for the city of Dunfermline but also underlining the importance of what you have signed up today."
Respect and support
Princess Anne described Dunfermline Abbey as a "remarkable place".
In his sermon, Archbishop Cushley said: "The declaration is a consciously new approach to ecumenism, an attempt to re-imagine the path towards Christian unity.
"Instead of listing our problems and points of friction or grievance, old or new, the Declaration chooses to focus on what we have in common and underline that we treasure together, so much that is inspiring and ancient, profound and beautiful.
"We stand shoulder to shoulder before an unbelieving world and we wish to respect each other, to be a support to each other, and to do all we can to achieve the unity that the Lord prayed for.
"And if St Margaret and the first men who came here nearly a thousand years ago were here with us now, I would like to think that they would welcome and approve of us setting out in this way.
"In friendship, to face the next thousand years, not as enemies or rivals, but as sisters and brothers and friends in Jesus Christ."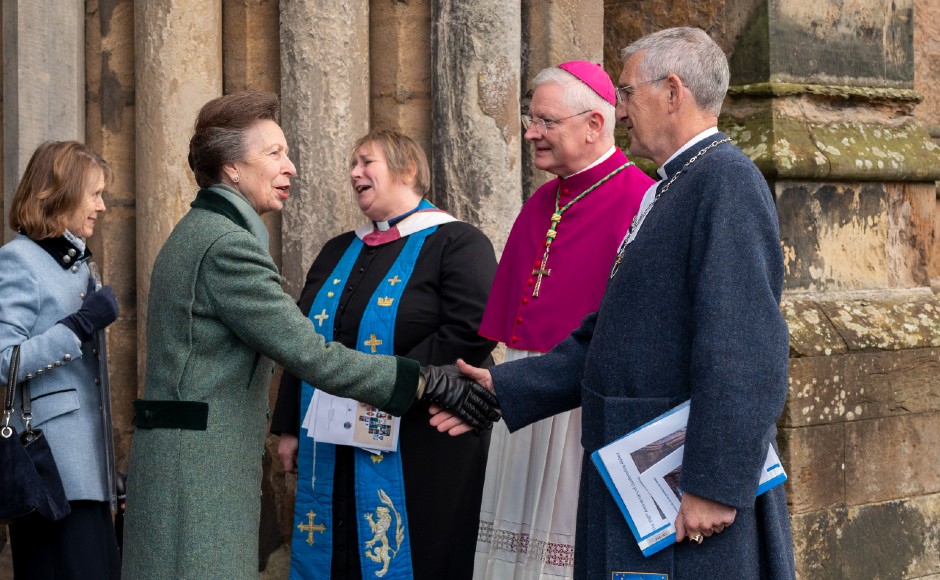 Invited guests were welcomed to the Abbey Church of Dunfermline by minister, Rev Maryann Rennie.
The last resting place of Robert the Bruce and other Scottish monarchs, the building, part of the abbey, was opened in 1821 and features outstanding stained glass and other architectural features.
A new piece of music was commissioned to mark the 950th-anniversary thanks to a grant from Creative Scotland.
Mrs Rennie said: "The celebration of the 950th anniversary of the priory at Dunfermline and the legacy of St Margaret of Scotland is an opportunity to notice that faith in Jesus Christ is sustained even in the changing patterns of church design, church reform and the challenge of growing secularisation.
"As the current congregation on the site, we are aware that we are tenants who at this time have the task of sharing Christ's story.
"As Christian people, we are inspired by the presence of Christ we see in Margaret of Scotland, as her story speaks of her piety, compassion, and commitment to others.
"These are values that we hope we continue in the activity of our church.
"But we also recognise the important role that this site has played in the life of the city offering a home and place of worship and refuge for royalty, city residents and visitors."
Her Majesty Queen Elizabeth visited Dunfermline Abbey in 1972 to mark its 900th anniversary and King Charles and the Queen Consort had a tour last month on the day that the town officially became Scotland's newest city.