Moderator embarks on presbytery tour of Sutherland
Published on 22 April 2022 4 minutes read
The Moderator of the General Assembly is embarking on a visit to learn more about the life and work of the Church of Scotland in the far north.
Lord Wallace said he is looking forward to attending a wide range of events organised by the Presbytery of Sutherland from this evening.
He will visit churches, care homes and meet crofters, golfers, take a boat trip past the Summer Isles and answer questions on what it is like to be a Christian in the world of politics.
It is likely he will be asked what Church members can do to help people affected by the war in Ukraine.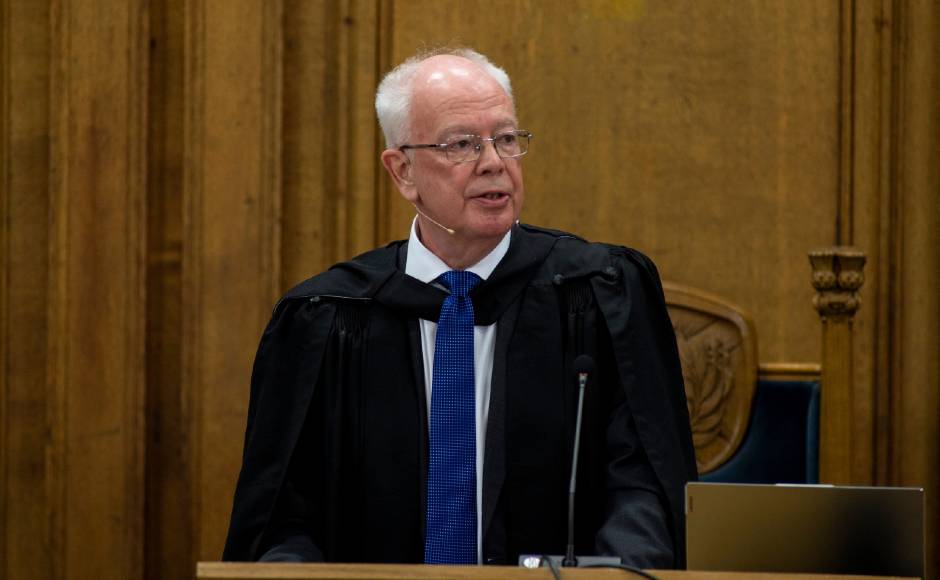 Lord Wallace, an elder at St Magnus Cathedral in Kirkwall, Orkney, is a member of the House of Lords and a former MSP and MP for the Northern Isles.
Rev Iain MacLeod, Moderator of the Presbytery of Sutherland, said: "We are excited about welcoming Lord Wallace to Sutherland to encourage and support ministers, elders and congregations.
"As someone who understands the rural context, we know that he will know all about the challenges we face as we seek to minister into such a vast geographical area with limited resources.
"We hope, too that Lord Wallace will be inspired by all that the various congregations are doing to reach out to their communities with the good news of the Gospel as they offer practical support to those in our communities, to families suffering hardship due to reduced financial assistance and soaring energy costs.
"We hope that he will enjoy visiting various local communities in Sutherland and that he will see how much is being achieved by local churches and the various local enterprises that are working hard to develop services and affordable housing within the area."
Mr MacLeod said church members have no doubt that the Moderator will be "awestruck" by the wonder of God's creation in an area of outstanding natural beauty.
Encouragement
Lord Wallace's first engagement is at Dornoch Cathedral this evening.
He is meeting office bearers and will say a few words then take part in a quiz night.
Tomorrow, Lord Wallace will visit Oversteps Residential Care Home run by CrossReach, the operating name of the social care council of the Church of Scotland.
He will meet some of the residents, their relatives and staff members including manager Stewart Petrie who is a member of Dornoch Cathedral.
Later he will visit the Meadows Care Home in Dornoch to meet residents and staff.
Lord Wallace will have lunch at Royal Dornoch Golf Club and play a round with club captain Willie Mackay.
While he is walking the fairways, his wife, Lady Wallace, will have lunch with Rev Lorna Tunstall, interim moderator of Dornoch Cathedral and parish minister at Clyne linked with Kildonan and Loth Helmsdale.
Afterwards she will have a guided tour of Dornoch History Links Museum.
Historic
The Moderator will preach at Clyne Church in Brora on Sunday morning and attend a communion service at Croick Church, which lies west of the village of Ardgay, at 3pm.
This is where crofters sheltered in the lea of the kirk during the Highland Clearances and etched their names on the glass windows.
The sacrament will be administered by Very Rev Professor Iain Torrance, a former Moderator of the General Assembly.
He will use a pewter communion plate which was removed in 1843 by the then minister, Rev Augustus Aird, who joined the Free Church.
It was lost for many years but turned up in a home in England and was bought back by the congregation.
On Monday, Lord Wallace will visit with local fishermen at Kinlochbervie Harbour to hear about their work and associated challenges and concerns.
He will later meet Rev Andrea Boyes, minister of Durness and Kinlochbervie Parish and members of the Kirk Session, crofters in Durness and attend a worship ceilidh in Kinlochbervie Village Hall.
On Tuesday, Lord Wallace will sail by boat from Kyleskue to Handa and Summer Isles.
The trip has been organised by Westminster Estates, the main employer in Scourie.
Social justice
Afterwards the Moderator will go to Lochinver to meet with the chief executive of the Assynt Development Trust, which recently bought Church glebe land to build affordable housing which will provide opportunities for young families and workers with much needed skills.
He and his wife will later have a meal hosted by Mr MacLeod, minister of the congregation of Assynt and Stoer in Lochinver, at his manse.
Lord Wallace will also meet artist Lizzie McDougall who is working on a project related to the church building which was originally built in Nairn and moved to Lochinver in the early 1900s.
At 7pm that evening, he will attend a public meeting in the village Hall in Lochinver to answer questions about what it is like being a Christian in politics.
The topic is Ethics, Faith and Politics and the event will be hosted by Mr MacLeod.
Serving communities
Lord Wallace said: "I am very much looking forward to visiting the Presbytery of Sutherland and meeting church members from across the area.
"Presbytery visits offer a wonderful opportunity for Moderators to see first-hand, the life of the local church and to offer encouragement and support to members and the wider communities they serve, but it is also an opportunity to learn.
"It is a privilege to hear the stories of congregations, communities and people and to sharing just a little of their journey in faith.
"The last two years have been challenging for all of us in different ways and everyone who is involved in ministry has been on the frontline serving communities to the best of their ability in difficult circumstances.
"As a Church, we seek to be active in the community and I am looking forward to meeting a wide range of people from different walks of life to discuss the issues that they face and assure them all that they are held in our prayers."