Fife minister 'honoured' to be elected Moderator of the General Assembly
Published on 21 May 2022 2 minutes read
A Fife minister has been installed as the new Moderator of the General Assembly of the Church of Scotland.
Rt Rev Dr Iain Greenshields said he is "humbled, honoured and privileged" to have been elected by commissioners to serve in the prestigious role on the opening day of the annual meeting in Edinburgh.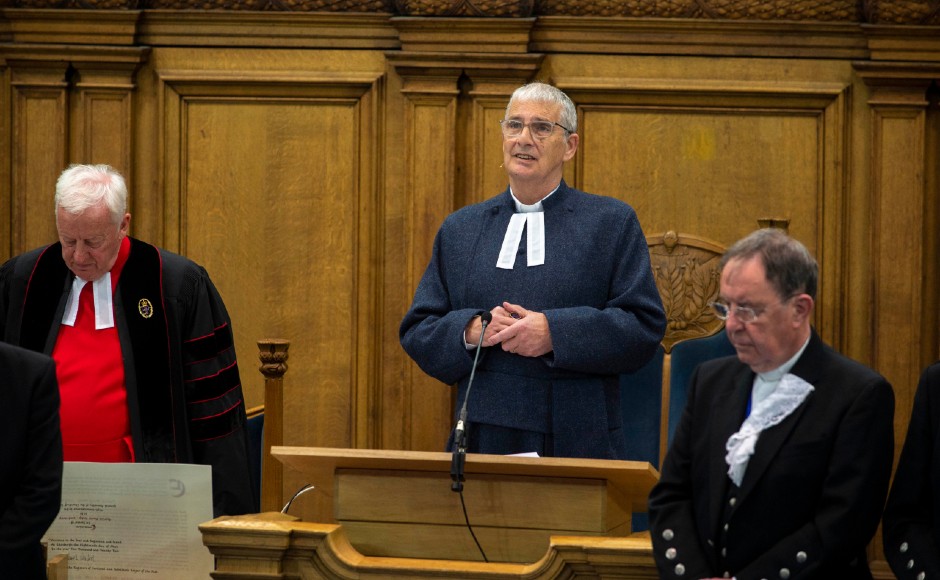 The 68-year-old minister of St Margaret's Community Church in Dunfermline will chair proceedings from the Assembly Hall for five days and thereafter will act as the Church's ambassador at home and abroad for the next 12 months.
Dr Greenshields will speak out on issues important to the Church and its mission to follow and proclaim the example of Jesus Christ.
His appointment was approved by commissioners and his predecessor, Lord Wallace, presented him with the ring and chain of office.
Dr Greenshields said: "I am genuinely humbled, honoured and privileged to be appointed as Moderator and to serve both you, this Church and our Lord in this capacity.
"I am very much looking forward to the coming days as we are together both in person and online."
Born and brought up in the Drumchapel area of Glasgow, Mr Greenshields is married to Linda, a secondary school teacher.
The couple have six children – Alistair, Ross, Caitlin, Eilidh, Siona, Suisaidh - and a grandson, Oran.
Their three youngest daughters come from different parts of China.
Support and prayers
During his time in office, Dr Greenshields will be supported by two chaplains, Rev Monika Redman and Rev Allan Morton.
Addressing commissioners while his family looked on from the gallery, the Moderator said: "I am, along with Linda and my chaplains, positively anticipating the year that lies ahead, God willing and representing our church.
"May God grant me the wisdom fit for the task as well as your support and prayers."
Dr Greenshields paid tribute to Lord Wallace, an elder at St Magnus Cathedral in Kirkwall, Orkney, for his service.
He said: "Your appointment was both unique and imaginative and has proved a great success.
"You have brought great experience from your political life and your Christian faith and commitment to the Church of Scotland as an elder, to the office of Moderator.
"There is no doubt that you have been a good ambassador for this Church and that you have been very ably supported by Lady Wallace, Rosie, your wife – very much a team."
Prison and hospital chaplaincy
Dr Greenshields was ordained in 1984 and his first-full-time position as a Minister of Word and Sacrament was in Cranhill near Easterhouse, a parish he served for nine years.
His second charge was St Machan Parish Church in Larkhall, South Lanarkshire before moving to the Isle of Skye in 2002 to be the minister of Snizort Church, which was a sort of homecoming because his father John grew up in Camuscross.
During his five years there, Dr Greenshields served as a hospital chaplain and the Moderator of Lochcarron and Skye Presbytery in 2003-2004 as a well as its finance convener.
He moved to St Margaret's Community Church in 2007 and over the years held various roles within the former Presbytery of Dunfermline including Moderator and clerk.
Mr Greenshields served as a chaplain at the former Longriggend Young Offenders' Institution in Airdrie, North Lanarkshire and nearby Shotts Prison.
Watch the General Assembly 2022
The 2022 General Assembly runs until Thursday 26 May at the Assembly Hall on The Mound in Edinburgh.
The event will be livestreamed through the Church of Scotland website, with highlights shared each day through the website, Facebook and Twitter.