Church members offer to host Ukrainian refugees in their homes
Published on 14 March 2022 3 minutes read
Church of Scotland members are preparing to 'welcome the stranger' by opening up their homes to Ukrainian refugees.
Many have contacted the Faith Impact Forum to say that they want to provide a safe and secure place for shattered families who fled Ukraine following the Russian military invasion which began on the 24th of February.
Congregations across Scotland are responding to the unfolding humanitarian crisis in Ukraine with an outpouring of financial donations and offers of practical support.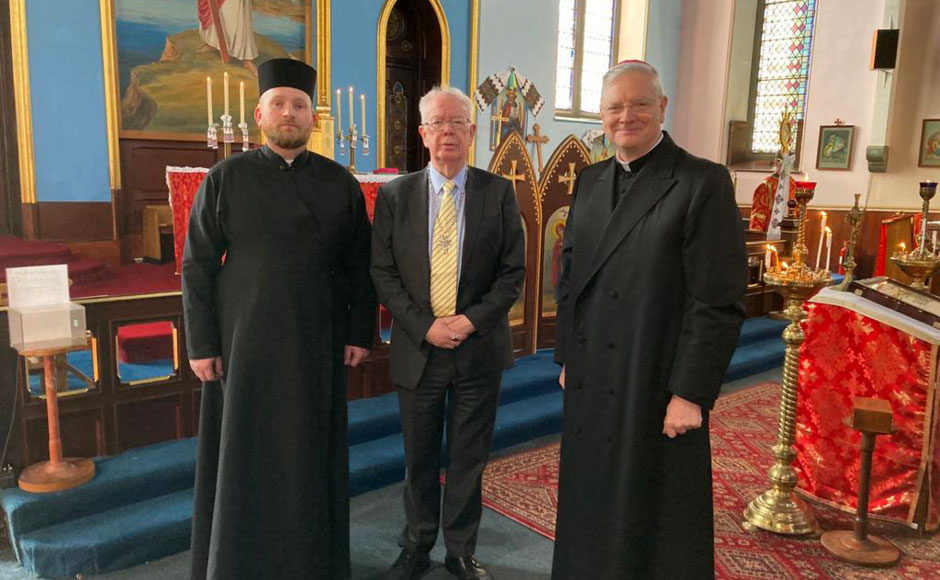 So far Church of Scotland congregations have collected £75,000 for the Reformed Church in Hungary Aid (RCHA) emergency response as well as donating thousands of pounds to other aid organisations including the Disasters Emergency Committee, which is coordinating relief efforts across the region. (DEC)
Hungary shares a border with Ukraine and RCHA run by a Church of Scotland partner, is providing food donations, hygiene equipment, information, spiritual assistance and accommodation.
Staff members and volunteers are receiving refugees at border stations and train stations.
Generous welcome
Since the conflict began, Lord Wallace, Moderator of the General Assembly, and Very Rev Dr Susan Brown, convener of the Faith Impact Forum, have repeatedly called for peace-making in addition to urging the UK Government to offer a generous welcome to refugees by removing all barriers to those seeking sanctuary in the country.
Last week, Lord Wallace wrote to Home Secretary Priti Patel MP to directly urge her to develop a humanitarian response that matches the scale of the crisis unfolding in Ukraine which has seen millions of people flee for their lives.
He wrote: "The outpouring of kindness and generosity of British public who raised £100 million in just four days has been admirable.
"As churches here in Scotland and the UK we are united in our desire to play an active role in welcoming the stranger and supporting those most in need.
"Now, more than ever, it is time to strengthen, not weaken, our commitment to the UN Convention on Refugees and ensure that all who need it, and have lost everything, are provided protection.
"We want our country to respond generously, to reflect the kind of society we aspire to be."
Standing in solidarity with Ukraine
The UK Government confirmed today that there will be no limit to the number of people who can live with host families under the new Homes for Ukraine refugee scheme.
Individuals and organisations can now register interest on the Homes for Ukraine webpage
Hosts will receive £350 a month as a "thank you" from the UK Government.
First Minister Nicola Sturgeon has announced that the Scottish Government is prepared to act as a "super sponsor" and said this country "stands ready" to take 3,000 refugees immediately.
Earlier this month, Lord Wallace attended a Sunday service at Our Lady of Pochayiv and St Andrew Ukrainian Catholic Church in Edinburgh.
He was invited to attend by parish priest Rev Fr Vasyl Kren and the Roman Catholic Archbishop of St Andrews and Edinburgh. Most Rev Leo Cushley, visited the church and met with Fr Vasyl and the Moderator at a separate time from the service.
Lord Wallace told the congregation: "I hope that by being with you today, I can, on behalf of the General Assembly of the Church of Scotland, assure you that we stand in solidarity with those who are under attack, those who suffer, those who are fearful.
"And I wish to give you the assurance of our prayers."
The Church has a long history of supporting refugees and leads the multifaith partnership, Scottish Faiths Action for Refugees which is helping to support people in Ukraine.
Donate through the Church of Scotland
The Church is supporting the Reformed Church in Hungary Aid emergency response and, across Scotland, presbyteries and congregations are collecting and distributing many thousands of pounds in donations to charities working in the region, who have the personnel and logistics in place to ensure aid reaches the people who need it most.
Transfer your donation to the Royal Bank of Scotland Church of Scotland
Account Number: 00134859
Sort code: 83 06 08
Reference: RCHA donation and the donor's name
If eligible, please also complete the Gift Aid Declaration form by following this link to the HMRC gift aid form, ensuring the Charity Name is completed as "The Church of Scotland". The completed form can be returned to the Church of Scotland by email to sfadmin@churchofscotland.org.uk. Alternatively, a cheque can be sent payable to The Church of Scotland with an accompanying letter and completed gift aid form.
Donate to the Disasters Emergency Committee
Gift Aid can be applied to your donations.