Faith leaders urge UK Government to change Nationalities and Borders Bill
Published on 28 February 2022 5 minutes read
More than 1,000 faith leaders have urged the UK Government to "substantially" change the terms of the controversial Nationality and Borders Bill.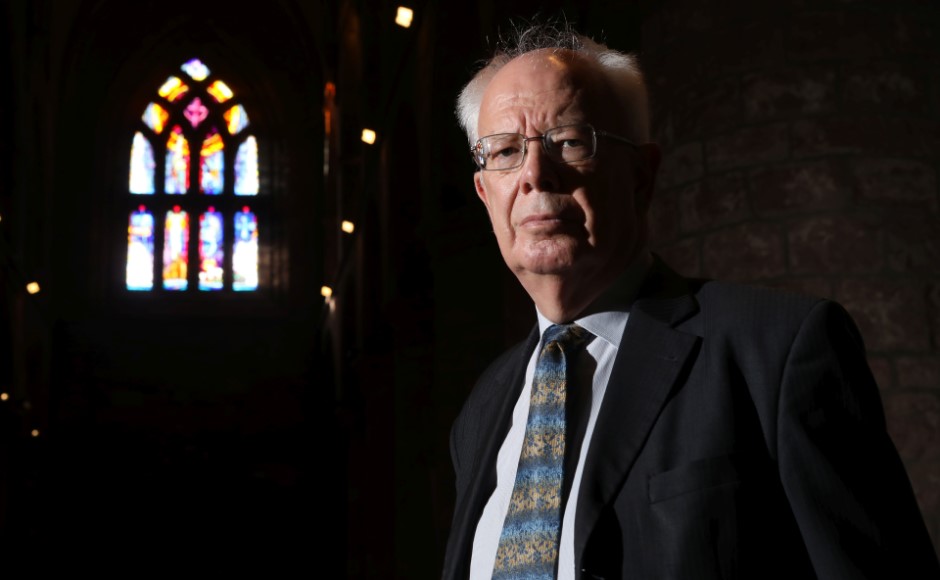 Speaking against the backdrop of a mass exodus from Ukraine, they say they are "horrified and appalled" about the potential repercussions of the proposed legislation.
The leaders, representing the six major faith groups in the UK, say the Bill would lead to "closing the door" on desperate people seeking sanctuary who are genuinely in fear for their lives.
They have signed a letter to Prime Minister Boris Johnson which urges him to show compassion and make substantial changes to the draft legislation "even at this late stage".
Lord Wallace, Moderator of the General Assembly, said: "This week we are seeing people under attack in Ukraine who are being forced to flee their homes.
"It is a good time for the UK Government to reconsider its approach and to ensure that our laws are designed to support people seeking sanctuary from conflict, no matter how they arrive in our country."
The letter is published today as the Bill enters its final stages in the House of Lords - a crucial last opportunity to make changes.
More than 80 of the signatories are from Scotland.
It states: "While there is still conflict and injustice in the world, there will always be desperate people needing to seek sanctuary from war, persecution and suffering.
"We cannot close our door on them but this Bill does just that.
"We assert that the values that bind UK citizens together, especially those concerning human dignity and life, will be fundamentally damaged by this Bill."
'No basis in evidence or morality'
The faith leaders call on the Prime Minister to make substantial changes to the draft legislation and have requested a meeting with him to discuss their grave concerns.
Changes include abandoning the government's plans to criminalise and restrict the rights of all people arriving in the UK seeking refugee protection outside pre-arranged schemes, including those coming via irregular routes, such as by boats or lorries.
The letter says this policy was made "without a basis in evidence or morality".
It asks the UK Government to urgently address the failure to establish safe routes for refugees seeking sanctuary, arguing that failing to do so fundamentally undermines the Bill's aims.
The letter urges the Prime Minister to be 'compassionate and ambitious ' in opening schemes such as family reunion, resettlement and routes for unaccompanied refugee children in Europe.
Many faith groups across the UK have witnessed first-hand the positive impact of safe routes on people in their communities, working in refugee integration initiatives, community sponsorship programmes and providing emergency support to recently arrived refugees.
Ministers see the impact of policies
Rev Jane Howitt is the Transition minister at St Rollox Church in Glasgow, which runs a range of support programmes for refugees and asylum seekers.
She said that while refugees who have already arrived in Scotland may not be affected by the proposals in the bill, new migrants, even those with family members here, could face deportation.
Ms Howitt said: "There are so many desperate situations that are driving people out of their homelands, but there is a lack of safe and legal ways for refugees to get to the United Kingdom.
"So we are seeing new folk arriving all the time and many are not able to arrive through legal routes.
"It is very difficult and often traumatic for people to get here and when they do arrive they face huge challenges.
"If asylum seekers were allowed to work we might better understand their value as friends and as citizens.
"I see many people who first came as refugees and are now making incredible contributions to our community."
Christians called to help
Rev Raheel Arif, minister for Denny Old linked with Haggs Church of Scotland, has first-hand experience of the immigration system having first come to the UK as an asylum seeker.
He and his wife and two children fled religious persecution in Pakistan and they are now British citizens.
Mr Arif said: "Around the world, millions of people live in poverty and in vulnerable situations due to war, persecution, violence and abuse.
"Sometimes people are forced to flee their homes to preserve their lives as we are seeing now in the Russian invasion of Ukraine.
"As Christians, we are called to come alongside and help those in need.
"We are called to act with compassion and to urge our government to stand up for refugees and asylum seekers, as it says in the 1951 Geneva Refugee Convention.
"However, the new Nationality and Borders Bill which our government is proposing will affect the vulnerable people on our borders and may prevent them reaching a place of safety.
"The introduction of this Bill may allow the smugglers and the trafficking gangs to thrive and will increase the reliance of people upon them putting more peoples' lives in danger.
"It will further increase the barriers to refugees and asylum seekers.
"The current migration crisis is an opportunity for Christ's body to reflect on God's heart for refugees, and to pray and provide for the millions of struggling refugees and displaced people around the globe."
Signatories to the letter include:
Lord Jim Wallace, Moderator of the Church of Scotland
Most Revd Mark Strange, Bishop of Moray, Ross and Caithness and Primus, Scottish Episcopal Church
Rt Revd William Nolan, Archbishop of Glasgow
Imam Sayed Razawi, Chief Imam and Director General, Scottish Ahlul Bayt Society, Shia Community
The Rt Revd Dr John Armes, Bishop of Edinburgh, Scottish Episcopal Church
Rt Revd Brian McGee, Bishop of Argyll and the Isles
Venerable Abbot Lama Yeshe Losal Rinpoche, Abbot of the Kagyu Samye Ling Monastery and Tibetan Centre, Scotland
Revd Dr David Miller, Moderator of the General Assembly of the United Free Church of Scotland
Elizabeth Allen, Clerk to the General Meeting for Scotland, Quakers in Scotland
Rev Ruth Harvey, Leader, the Iona Community
Sister Isabel Smyth SND OBE, Scottish Catholic Bishops' Secretary for Interreligious Dialogue
Revd Paul Whittle, Synod Moderator of the United Reformed Church, National Synod of Scotland
Ms Zara Mohammed, The Secretary-General of the Muslim Council of Britain
Revd Dr Rowan Williams, former Archbishop of Canterbury
The letter is being sent to the Prime Minister on Monday 28th February 2022. Read the full text here.