Challenges and new opportunities await the Church of Scotland
Published on 26 May 2022 4 minutes read
Congratulating the Church of Scotland on delivering a successful General Assembly in challenging times, royal representative Lord Hodge said that seeing the Kirk in action had reassured him that along with the challenges, there were new opportunities ahead.
Lord Hodge, who as Lord High Commissioner is Her Majesty The Queen's personal representative to the Assembly, also used his final address to apologise for adding to those challenges by contracting Covid, postponing his in-person attendance and leading to the cancellation of the traditional open day parade and events at Holyrood Palace.
However, he was eventually able to visit Church-backed charities and projects in Perthshire and Glasgow, as well as attend the Assembly in person.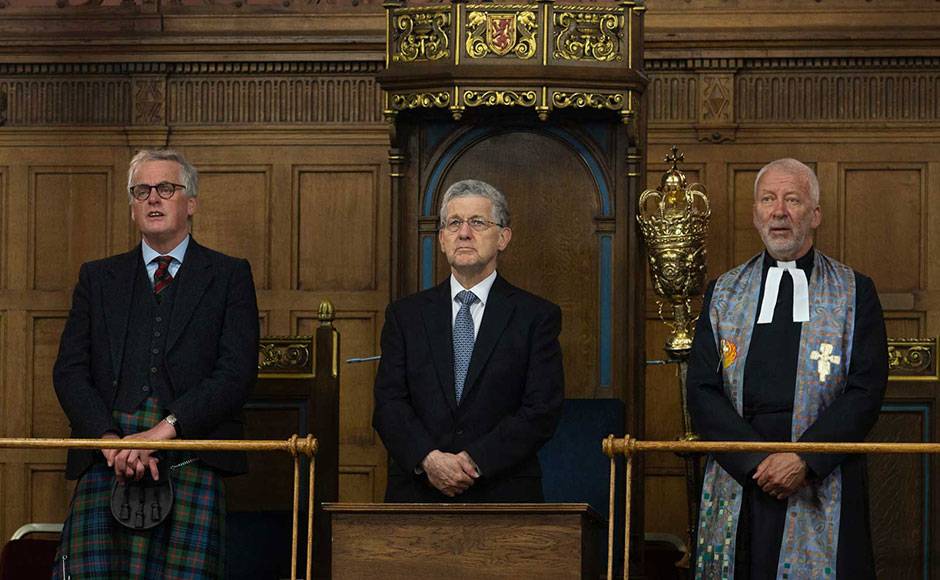 Dignity and grace
"I have greatly enjoyed hearing once again your debates. You have conducted your deliberations with dignity and grace, tackling difficult issues on which differing views are held in good faith," he said.
Lord Hodge, who is the Deputy President of the Supreme Court of the United Kingdom, also paid tribute to Principal Clerk George Whyte and chair of the Assembly Trustees John Chalmers for respectively guiding the Church and Assembly through all the complexities created by the pandemic and streamlining the organisation of the Church to allow it to better focus on its mission.
Inspiring projects
Away from the Assembly, Lord Hodge travelled to Crieff to attend a lunch with local charity representatives and visit Auchlone Nature Kindergarten, which was founded by Dr Claire Warden to encourage children to learn about sustainable living, nature and animals.
He said: " I was struck by the energy and vibrancy of these, mainly local, initiatives which ranged from community support, assisting the families of prisoners, providing for the disabled, recycling things for further use, and many other initiatives.
"I also met prison officer cadets, including two very impressive young women who explained their motivation as a desire to be of public service and to give something back to their society. They were inspiring."
The following day he visited the Queen's Quay heat network facility at the former John Brown's shipyard in Glasgow. The facility heats water from the River Clyde up to 80° Celsius and uses it to supply energy to the surrounding buildings and community with a 98% reduction in carbon emissions.
Lord Hodge noted that this technology has the potential to contribute greatly towards meeting climate goals if the vision is there within government and industry.
He then went on to the Milton housing estate, where life expectancy is 10 years lower than the Glasgow average, but where the Church of Scotland's Colston Milton parish church, St Augustine's Roman Catholic church and St Andrew's Methodist Church, have joined forces to support the community.
"This support is essential as the community struggles with the cost of living crisis. We came away inspired by what we had seen and heard," Lord Hodge said.
Back in Edinburgh, Lord Hodge met the chaplains to Her Majesty's Forces who were also visiting the General Assembly before going on to give a short address at the General Assembly of the Free Church before a Scottish Parliament lunch with the Presiding Officer, Alison Johnstone, and MSPs from each of the parties.
"I was struck by the interest in and appreciation shown by our hosts to the work of our church and other churches," Lord Hodge continued.
"In the afternoon, the Governor of Edinburgh Castle and the chief executive of the Scottish National War Memorial gave us a guided tour of the National War Memorial. I have visited the Memorial on several occasions, but Her Grace (Lady Hodge) and I were privileged to have an authoritative account of its creation and to see in detail its moving works of art created by a grieving but hugely grateful nation."
Although he had been unable to visit asylum seeker support group Friends of Scottish Settlers in Falkirk as planned, Lord Hodge thanked the Lord Lieutenant of Stirlingshire, Alan Simpson, for stepping in as his replacement.
"The aim of the visit was to show that people care about asylum seekers and to thank the staff and volunteers for their dedicated work. At a time when the world is so unsettled and when violence has returned to Europe on a scale unprecedented in my life, I was very sorry to have missed out on this visit," he added.
New opportunities emerge
After thanking all those who had supported him as well as his wife Penny over his time as Lord High Commissioner, Lord Hodge reflected: "I reach the end of my time here this year with strong memories.
"In particular, I have a strong sense of the energy and vibrancy of initiatives being taken at a local level, whether it be the Perthshire charities whom I met in Crieff or the ecumenical collaboration in service of the community in Milton.
"At a time when the Church faces challenges it should not forget the opportunities which are emerging to do things in new ways by facilitating local initiatives. Most of all, what I will take away from this week is what a drug addict in Milton, who had no active connection with the church, said to the Rev Christopher Rowe on meeting him in the community: 'You give us hope that God has not abandoned us'."
Wishing new moderator Rt Rev Dr Iain Greenshields and his wife, Linda, a successful and rewarding year in office, Lord Hodge concluded: "Right Reverend and well-beloved, your labours are now at an end. You have concluded the business for which you assembled. May you return to your communities enlivened and enriched by your experience of this Assembly."