A message to the people of South Sudan
Published on 2 July 2022 3 minutes read
The Moderator of the General Assembly has sent a video message to the people of South Sudan.
Rt Rev Dr Greenshields spoke out days before he, Pope Francis and the Archbishop of Canterbury were supposed to be embarking on an historic "Ecumenical Pilgrimage of Peace" to the country next week.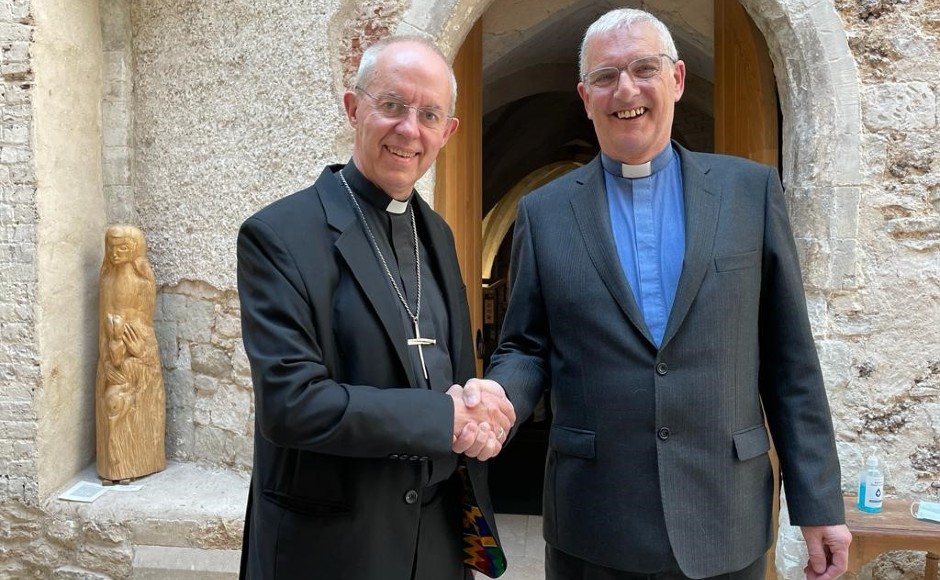 Unfortunately the three-day visit has been postponed due to Pope Francis's health but it is hoped it will be rescheduled.
In a video message to the people of South Sudan, Dr Greenshields said: "Warm greetings from Scotland.
"We were supposed to be with you in South Sudan.
"Unfortunately due to the Pope's ill health that's not been possible.
"However, we do look forward to the time when we will be able to come and to share in a joint pilgrimage of peace with ourselves, the Anglican communion and the Roman Catholic Church.
"We very much look forward to that opportunity and we would like you to know that you are very much in our thoughts and in our prayers during these difficult times that you're having to experience.
"We hope that we'll be able to come and in some way serve and help you."
Pope Francis and the Archbishop of Canterbury have also released a video message to the people of South Sudan.
The church leaders have been invited to South Sudan by President Salva Kiir Mayardit and are expected to meet with him and his five vice-presidents in Juba, the capital of the world's youngest country which has been blighted by civil war.
Pope Francis, Most Rev Justin Welby and Dr Greenshields, will also meet local church leaders, people living in a displaced persons camp and lead a large open-air prayer vigil for peace.
The purpose of the visit is to renew a commitment to peace and reconciliation and stand in solidarity with millions of ordinary people who are suffering profoundly from continued armed conflict, violence, floods and famine.
Around 400,000 people are said to have lost their lives.
Peace and security
The church leaders – representing the worldwide Catholic Church, global Anglican communion and Presbyterianism - pray that communities torn apart by violence can co-exist and develop in a peaceful, just and secure environment.
The pilgrimage was promised during a spiritual retreat at the Vatican in 2019 which brought together Pope Francis, the Archbishop of Canterbury and Very Rev Dr John Chalmers, former Moderator of the General Assembly, with President Salva Kiir Mayardit, Riek Machar, who is now First Vice-President, and other politicians.
In a dramatic gesture at the end of the visit, the Pontiff knelt before the government leaders and opposition, kissing their shoes and urging them to pursue peace.
South Sudan gained independence from Sudan in 2011 and there was great hope for the country but civil war broke out between the Nuer and Dinka ethnic groups two years later.
Peace talks the following year led to an agreement being signed in 2015 but it was short-lived and fighting began again in Juba the following year.
After 20-months of violent conflict, the warring parties signed a peace agreement in 2018, giving cautious hope that the country would be on the road to peace.
Justice
However, South Sudan is still fragile today with an economy on the brink of collapse, a deteriorating humanitarian situation due to hunger and an unsteady political will to implement the peace agreement.
Speaking before the visit was postponed, Dr Greenshields said: "I am genuinely humbled at the opportunity to assist our brothers and sisters in South Sudan in the search for peace, reconciliation and justice.
"It is a privilege to be joining the Holy Father and the Archbishop of Canterbury on this historic Ecumenical Pilgrimage of Peace and we come as servants of the Global Church.
"We call on all people in South Sudan to give expression to Jesus' words that 'Blessed are the peacemakers for they will be called the children of God.'
"The Church of Scotland has been invited to represent the Presbyterian family due to our strong partnership with the Presbyterian Church of South Sudan.
"We have been working closely together since 2015 on a vital peace, reconciliation and conflict resolution programme.
"It has helped local church leaders work at both a grassroots level and political level to try and bring unnecessary conflict to an end and build lasting peace, stability and unity.
"There is still much work to do and the symbolism of this historic ecumenical visit sends out a very strong message about our steadfast commitment to helping the people of this country flourish for the good of all."