Prince William says Church found new life, purpose and energy during pandemic
Prince William has said that Scotland will "forever run deep" in his heart and praised the Church for its response to the pandemic.
His Royal Highness told the General Assembly that the country is incredibly important to him and the source of some of his happiest and saddest memories.
He said his childhood was full of carefree holidays swimming in lochs, he met his wife at the University of St Andrews and spent time training as a pilot in Inverness.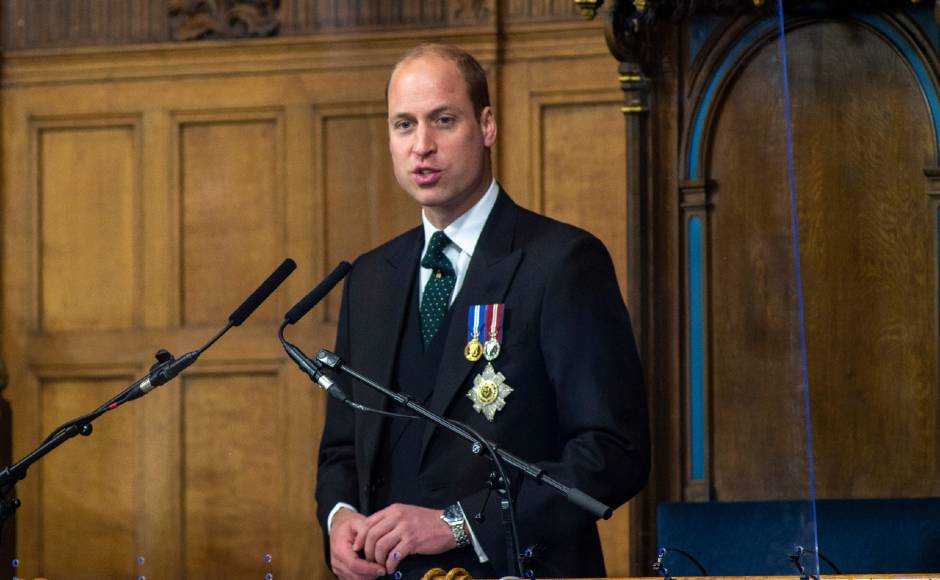 The Duke of Cambridge, who is serving as Lord High Commissioner to the General Assembly, Her Majesty the Queen's personal representative, was staying at Balmoral Castle on Royal Deeside when his mother died.
Diana, the Princess of Wales, died of injuries she sustained in a car crash in Paris, France on the 31st of August, 1997.
Addressing commissioners from the Assembly Hall in Edinburgh, Prince William, who was 15 at the time, said: "I was in Balmoral when I was told that my mother had died.
"Still in shock, I found sanctuary in the service at Crathie Kirk that very morning.
"And in the dark days of grief that followed, I found comfort and solace in the Scottish outdoors.
"As a result, the connection I feel to Scotland will forever run deep."
Great honour
Prince William, who is known as the Earl of Strathearn in Scotland, said alongside that painful memory is one of great joy.
"It was here in Scotland – twenty years ago this September – that I first met Catherine," he added.
"Needless to say, the town where you meet your future wife holds a very special place in your heart."
Prince William said their children, George, Charlotte and Louis, already know how dear Scotland is to them and are starting to build their own happy memories.
The Duke of Cambridge said being asked by his grandmother to be her personal representative at the General Assembly was a "great honour and a humbling opportunity".
He said that Her Majesty the Queen asked him to reassure commissioners of her pledge to preserve and uphold the rights and privileges of the Church of Scotland.
"One day, it will be my responsibility to swear my own oath to maintain and preserve the security and independence of the Church of Scotland," he added.
"This convention signifies the mutual respect, tolerance and understanding that has characterised the relationship between the Sovereign and the Kirk over the past three hundred years."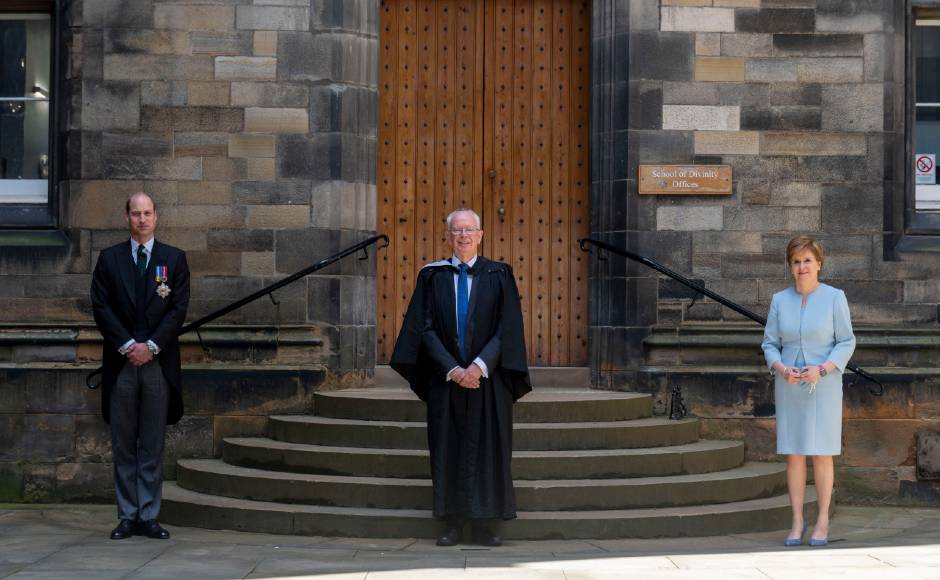 Prince William said the Church had been an "essential refuge" for people across Scotland over the last 12 months due to the "harrowing" and "incredibly challenging" COVID-19 pandemic.
He said it "truly came alive" to care for the most vulnerable in society.
New purpose, new life
Recalling the first lockdown, Prince William said "Shutting Kirk doors during Lent last March must have been heart-breaking.
"The natural way that ministers bring comfort and guidance to those in need was impossible.
"Yet local congregations, led by creative and determined ministers and members, found their own ways to continue worship and provide pastoral support online or by phone.
"You have re-imagined yourselves, helping to reach out to those who need it the most.
"Lightening the load of isolation, and ensuring that people are safe and not forgotten.
"You have looked beyond the boundaries of your congregations to become agents of support and comfort to your wider community.
"You have drawn new members to online services from around the globe.
"You have embraced change, and found new life, purpose and energy through your willingness to adapt."
Prince William said he imagined some people have been reminded afresh of the "true power" of the Church.
He suggested that its future lies not simply in Kirk buildings but in the values of peace, healing and 'love for thy neighbour'.
As part of General Assembly week, Prince William and his wife are visiting projects across Scotland to learn how people and organisations are tackling problems such as mental health, homelessness and addiction.
He said: "As we try to emerge from a long period of uncertainty and turmoil, I am grateful for the chance I will get this week to really listen, with humility and compassion, to many people in Scotland, from all walks of life, from different traditions, and from all faiths, and none.
"It has been suggested that I take Proverbs 19:20 as my guide – 'Listen to advice and accept instruction, that you may gain wisdom in the future'.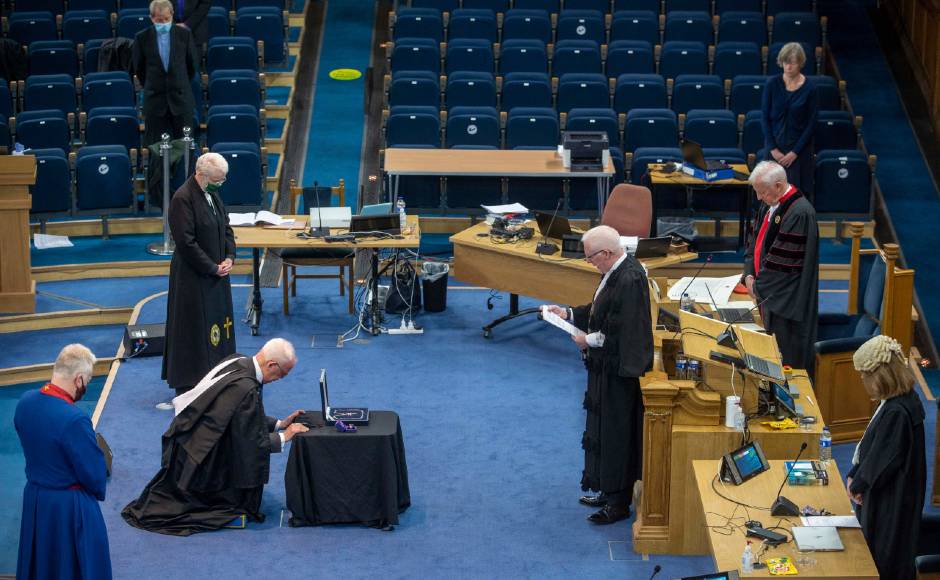 Prince William congratulated Lord Wallace on his appointment as Moderator of the General Assembly and wished him all the very best for a rewarding year ahead.
He said the elder from Orkney was no stranger to public life, having served the governments and parliaments at Holyrood and Westminster with great distinction for nearly 40 years.
"Your appointment as Moderator extends that service, this time to the spiritual mission of the Church of Scotland," added Prince William.
"The General Assembly, and the Church of Scotland more broadly, will benefit hugely from your experience, wisdom and above all - your faith - during the discussions this week and in the months ahead."
Tribute to Prince Philip
Lord Wallace said it is a source of "real pleasure" to many people that Her Majesty chose her grandson to represent her at the General Assembly.
Addressing Prince William, the Moderator said: "We meet only a few weeks after the death of His Royal Highness The Prince Philip, Duke of Edinburgh.
"I should wish to reassure Your Grace that the Church continues to uphold the Queen and her family in prayer at this time, and that you may find comfort in the faith to which Her Majesty bears such steadfast witness.
"And we should wish to give thanks for His Royal Highness' decades of dedicated service to the Queen and our country."
Prince Philip, who died on the 9th of April aged 99, addressed the General Assembly in 1969.
Lord Wallace said the Duke and Duchess of Cambridge have done so much to raise awareness of mental health and to support mental health charities.
"That is an issue the General Assembly will surely want to address in the coming week," added the Moderator.
During your visits to different parts of Scotland, people will tell it to you as it is.
"And I am confident that amidst the challenges, you will find many examples of compassionate and pioneering work, including the work undertaken by the Kirk's CrossReach teams."