Kirk marks 100 days until COP26
Published on 23 July 2021
Today (23 July) marks 100 days until the 26th UN Climate Change Conference of the Parties (COP26) arrives in Glasgow on Sunday 31 October, and Kirk members are pledging to join together in prayer and to take action for God's creation.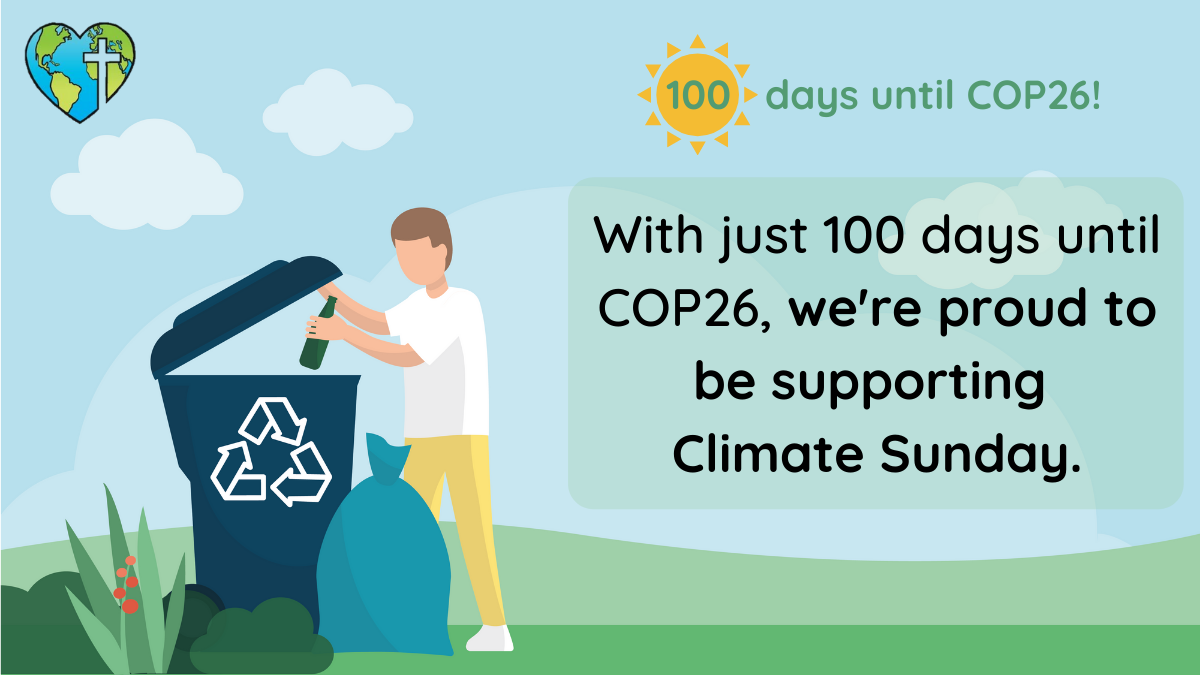 Across Scotland, communities continue to prepare for the arrival of the COP, and Church of Scotland congregations are preparing to play a crucial part in ensuring the event has a real and lasting impact on preventing or minimising the devastating effects of climate change around the globe.
"Today marks 100 days until COP26 and, as it approaches, there will be opportunities for activism, for learning and for putting into practice what we believe in," said Very Rev Dr Susan Brown, convener of the Church of Scotland's Faith Impact Forum.
"The main COP26 activities in Glasgow will be out of bounds for most of the members of our Church, but by embracing the technology which congregations have made good use of in the past 18 months, the chance to join in lectures, workshops and other events which are being planned and will form part of the COP26 fringe, marks a real change in how we can engage at local level.
"We need to ensure that the voices of those who are experiencing the effects of climate change are heard loud and clear. This is what we in the Church of Scotland should do for our brothers and sisters around the globe.
"Together, let us make a stand for justice."
What can I do now?
Congregations are encouraged to take part in the lead-up to this year's COP26 in lots of different ways, such as:
Planning a Climate Sunday service – Is your church considering holding a Climate Sunday service? Have you decided on a date? Join the Climate Sunday movement by registering your service on their website, and making use of their pre-prepared worship resources.
Reading and signing the Climate Coalition's declaration – Urge the UK Government to protect our environment and get us on track to net-zero emissions.
Signing up to accommodate a climate justice guest – If you live in or around Glasgow, could you open your home to a visiting activist, scientist or policy maker attending this year's COP26? The COP26 Homestay Network is looking for hosts to help foster connections between the movement and local communities, and be able to offer affordable accommodation for those who need it most. Hosting can also increase your understanding by getting to know someone's personal story, and can often lead to lifelong friendships.
Becoming an Eco Congregation – Make a commitment as a local church community to reduce your own greenhouse gas emissions using Eco Congregation Scotland's free resources.
Getting crafty by designing banners to be displayed in Edinburgh – Edinburgh University's New College invites communities and faith groups to send a message of support for tackling the climate crisis to our world leaders through the crafting of a patch or panel to be included in two 22 metre banners being hung on the towers of New College. The final banners will be stitched together by members of Edinburgh churches and students from the School of Divinity, and must arrive with the team by Friday 1 October.
Registering for the 'Faith, Hope and Climate Change' online course – Trinity College, Glasgow, is hosting a free online course every Wednesday between 15 September until 27 October from 7-9pm BST. Church groups are invited to join together to listen for God's call as we face up to the climate emergency. Each evening session will invite you to learn from high-profile scholars and speakers, and be inspired to take creative and prophetic action in your church and community. Why not make this part of your regular Bible study group or youth group?
Joining Christian Aid's prayer chain and 'pledging to pray' for COP26 – Christian Aid has produced some special prayer resources ahead of COP26 and invites Christians to join them in "pledging to pray". All pledges submitted will be delivered to decision-makers in Glasgow during the COP.
Attending the Alexander Duff Memorial Lecture on 'Fleeing the Hotspots: Climate change, migration and mission' – this year's joint initiative with New College, Edinburgh, and Trinity College, Glasgow, on Saturday 30 October gives the opportunity for members of our churches to engage with not only the main speaker, Dr Ruth Padilla DeBorst from Costa Rica, but several events planned later in November.
Give your support to one of the pilgrimage groups as they make their way to Glasgow – Several international pilgrimages will arrive in Glasgow from across Europe for the COP26: Get Docht (Katowice, Poland to Glasgow); Pilgrims Walk for the Future (Vadstena, Sweden to Glasgow); Camino to COP (London and Bristol to Glasgow); and Relay to Cop by the Young Christian Climate Network (Cornwall to Glasgow).
More details on how the Church of Scotland will be taking part in this year's COP26 events will be released in the following weeks and months, so stay tuned to our website, Facebook and Twitter pages for all the latest updates.
To get in touch with any comments, suggestions or ideas you may have, you can contact the Faith Impact Forum by email.