January 2022: Rev Nigel Chikanya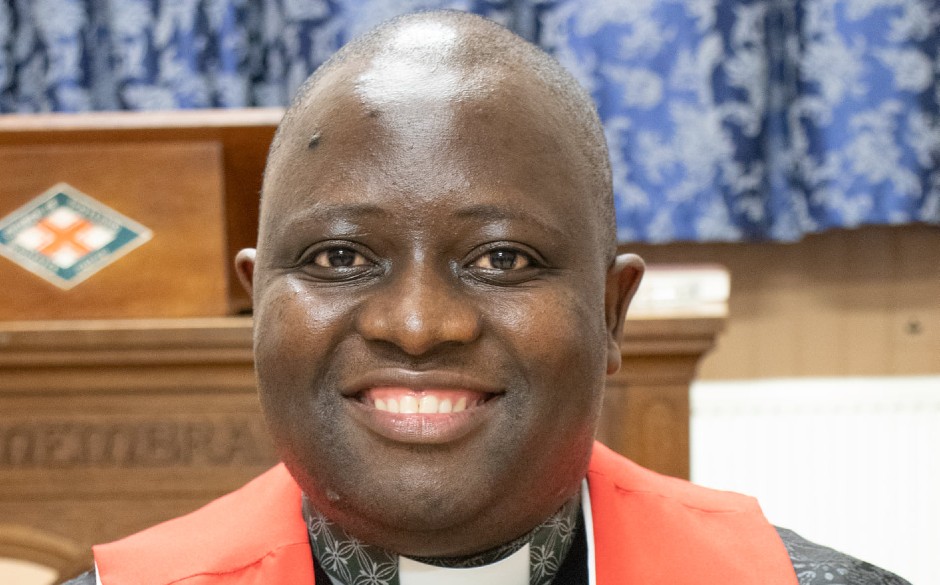 Each month, the Church of Scotland's 'Talking Ministry' series will share a personal story from those serving in Christian ministry in the widest sense, including those who have responded to the call to one of our four recognised ministries: Full-time Ministry of Word and Sacrament, Ordained Local Ministry (OLM), the Diaconate and Readership.
Alongside these personal stories, there will also be new monthly discernment resources filled with questions, prayers and reflections to help encourage your own reflection on how God might be calling you at this time.
Note: this article contains references to suicidal thoughts.
Personal Story: Rev Nigel Chikanya
Rev Nigel Chikanya is married to Saviour and has two sons, Deuel, who is 8, and Dylan, who is one. Born in Zimbabwe, Nigel studied and was ordained in South Africa before transferring to the Church of Scotland in 2019. He is the minister of Ardrossan and Saltcoats Kirkgate.
What's your faith background?
I was born in a Christian family. I had a tough background growing up – my mum and dad divorced when I was six and then I went to stay with my grandmother. My grandmother was a more devout Christian so she took us to church every Sunday. I came to Christ as my personal saviour when I was 16 and the bulk of that was due to what I could see in my grandmother – she was instrumental in doing that as well as my uncle. The two showed me that even though I was born into a Christian family I could actually make my own decision. I was baptised just after that.
What was your path to ministry?
When I finished my A-Levels in Zimbabwe I had already started working part-time in a pharmacy and also teaching in a private college and it was during this time that I felt my call to ministry. I then did two years of teaching in primary and secondary schools. Due to my background, I couldn't believe that God would use a person like me.
As a young person on three occasions I had tried to commit suicide. The last time I deferred the whole act when I was disturbed by someone. Instead, I decided to go to a group of Christians that were meeting at the camp where I was working. Someone started praying for me and he felt that I was in the dark and that I needed to get the light of Christ. Afterwards they asked me what this was and I explained what I had planned. For me, from that moment onwards I had a purpose so the journey started from there where I felt that God wanted to use me to identify people who were in the same scenario as I was. Even though I could preach and lead a service but the main instrument of my life was to help people – people who were struggling.
When the call came in August of 2003 I really fought it and at that time I was hoping to become an accountant, so it all came by surprise. I went to 50 ministers in my town and asked them 'how did God call you' and 'how did you know'? In the end it took almost six months speaking to people. I realised every person's journey is different and my journey looked different. Then I shared with my minister, and he said 'I knew you were called!'
I studied for a Bachelors in Theology in South Africa, and at the same time I did a BA Honours in Greek and Hebrew. After that I did my masters in theology.
What brought you to the Church of Scotland?
At the University of Pretoria I was fortunate to be taught by a very prominent church history professor, Graham Duncan, and he inspired me. Within the Presbytery of Zimbabwe we took part in ecumenical exchanges with the Church of Scotland. I also realised my denomination had a link with the Church of Scotland and that some of the missionaries came from Scotland to plant my denomination.
As an ordained minister I had the privilege of hosting visiting Church of Scotland ministers. One student came who is now a Church of Scotland minister and I was showing him how we did things and he said, 'Wow, this is good! The Church of Scotland could do with people like you'. I've always doubted myself but he was very persistent. I said, 'I'll think about it'. When my appointment was coming to an end I was exploring different places to go and I had a sense of calling to explore the Church of Scotland. I came to an admissions conference in 2018 and in 2019 I did my familiarisation.
Do have any advice for people who might want to follow a calling?
The best advice I received from the 50 people I met with to discuss my calling was that God needs people to serve Him. He needs people to work, to come to the fore, to be involved. Just like me, you don't need to be thinking big. Small things matter and small things put together bring about things that are huge, that people can identify and say, 'wow God is at work in this'. Don't hesitate to listen to what other people have gone through. It's not only a feeling, it's what you hear, it's what you see, it's what you experience which leads you to say this could be God calling on me. It's tough but you will not regret it.
What has been your biggest challenge?
The biggest one for me has been to think that you are not able – but ministry is about God. I look at my strengths and weaknesses and think, 'I'm not good enough' and I almost limit God that way. It's not about what I can do, it's about what God can do.
In Scotland, sometimes I see that the heart is willing but some people no longer have the strength they had. My congregation is an elderly one and they want to do quite a lot, but they can't run as much as they want to. I pray that God will raise more young people because we need them in the churches.
What attracted you to your parish?
With the experiences I've had in life I always look out for challenges. When I realised God was calling me to this church I could see the soil was ready and yet there were a lot of challenges. When I walked into the building for the first time the roof was falling down. In terms of the outlook it wasn't good, but what I could sense from what they had written down was that the congregation were a faithful people, a people who are willing. They were looking for a leader to work with them.
I may be the teacher or pastor but I come along with others, which for me is a clear view of what ministry should look like. Already I've seen my first miracle – I couldn't see any hope when I first walked into that church but we have been back in the church since the 19 December and it looks beautiful.
January Discernment Resources
Who am I?
When we think of our Christian faith, it defines in many ways how we understand ourselves in relation to God. It also underpins how we understand ourselves in relation to others and the world around us. Knowing that we are loved and held by God offers us an identity that is bound up in something much greater than the unique life we live.
To understand that we not only belong to God, but are part of the wider Christian family is a powerful thing. How do we understand our place, our part, our call to serve in the living of our lives?
The God who made the world and everything in it, he who is Lord of heaven and earth, does not live in shrines made by human hands, nor is he served by human hands, as though he needed anything, since he himself gives to all mortals life and breath and all things. From one ancestor he made all nations to inhabit the whole earth, and he allotted the times of their existence and the boundaries of the places where they would live, so that they would search for God and perhaps grope for him and find him — though indeed he is not far from each one of us. For 'In him we live and move and have our being'.

Acts 17:24-28
We are all called by God to something…in all our seeking and searching, God is calling each of us to discover who we most fully are in this relationship. God is not far from us, and has revealed in Jesus Christ and by the Spirit this real and refreshing presence that shapes our days and our destination.
This call is always a journey, and movement is at the heart of any journey. Where we are today in our relationship with God may be quite different than in the past, and perhaps God is leading us on to something new. Our identity is God is being continually reshaped as we open ourselves to what God is doing and saying now.
O LORD, you have searched me and known me. You know when I sit down and when I rise up; you discern my thoughts from far away. You search out my path and my lying down, and are acquainted with all my ways. Even before a word is on my tongue, O LORD, you know it completely. You hem me in, behind and before, and lay your hand upon me. Such knowledge is too wonderful for me; it is so high that I cannot attain it.

Psalm 139
To contemplate/discuss
Beginning from here, how do I think of myself in relation to God?
Is this relationship one of movement or does it feel static?
What could I do to deepen and develop my faith?
What are the patterns that have shaped my faith journey?
Who are the people that accompany me on the way?
Is God saying something new to me today?
Prayer
God of each and every moment, I thank you that you have given me a home in you. You hear me and hold me, and offer a life of fullness. Help me to know your call and assurance in my life, and to keep exploring with you where that journey may lead. Amen
More information
"Now, with God's help, I shall become myself."

Søren Kierkegaard
If you would like to consider how God might be calling you to serve at this time, you may want to discuss further with your minister or be in touch with your Presbytery to explore local opportunities.
If you are interested in exploring a call to the recognised ministries of the Church, you can find more information on our vocations page and can contact ministry@churchofscotland.org.uk for a Discernment Conversation with one of the Recruitment Team.