Steve Owens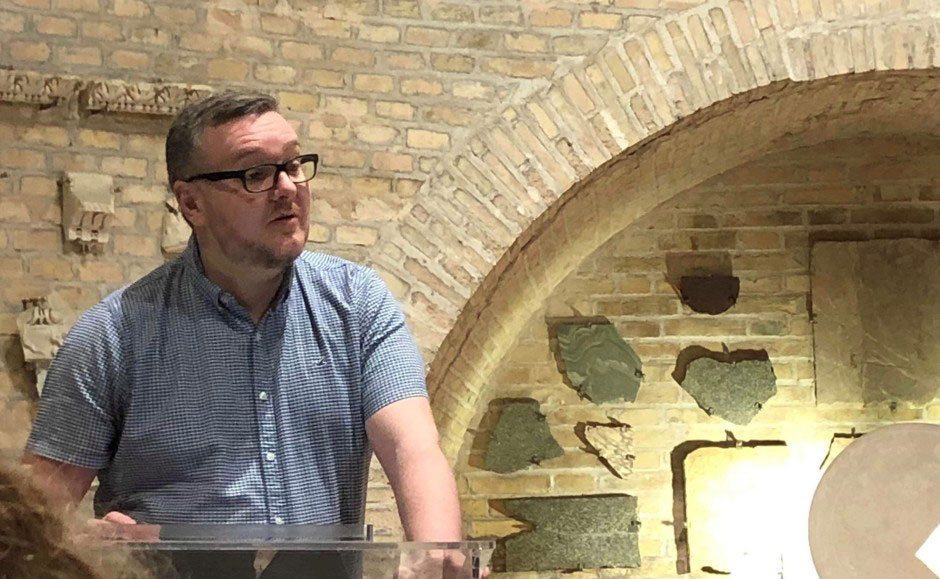 The Church of Scotland's 'Talking Ministry' series shares personal stories from those serving in Christian ministry, along with resources filled with questions, prayers and reflections to help encourage reflection on how God might be calling you at this time.
For August, Steve Owens speaks about studying to become a Minister of Word and Sacrament and we explore the theme: The Next Chapter.
My ministry: Steven Owens, third-year candidate for ministry of Word and Sacrament
Steven Owens, a third-year candidate for full-time ministry of Word and Sacrament within the Church of Scotland, is married to Marie and the father of Rebecca and Lauren. He is currently finishing off a role as a congregational facilitator within the Presbytery of Irvine and Kilmarnock.
What's your faith background?
I'm an elder in Netherlee and Stamperland Parish Church in Glasgow – it's where I joined the church. I didn't grow up in the church as such. I had an aunt who was an elder in Troon and she would take me to church there and I'd go on Sunday School trips. I also had a Roman Catholic influence on my childhood too – I would go with my cousin's gran to mass on a Saturday night when I stayed with them in Edinburgh.
It was a light touch exposure to church - I believed in God but it wasn't until I met my wife that I explored my faith further. My experience of church had been ministers who told you exactly what you should think about the Bible which didn't appeal to me. After I met my wife she took me to the church that she'd grown up in and the minister there had a different approach and just kind of caught me. When we moved to our house in Glasgow we joined the local church and the minister was similar – he got you to explore things but didn't tell you exactly what you should actually be thinking. I was baptised as an adult and I became a member and then an elder.
When did you start thinking about becoming a minister?
My family knew that I was for ministry before I did – your family is really key to this. It was more than five years ago but the thought of going to university put me off. At school I wasn't very academic so the thought of going to university filled me with dread. It was also daunting to think about taking four or five years of university and then probation to become a minister.
After taking redundancy from my job I saw a job as a congregational facilitator with the Presbytery of Irvine and Kilmarnock, which was mostly concerned with presbytery planning and I thought, if I'm going to apply for ministry I want to see a bit more of the church and I want to see it at its lowest point. I wanted to help deal with the planning behind the lack of ministers and declining membership.

It was probably the best thing I could have done because I went to a presbytery that was quite forward thinking. It fitted with my mindset of not just looking at decline and cuts but also growth. As well as supporting the cut in ministry allocation with adjustments I was also looking at pioneering ministry and we now have mission pioneers in post looking at mission and growth across the presbytery. That's the kind of legacy I wanted.
This experience became a defining moment for me, and helped me to think I can and should apply for ministry because that is what I believe God's call for me is. It's one that's about fitting in with a system that already exists, but also to challenge that system and look to grow God's kingdom - my previous working life was preparing me for this.
How have your views of ministry changed as you study?
I always thought my call to ministry was a preaching ministry, which I still think is the case – but the more I've been involved with pioneer ministry with presbytery, the more I've thought it could be part of my ministry.
Before coming to work for presbytery I had a career as an autism specialist, originally in a residential school for autistic children, then in an adult residential service for autistic people as a manager. Latterly I led on autism training for the National Autistic Society and then became the business lead for all commercial training and consultancy services.
All of this has helped me to prepare for ministry in terms of leadership, relating to people at different stages in their life, and in developing strategies to educate and communicate effectively with a wide range of people. I thought this was my career for life and that made deciding to train as a minister difficult. What I've found, though, looking at what God's been telling me throughout this journey, is that God's not finished with this aspect of my life. Almost every turn in ministry has brought something relating to autism to my doorstep.
In fact I've begun looking into the concepts around pioneer ministry and fresh expressions of church and whether there is a space for an autistic church within the Church of Scotland. I think that's where I'm going to focus my dissertation.
What has your experience of studying been?
I've come to this without a first degree, but within my career as head of training I actually had to design and deliver at master's level which helped to prepare me academically. But because I didn't do well at school, and it was such a long time ago, getting access to university wasn't going to be straightforward.
I wanted to study at the University of Glasgow as I didn't want to do distance learning. Their advice was to do the access course, so whilst working full-time I did the course part-time. That gave me a lot of confidence and it's when I realised I was able to do this. I am the only candidate for ministry in the Church of Scotland in Glasgow in my year but it's been great as it's given me a much broader experience – I've got quite an ecumenical support group. A few 'mature students' did the access course together and carried on doing the Bachelor of Divinity. As I was just about to turn 40, having that route in was extremely helpful – socially as well as academically.
Any advice for someone who is thinking about becoming a minister?
As much as I feel affirmed in my call to ministry, I still have moments of doubt. What I would say is give yourself the opportunity to have experiences and just trust that God has put the right people in the right places at the right time. That is what has sustained me through this – people. I have had two wonderful supervisors and such welcoming congregations in my placements.
Go out and get as many experiences as possible and try and find the right people too. Make sure you have a support network and let it grow as you do. If you're having doubts don't just speak to your family and those who are close to you. Try and talk to other ministry candidates too as we all come with different backgrounds and our individual journeys to ministry will be varied. I think that's the best advice I could give.
More information
If you would like to consider how God might be calling you to serve at this time, you may want to discuss further with your minister or be in touch with your Presbytery to explore local opportunities.
If you are interested in exploring a call to the recognised ministries of the Church, you can find more information on our vocations page and can contact ministry@churchofscotland.org.uk for a Discernment Conversation with one of the Recruitment Team.