Paul Goode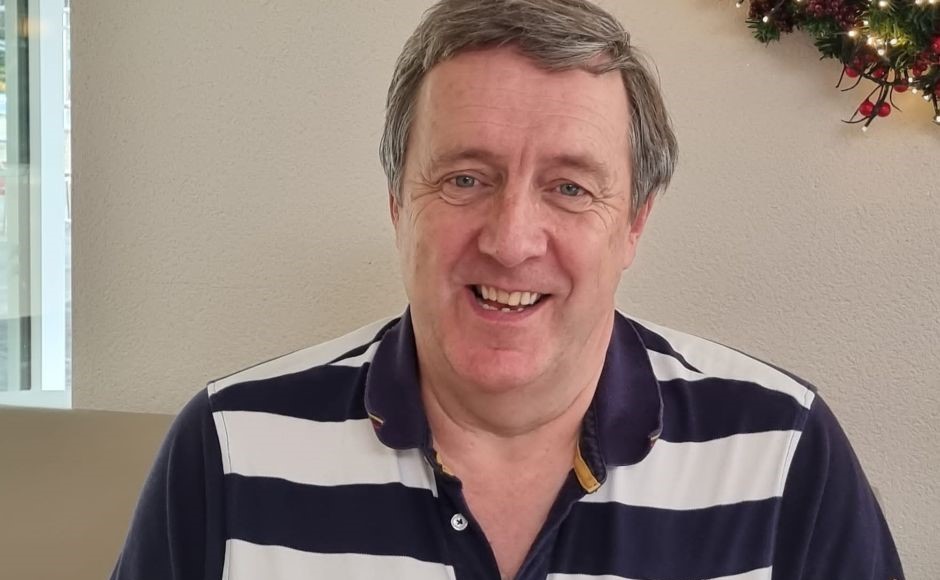 Each month throughout 2021, the Church of Scotland's 'Talking Ministry' series will share a personal story from those serving in Christian ministry, along with resources filled with questions, prayers and reflections to help encourage reflection on how God might be calling you at this time.
For November, Paul Goode speaks about his role as an elder at Earlston Parish Church and we explore the theme: 'Pushing at Doors'.
My ministry: Paul Goode, elder at Earlston Parish Church
Paul Goode was called to faith when he joined a Church of England choir as a child, but his journey into Church of Scotland ministry as an elder began when he moved to the Scottish Borders 15 years ago.
When did you become a Christian?
That's a hard one, but I think I'd have to say my love of music played a big part in it. My mother had a Christian faith and had been involved in the Church of England. So, at age six when I was singing loudly at 6am, she decided what I needed was to join a Church of England choir. That's how I became a chorister and went on to sing at two cathedrals: St Albans and St Pauls in London. I thoroughly enjoyed it and became semi-professional, continuing to sing with various choirs in London as a tenor for many years as well as in St Paul's. Being in the choir developed my Christianity and I think being part of a choir is a wonderful way for young people to learn about faith, God, the psalms and the Bible. I just love music, church music and in fact any good music, and that I think has drawn me deeper into my faith.
How would you describe your journey into ministry?
My faith grew over the years and, as well as being a chorister, over time I became quite heavily involved in the Church of England. My professional work was in a completely different field. It took me into the world of banking and finance. At that time, I hadn't thought of ministry as such, although I always felt God's calling and became a committed volunteer on the parish council, the deanery committee and St Albans diocese property committee.
My life changed dramatically after marrying my wife Katriona, who is a former BBC radio producer and is Scottish. We wanted to marry in the South of England but were not able to so decided to come to the Scottish Borders following a romantic holiday. We approached Rev Marion Dodd, who was then the minister at Kelso, and 25 years ago she married us in Floors Castle. Then, a year later we had our son Matthew, who was a real joy but has serious disabilities and communicates with us all in a very different way.
We are very fortunate that Matthew does not want for anything. My wife and I have been able to retire early, which allows us to care for him at home. So, 15 years ago, we moved to Earlston, a small village near Melrose. That was so that Matthew could attend the Edinburgh Blind School. I do not have to worry about him because I know he'll be taken care of.
Rev Marion Dodds encouraged me to start taking services and preach the Gospel and I found that I enjoyed it and I very much enjoyed leading people to God. That's where my Church of Scotland ministry journey really began. Now, whenever I come across the Border, I feel I am coming home.
When I first moved up here I was quickly encouraged to get involved in the Presbytery and became property convener for Kelso and Jedburgh. I also got involved in fundraising, which comes easily to me as I have the background in finance. I volunteered to serve on the Church Art and Architecture Committee (CARTA), and then on the Mission and Discipleship Council for a while. But when the structures of the church changed, those roles disappeared. I very much enjoyed my role with CARTA as I was able to visit churches and see what different churches around the country were doing.
Tell us about your calling to be an elder
I'd have to say my faith journey has been rocky at times, not because of God's calling – because over time I have become more and more sure of where I want to go – but because it has been challenging at times to discern where I fit in.
My faith has grown deeper as I've grown older. I want to be out there preaching my faith, but also telling people about God and leading people to God.
My calling journey changed dramatically when, two years ago, having been through a period of discernment and having been given all the encouragement from many, at national selection for ministry I was turned down for OLM (Ordained Local Ministry). I was devastated but soon realised I don't need a dog collar round my neck to carry on with my ministry.
So, what I realised is that being an elder allows me to do almost everything I have wanted to do in ministry. As an ordained elder I deliver services, write and say prayers and read the Gospel. I give pastoral care and I'm happy when I am out in my community speaking to people and sharing faith with them.
I have no problem in knocking on a door and asking people if I can pray for them, or if there is something they'd like me to pray for. I've taken funerals, including that of my own father, and I've even married a couple in our own home under a special license. The only thing I have not been able to do is a baptism but everything else is part of the role.
To be an elder is a lifetime commitment because when you are ordained you are being ordained for life. So, unless you do something very wrong you will always be an elder. It is a commitment to serve and it's a commitment to God. That is important to me as my commitment is to God rather than to the Church of Scotland.
I have once been appointed as a commissioner to the General Assembly and been part of General Assembly court, which was a great honour and a great privilege. My wife's great grandfather was known as Principal Rainey and the hall in the General Assembly building is named after him so just to stand in the hall was quite an experience. One of the things I loved was that the Moderator said we are all elders together and the Moderator is just a teaching elder.
I like the Presbyterian way of seeing things. I like that in the Church we are all equal, we just have different talents. There is no doubt that the Church will increasingly need its elders and that the Church will look to elders to use their talents, whatever those talents may be.
Through being an elder I've been able to bring people to God and that has made my faith stronger and deeper. So, if someone asks me about taking on an elder's role in their congregation I'd say go for it!
What surprises, disappointments and important moments have changed your faith journey?
It has sometimes been a surprise for me to look back and realise that God has answered my prayer. Sometimes as Christians we forget the importance of prayer and we forget that God does answer our prayers. If we pray more, we will be surprised more.
What I have learned through life is that a disappointment can quite quickly become a positive. Rejection is always very hard to take, but it can quite quickly become a positive. I am a positive person so I don't dwell on disappointments, I just get on with it.
My father was a scientist and an agnostic so for many years we did not talk about faith. But as he grew older and closer to the end of his life he shared with me his worries about death. When he opened that door, I was able to say to him that so long as you have faith you can rest knowing that. And funnily enough he became quite rested and quite content.
So even though I feel that I didn't talk to my father enough about faith during his life, I did have a year where we could talk about faith and that was very important to me. I have had a similar experience with my father-in-law who became more open to faith in his later years.
Now I want to tell people that when your parents are near the end of their life make sure you've said everything you want to say to them. I did the funeral for my father and I miss him – but I don't have regrets and I know both my father and my mother are with me all the way.
One very important event for me was when my son Matthew took his affirmation of faith. He does not speak but he communicated through pressing a switch to affirm his faith. He pressed it three times in exactly the right place so everyone in the room knew he was making that affirmation and we were all really moved. The minister realised how much that meant to him and it meant a lot to me, and to Katriona, that we could share that moment.
What is the best piece of advice you have been given?
The best advice I've ever had was to, 'Be yourself and explore your calling.'
And in fact I am still exploring my calling and I can't thank that person enough for their encouragement to me, which has strengthened my resolve to carry on doing my ministry.
Who has helped to inspire you on your journey?
When I think of people who have been influential and have inspired me on my journey, four people come to mind. The first is Rev David Logan, who is now deceased. He really encouraged me to pursue my calling. Then, Rev Marion Dodd. She is now retired but she is still very much involved as an interim moderator here at Earlston. Since our marriage she's been very much part of our life. Whenever we would come to Scotland, we always used to stop off and visit Kelso, so she has been a great support for the family and also a great support for me. When we moved to Earlston she was the one who got me involved with church life. I don't think good ministers ever really retire.
The other two are Rev Nigel Robb who I met when I was volunteering on the CARTA committee and we found interests in common. Since then we've been in correspondence continually and we just have a good old chat together. And also Rev Ian Miller in Balloch and Luss, whose services we enjoy very much.
Another source of inspiration is the Sanctuary First congregation. I join Sanctuary First every day at 7am and I feel like I am part of a community. I love that.
Where is your calling taking you now?
During the pandemic, Katriona and I decided we would do a Sunday Service live from our home through our Facebook page every week. That was new to me and I'm training on the job. We do it at 10:15am every single Sunday for our friends and people who they share with, so it's not public but it goes to an average of 77 people.
We like to have some fun with it so for the month of October we started using characters in Winnie the Pooh and looking at what we can learn from them. Apart from that I stick to the lectionary and start from there.
I'm very proud of my wife and I that we have not missed a Sunday for 88 weeks. That and my horses have kept me going for the last two years.
My faith does inspire me to take on different projects. During Advent, last year I did a live reflection every night with prayer and a Bible reading and between 30-40 people would come to that. The previous year I did a Lent Reflection and on Good Friday I read the Passion aloud. Knowing that people are listening as you are reading from the Bible is very moving.
Because of my experience with my son, I care a lot about people who are dealing with learning disabilities and I am vice chair of the Churches Disabilities Group which is an ecumenical group. For me, disability is not about disabled access and toilets, it's about including people in the whole life of the Church. We want to build a Church where everyone is welcome and included and can take part in worship. With Jesus beside you, you can move mountains.
November Discernment Resources: Pushing at Doors
Stepping through a door that is ajar takes us into what lies beyond, leaving one place behind and stepping into another. Stepping through a door can be an exciting or daunting experience as we leave the relative comfort of where we have been to step forward into a new reality.
Similarly, when Jesus says, "Come, follow me," it can be an exciting or daunting experience as we leave the relative comfort of the life we know to respond to the call of God.
Take the first disciples who were called by Jesus. They were called to leave their fishing nets behind, step out of their boats and follow Jesus.
18 As Jesus was walking beside the Sea of Galilee, he saw two brothers, Simon called Peter and his brother Andrew. They were casting a net into the lake, for they were fishermen. 19 'Come, follow me,' Jesus said, 'and I will send you out to fish for people.' 20 At once they left their nets and followed him. 21 Going on from there, he saw two other brothers, James son of Zebedee and his brother John. They were in a boat with their father Zebedee, preparing their nets. Jesus called them, 22 and immediately they left the boat and their father and followed him.

Matthew 4:18-22
Had Simon Peter and his brother Andrew been builders would Jesus have called them to build people up? Had they been doctors would Jesus have called them to heal people? Had they been farmers would Jesus have called them to grow people in their faith? They fished for a living, they caught fish, so Jesus called them to "fish for people".
7 'Ask and it will be given to you;
seek and you will find;
knock and the door will be opened to you.
8 For everyone who asks receives;
the one who seeks finds;
and to the one who knocks,
the door will be opened.

Matthew 7:7
What are we called by God to do? Is there a clue in what we already do? In the gifts that God has already given us? Whatever God calls us to, we can respond to the invitation by asking questions, praying and reflecting, by pushing at doors, searching for a door that is ajar, that we might step through it into whatever lies beyond, leaving one place behind and stepping into another.
To contemplate/discuss
What gifts has God given me?
What opportunities come my way?
What is stopping me from responding to God's call?
What questions do I have?
Who can help with answers?
Prayer
Lord God, who calls us out of darkness into marvellous light, help me to seek your call in my life. Help me to use the gifts you have given me to serve you. Help me to follow you in the sure and certain knowledge that you are always with me. Amen.
More information
If you would like to consider how God might be calling you to serve at this time, you may want to discuss further with your minister or be in touch with your Presbytery to explore local opportunities.
If you are interested in exploring a call to the recognised ministries of the Church, you can find more information on our vocations page and can contact ministry@churchofscotland.org.uk for a Discernment Conversation with one of the Recruitment Team.