Church of Scotland joins the Scottish Government's Covid Sense Signage pilot
Published on 25 May 2022 4 minutes read
The Church of Scotland will pilot new Scottish Government Covid Sense Signage designed to reassure staff and visitors to our public buildings that all reasonable steps have been taken to reduce Covid-19 transmission and keep other viruses and infections at bay.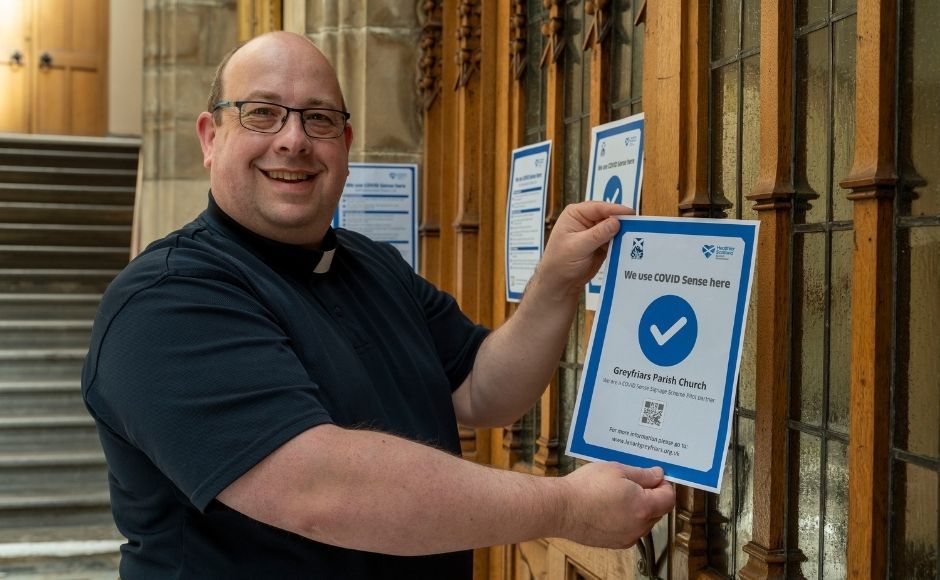 It is hoped that the signage will have a positive impact on both participating organisations and Scotland as a whole by contributing towards healthier environments.
Participating organisations will use coordinated signage to help the public recognise buildings that are practising a Covid Sense approach.
Brian Auld, Head of Safe Buildings, Risk and Compliance, within the General Trustees, the property holding arm of the Church of Scotland said:
"The Church of Scotland General Trustees are delighted to support the Scottish Government's Covid Sense Signage.
"All congregations must take reasonable steps to ensure that everyone who accesses their buildings is protected from the risks of transmission from Covid-19 by considering all Covid-19 mitigations and integrating them as appropriate into their planning and their risk assessment process.
"We very much welcome this important coordinated approach which all congregations can use to ensure that appropriate risk control measures are in place and promoted within their buildings, and provide additional comfort and assurance to anyone who accesses church buildings".
The scheme will begin to be rolled out from Thursday 26 May with a small group of organisations which includes the Church of Scotland before the signage goes live next month.
'The virus hasn't gone away'
Deputy First Minister and Covid Recovery Secretary John Swinney said:
"Though Scotland's recovery from the pandemic is in full swing, the virus hasn't gone away so we know we must remain vigilant. The aim of this voluntary Covid Sense signage is to make it easy for organisations to provide reassurance to people about the protective measures they have in place, particularly those who are at higher risk.
"Simple precautions like this will help us manage the risk and harm of Covid going forward, and enable everyone to enjoy a bit more normality in our lives. So it's important we get it right, and I'm very grateful to the Church of Scotland for their support with this pilot to ensure that."
The Church of Scotland Covid-19 group was set up at the outset of the pandemic and has been keeping congregations and presbyteries across the country informed of the necessary steps to take during the past two years which at one point required that all church buildings be closed to worshippers.
As we move into a new phase of the pandemic it remains important to maintain good health and safety practices to reduce the likelihood of Covid transmission and ensure people can have confidence in visiting our buildings.
Rev Bryan Kerr, a member of the Church of Scotland Covid-19 Group who has been working with the Scottish Government on the Signage Scheme said:
"It is hoped that congregations, and visitors to our buildings will be able to take comfort from seeing that we are still assessing the risks that exist in this phase of the pandemic.
"From the conversations we have had with congregations, I am certain that they will appreciate the support of the Scottish Government in these personalised posters to which office bearers can point and demonstrate support for the measures they have put in place. I pray that this pilot scheme will be well used, and supported, by our congregations."
How congregations can access the signage
Congregations will receive further guidance and a link to the self-assessment checklist to download and edit the posters from the Church of Scotland's Covid group.
There is no need for congregations to select every single measure on the checklist in order to access the signs. Signage will reflect the measures which individual churches have selected and identified as the most appropriate for their own premises.
The signage itself consists of two posters. The first poster displays a single slogan and symbol associated with the scheme, and includes an editable section that participants can use to add in the name and logo of their church building, alongside a link to their website. The second poster provided will show the items from the self-assessed questionnaire as selected for individual congregations.
As pilot partners, congregations will have the option of either printing out the signage themselves or using the Scottish Government printing contractor APS, free of any charge.
When the pilot scheme concludes in August, congregations who have taken part will be asked to complete an evaluation questionnaire. Alongside the evaluation, congregations will have access to a generic feedback sheet that they may wish to offer to visitors to their buildings in order to gather further direct feedback, which they can return to the Scottish Government to provide them with additional information to inform their evaluation of the scheme.
Read the most recent information and guidance for churches on matters related to the Coronavirus/COVID-19 pandemic.