Christian Aid kicks off their annual fundraising appeal
Published on 13 May 2022 4 minutes read
Christian Aid Week gets under way on Sunday 15 May, running until Saturday 21 May, with this year's annual fundraising appeal filled with inspiring worship services, events, challenges and reflections from a whole host of leading figures.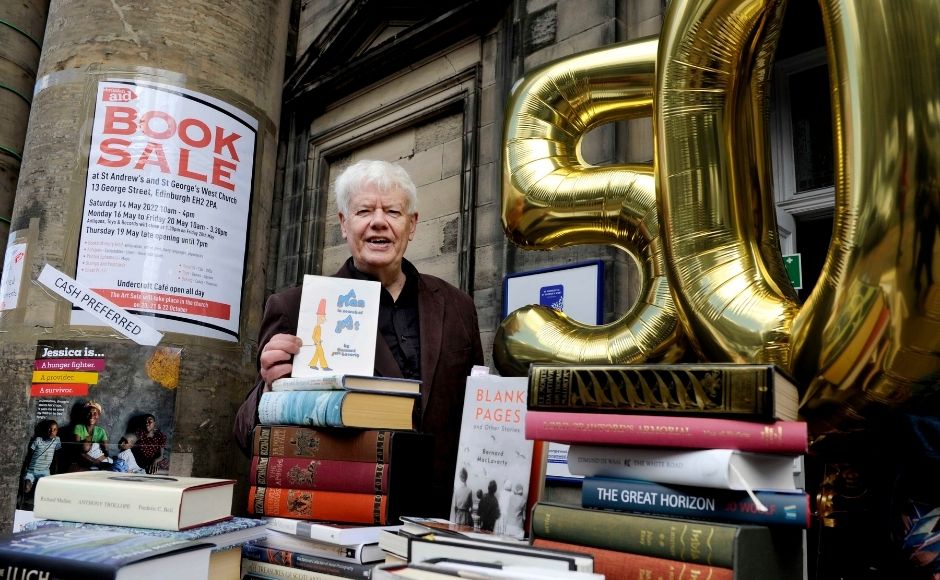 This year, Dr John Sentamu, Chair of Christian Aid, will be in Edinburgh to launch Christian Aid Week.
Dr Sentamu, a former Archbishop of York and a leading evangelist, will be speaking at two church services on Sunday 15 May, including a joint morning service with the congregation from St Andrews and St George's West at Broughton St Mary's at 10:30am, and an Evensong service at St John's Episcopal Church at 6pm. This service will also be livestreamed via Facebook.
Christian Aid Book Sale
One of the yearly highlights in the calendar is the Christian Aid Book Sale at St Andrew's and St George's West church in Edinburgh, which this year celebrates its 50th sale.
Organisers have recently received a letter from 10 Downing Street congratulating them for all they've achieved since the sale started in 1973.
Head of Christian Aid Scotland, Rev Sally Foster-Fulton, said:
"There is real excitement building ahead of the 50th sale, which returns in full force on Saturday and is being opened by Dr John Sentamu.
"To get back to business as usual after the pandemic is a welcome relief for all involved.
"We are indebted to the volunteers who put so much time and energy into making this sale happen, not just on the day but in the weeks and months ahead of the sale.
"And the money raised for Christian Aid will make a huge difference. Right now, conflict, climate change and Covid-19 are colliding to make access to food and water more challenging than ever, especially in places like Ukraine, Afghanistan, South Sudan and Zimbabwe.
"Christian Aid works through local partners to support those most in need: the road ahead is bumpy but step by step we are changing lives."
The book sale for Christian Aid at St Andrew's and St George's West Church, George Street, opens on 14 May (10am-4pm) and runs again from Monday 16 until Friday 20 May (10am-3:30pm) with late opening on 19 May until 7pm. More information can be found on the church website.
Another popular book sale, raising money for Christian Aid Week, is the Holy Corner book sale in Bruntsfield, Edinburgh, which also returns this year. This is taking place on Saturday 14 May and Sunday 15 May at Morningside United Church. Opening times: Saturday 14 May: 10am-5pm (refreshments available 10am-4pm) andSunday 15 May 1pm-5pm.
The Fellowship of Kilmarnock Churches will also be running their own book sale at the Howard Centre in Kilmarnock on Saturday 14 May from 11am-1pm.
Listen to Janet Zirugo's story
In her village in Zimbabwe, Janet Zirugo, 70, has seen first-hand the desperate hunger that drought causes.
Watch the below video to hear Janet's story of overcoming hardships in her own powerful words.
Take on your own Christian Aid Week fundraising challenge
There are a variety of creative and inspiring ways for you to personally raise vital funds for Christian Aid. Here are just a few ideas and resources to help you get started:
Host a quiz night – Christian Aid has produced a new set of quiz questions for you to set up a fundraising quiz night with your family and friends.
…or tune in to Very Rev Dr Martin Fair's annual quiz night! Back by popular demand, Martin will be hosting an online quiz to kick off the week on Saturday 14 May at 7:30pm via Facebook Live. Tune into his Facebook page to take part in quirky questions and lots of laughs. No entry fee, but please donate generously to Martin's JustGiving page.
Take on the 300,000 sponsored steps challenge this May. Get fit while raising vital funds for Christian Aid.
Create your own 'e-envelope' fundraising page. Set up your own simple fundraising web page to then share with friends and family and explain why supporting Christian Aid is close to your heart.
Visit the Faces of Ethiopia photography exhibition in Inverness. Ness Bank Church is hosting their exhibition between 15-21 May from 10am-3pm each day to raise funds for Christian Aid. There will be a late opening on Wednesday 18 May from 6pm-8pm.
A Christian Aid sermon from Rev Sally Foster-Fulton
Sally Foster-Fulton reflects on the biblical call from John chapter 13 to 'love one another'.
Share your story
Are you planning to take on a 300,000 steps challenge this month, run a quiz night, or organise your own unique fundraising challenge?
Share your story with Christian Aid Scotland by tagging them on their Facebook, Twitter and Instagram accounts.