Drama Kirk brings stories from the Gospel to life with Bob Hartman's 'Rhyming Bible'
Published on 1 March 2021
A Hamilton-based theatre group will be bringing five stories from the Gospel to life for children in the run up to Easter using Bob Hartman's 'Rhyming Bible'.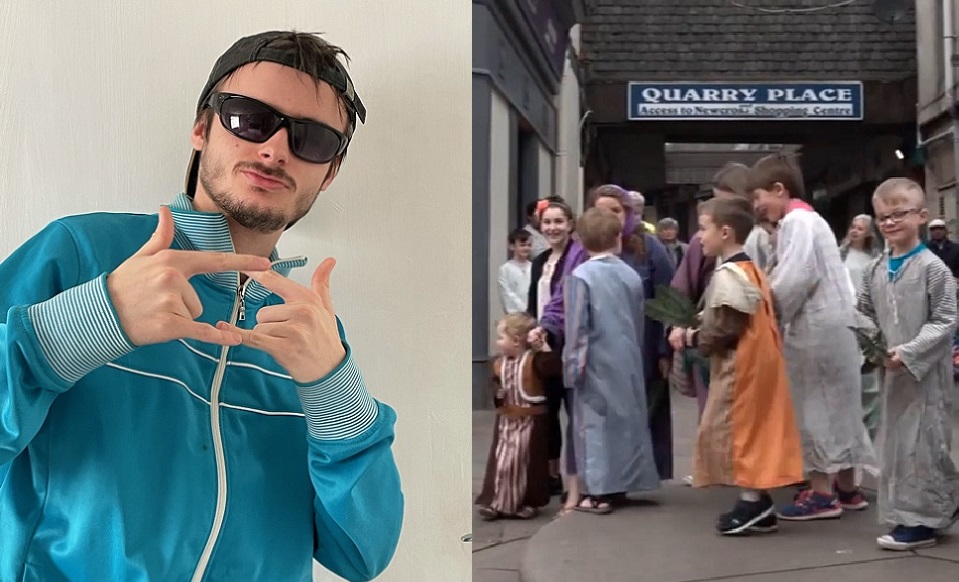 Drama Kirk will release one online performance of the catchy poems each week for use by schools, church groups or just at home, beginning on Monday 1 March.
Each video lasts around three minutes and, in addition to two people reciting each of the poems, features clips from their previous Easter Passion Play performances around Hamilton.
Liz Blackman, who is the director of Drama Kirk explained why they had chosen to use the lively format.
"I think it is a really fun and engaging way to tell the story to children," she said.
"The Palm Sunday story for example is told from the perspective of the donkey and it's a rap with the clip clop beat.
"They will also retain the information more readily because it's rhyming.
"It just sticks for wee ones in a way that reading the whole of the Gospel is not going to stick."
Mrs Blackman describes the poems as "a great resource" and says they were chosen because they are particularly accessible.
"We tried to pick five stories that would introduce the Gospels and take us right through Holy Week without assuming any prior knowledge of who Jesus was or the Bible - which doesn't mean it can't be enjoyed by families with more of a faith background also," she said
"We really wanted something that could tell the message simply."
Written in 1983 by children's author Bob Hartman, the poems come from a collection of 41 stories from both the old and the new testament.
Drama Kirk are also putting together a new take on their annual Passion Play, which is being carefully filmed following coronavirus restrictions, and will be made available online on Easter Saturday (more details to follow).
Each new performance of Bob Hartman's 'Rhyming Bible' will be made available on the YouTube channel of Hamilton Old Parish Church on Mondays leading up to Easter.
To request a CD version please contact Drama Kirk directly
Drama Kirk encourages everyone to use this fun way to tell the Easter story, but simply asks that you either email info@dramakirk.org to let Drama Kirk know you have used it, or complete an audience survey
Please do get in touch if you would like more information, Drama Kirk would be happy to discuss this further with you. As times continue to be challenging, we hope this fun resource goes some small way to help.