Betty, 96, recognised for military service after meeting Prince William
A great grandmother who asked Prince William for a kiss has been recognised for her service during the Second World War.
Betty Magee, 96, was presented with a special commemorative coin by Legion Scotland which tracked her down after her charming encounter with the future king hit the headlines.
He described the pensioner, who served in the RAF and carried out administrative duties at Bushey Hall, a former non-flying station near St Albans in Hertfordshire, as a "star".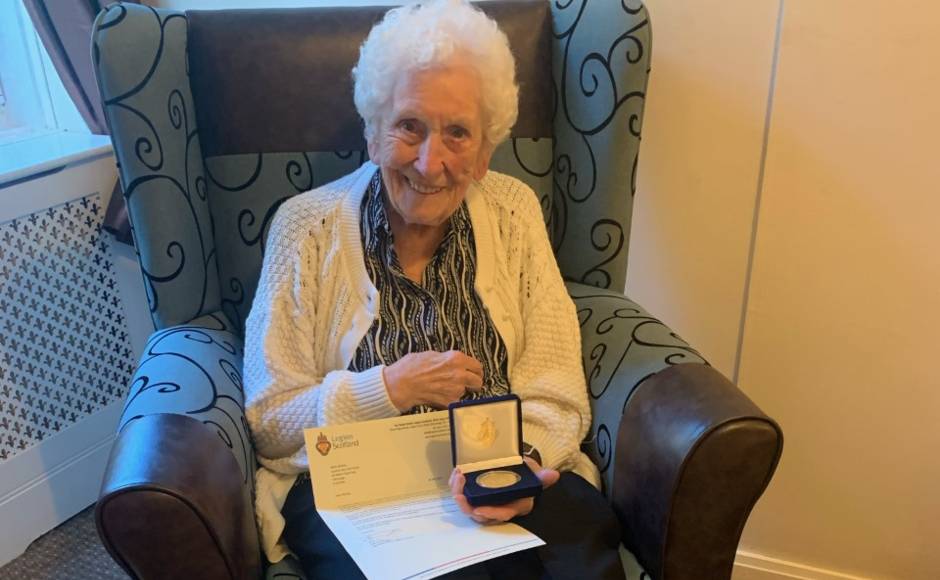 Betty is a resident of Queen's Bay Lodge care home in Edinburgh which is run by CrossReach, the operating name of the Social Care Council of the Church of Scotland and one of the largest cradle to the grave service providers in the nation.
The Earl of Strathearn visited residents last week as part of his role as Lord High Commissioner to the General Assembly – Her Majesty the Queen's personal representative.
His joyous encounter with Betty, which saw her try and touch his face, clearly left a big impression on him.
He shared the anecdote with Hollywood stars Emma Stone and Emma Thompson in a video chat to promote the drive-in screening of their new film, Cruella, for NHS staff at Holyrood Palace in Edinburgh.
Kiss
The Duke of Cambridge said: "I got propositioned by a 96-year-old lady called Betty who wanted to kiss me.
"She is in a care home and I said 'Betty if I did that I am going to get slapped on the back of the head for inappropriate social distancing and she said 'I'll have you afterwards then'.
"She was a right character."
The actors laughed and the Duchess of Cambridge, who also took part in the chat, joked: "This is what happens when I am not around."
In his closing address to the General Assembly last week, Prince William described Betty as the "star of the show at Queen's Bay Lodge and full of beans" despite the horrid year she has had due to lockdown.
He quipped: "Betty's certainly got my number."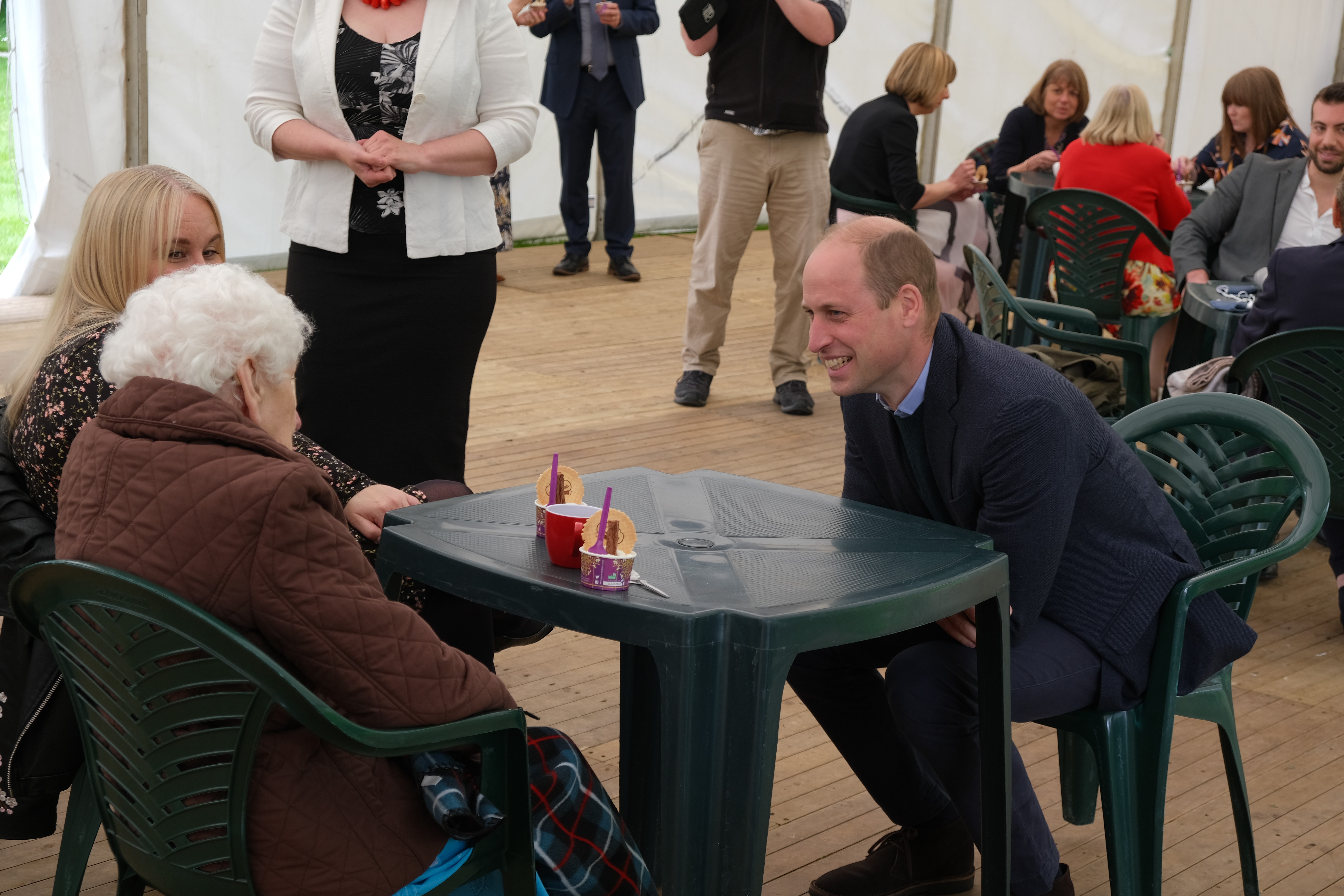 The daughter of a miner, Betty grew up in Newtongrange in Midlothian and joined the RAF when she was 18.
After demobilisation, she returned to the village and worked in hospitality for the Royal Bank of Scotland in St Andrew's Square in Edinburgh while raising her family.
Betty is a widow and moved into Queen's Bay Lodge in September last year.
Her granddaughter Kimberly Anderson was with her when she met Prince William.
Down to earth
Asked how her grandmother enjoyed the meeting, she said: "She was absolutely delighted and had not realised she had caused so much of a stir and how much he enjoyed speaking to her.
"She takes people at face value and it never really dawned on her that she was sitting chatting to a prince.
"He was so down to earth and seemed genuinely interested in everyone's stories which was lovely to see."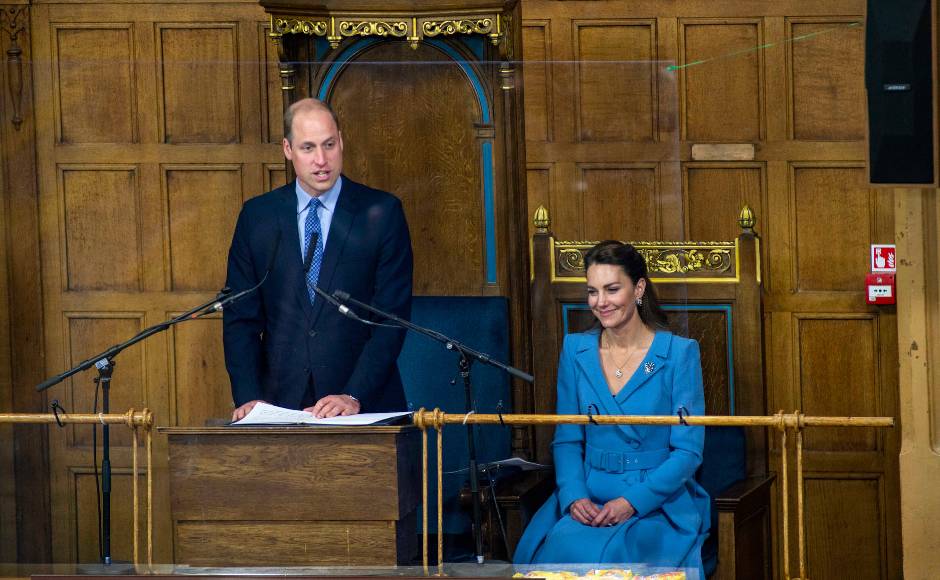 The commemorative coins were initially presented to Second World War veterans who contributed to the Allied War effort on Victory in Europe Day last year.
Legion Scotland say more veterans keep coming to its attention so they are continuing to be presented.
Ms Anderson said she thought it was "fantastic" that her grandmother has been recognised for her service.
"She has told us some fabulous stories about her time in the forces and she should be recognised for what she did, everyone should regardless of their role because it was a team effort," she added.
"It was her birthday the week before and I just think what a fabulous thing to happen in her 96th year, to meet the prince and have this happen off the back of it, it is pretty amazing."