Overseas partners make generous gifts to CrossReach
CrossReach care home residents affected by the health crisis will be able to see their families remotely thanks to generous grants from overseas partners.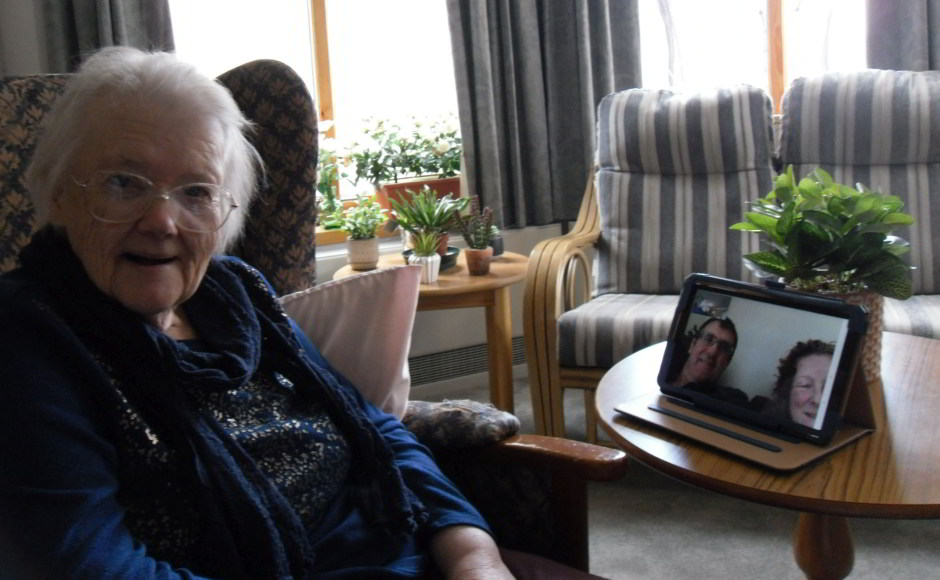 Two overseas churches have together donated more than £29,000 to CrossReach's Covid-19 Emergency Appeal.
The Evangelical Church of Westphalia in Germany donated £17,596 (20,000 Euros) while the Presbyterian Church in Taiwan has pledged £12, 065 ($15,000) as a "token of love, support and solidarity".
Viv Dickenson, the charity's chief officer said the unexpected gifts will be appreciated by staff and residents alike.
"The generosity shown by our overseas partners will help to make a real difference to care home residents who are unable to see their closest family and are missing the faces of those they love.
"We have invested heavily in digital technology and are appreciative of this additional support, which will allow CrossReach care staff to help residents speak to their families and see their children and grandchildren.
"We have also been keen to ensure that our staff have the resources which they need to help them to be as connected and protected as possible throughout this pandemic and with the help of our partners will be able to keep that support going for as long as it is needed."
Presbyterian Church of Taiwan
The Presbyterian Church in Taiwan said it was releasing the emergency donation to The Church of Scotland "as a small expression of love and concern in response to the unprecedented challenges your country is facing due to the COVID-19 pandemic."
"We will be sending an immediate amount of USD15,000 (fifteen thousand) as a token of love, support and solidarity to share among the CrossReach communities towards increasing the digital capacity. We are also in discussion with CrossReach to also send a consignment of PPE for their staff in care homes.
"Taiwan is in a very different situation than Scotland at present – indeed we feel humble to be so well cared for and are blessed to have the health and means to assist others - as a church and nation people are only too happy to reach out and help even in small measure.
A helping hand from overseas partners
Very Rev Susan Brown, convener of the Faith Impact Forum said:
"My initial reaction to the news of these gifts from partners in very different parts of the world was voiced a in a single word: "Wow! Wow because of the generosity and thoughtfulness of these churches but wow too because these gifts are concrete evidence of how the seeds of partnership, planted decades ago and nurtured over time, come to bear fruit for the Gospel in the world.
"The family of the Christian Church has always sought to reach out a hand of help, support and encouragement to others.
"It is part of our DNA.
"To be the ones being reached out to, is both humbling and affirming.These partners have gifted money – and so much more."
CrossReach serves 10,000 people
The Kirk's social care arm, established in 1869, supports 10,000 vulnerable people of all ages every year.
CrossReach provides 70 services including 17 residential care homes for older people, so it has been hit hard by the suspension of normal fundraising activities due to Coronavirus.
So far the Crossreach COVID-19 Emergency Appeal has raised more than £230,000 to help them through the crisis. You can make a donation here.