Kilwinning church knitters support NHS
A church knitting group previously recognised for their work by the Scottish Parliament is producing thousands of items to support the NHS during lockdown.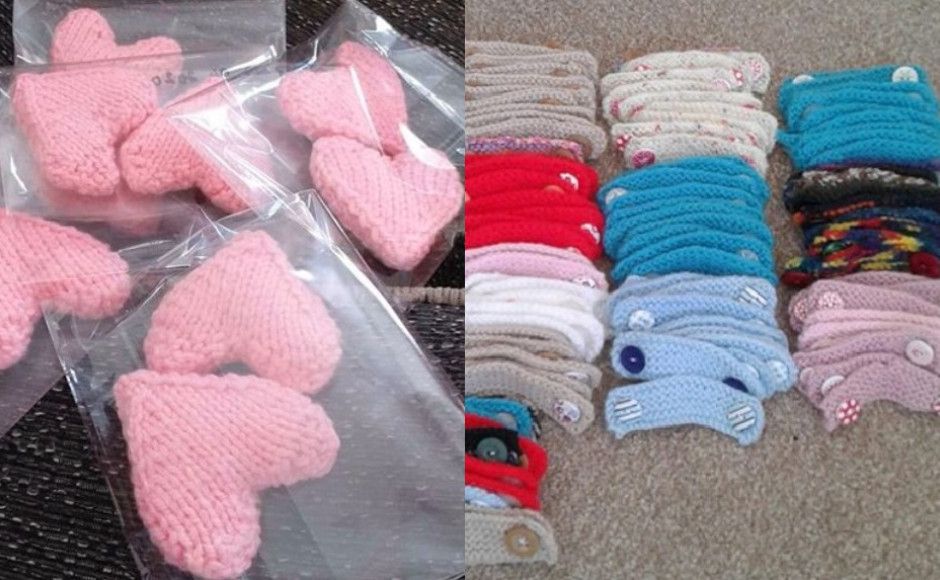 Normally based at Mansefield Trinity Church in Kilwinning, the crafters were "inundated" with requests for mask extenders to improve the comfort of medical staff.
The simple design helps to prevent rubbing behind the ears and the dedicated team of knitters have worked alongside the local community to make more than 3,000 in three weeks.
Speaking about the impressive achievement, Carol Boyd, who is the parish worker at Kilwinning Mansefield Trinity Church, said: "Mission and outreach come in all sorts of shapes and sizes.
"We were contacted by local A&E departments, nurses from hospital wards, staff from care homes and carers in the community.
"On top of that we as a church have successfully sourced a further 1,000 sterilisable mask extenders which went directly to two local hospitals, thanks to a generous donation from a business in Dunfermline.
"It's been a vital piece of work locally- making a long shift more comfortable and bearable.
"It also helps with keeping the worker safe by attaching the mask securely."
In order to produce more mask extenders, the knitters teamed up with their local Tescos and encouraged shoppers to get crafting.
Meanwhile, the charities Inspiring Scotland Link Up and Community Ayrshire Trust helped by delivering items to care homes.
Ms Boyd then found a Facebook group called 'Hearts From Crosshouse', set up by nurses from the hospital to provide knitted hearts for patients who are critically ill, with family members then given matching versions.
The congregation decided to support them in their efforts and encouraged others to do so also.
Speaking about the hearts, Ms Boyd explained that the hope is they can provide "a little comfort during this time" when loved ones are separated from one another.
"Sadly Ayrshire is the fourth highest area in Scotland for coronavirus deaths."
Ms Boyd has also helped by sourcing 40 visors for staff of a carehome made by Rustic Robot, which were donated for free, as well as a further 1,000 sterilisable mask extenders from a company in Dunfermline called ELF COVID which were then distributed by the 'Hearts From Crosshouse' page.
It's not the first time the stitchers have put their skills to good use. Last year they were praised in the Scottish parliament for knitting hats for premature babies alongside Harry Potter-themed scarves for children staying in the Sick Kids Hospital in Glasgow.
If you would like to knit and donate mask extenders, or indeed hearts please send them to:
Carol Boyd, Mansefield Trinity Church, West Doura Way, Kilwinning, Ayrshire KA136DY
You can find a knitting pattern for hearts here. You can download a mask extender pattern here.
Ms Boyd would also like to thank Thorne Travel in Kilwinning , Inspiring Scotland -Saltcoats and The community Ayrshire Trust for their support.