Kirk Moderator embarks on Lanark Presbytery visit
Published on 26 October 2019
The Moderator of the General Assembly of the Church of Scotland, the Rt Rev Colin Sinclair, has begun his 10-day tour of Lanark Presbytery, where he will meet farmers, teachers, civic leaders and political representatives, as well as conducting worship and awarding long-service certificates to church members.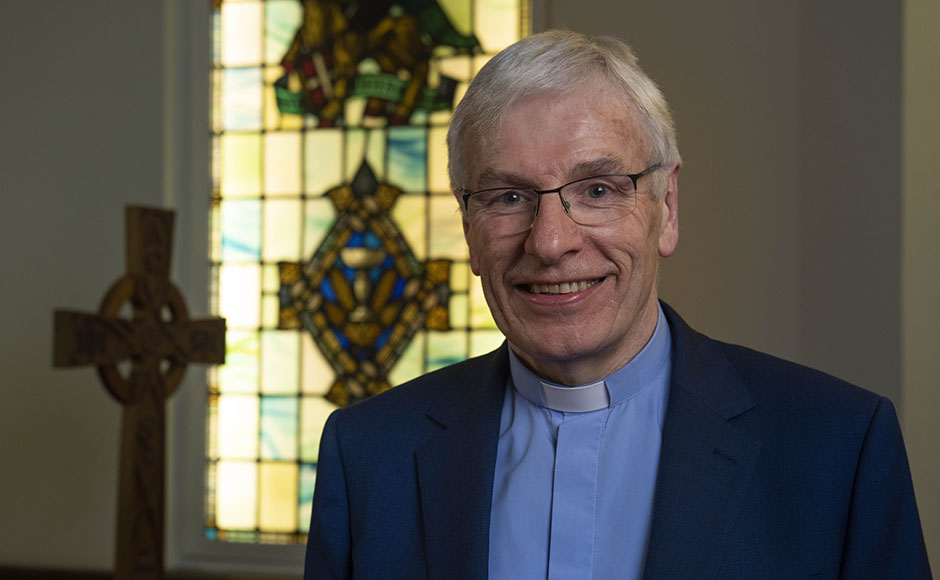 Highlights of the visit, which runs from Saturday 26 October to Monday 4 November, include a horseback hack to Lanark's historic March Stones, installing a time capsule at New Lanark, holding discussions with farmers at Lanark Market and visits to charities, factories and the Social Enterprise of the Year.
The Moderator said he and his wife, Mrs Ruth Sinclair, are excited about the visit.
"Ruth and I are looking forward to visiting Lanark Presbytery from 26th October to 4th November," he said.
"A varied wide-ranging and interesting programme has been drawn up that will allow us to see both life within the towns and villages in the presbytery, together with what is happening in the churches.
"We were privileged to attend a sound and light production telling the story of New Lanark two weeks before we began our visit and that helped to set the scene."
Lanark Presbytery and its local congregations are hosting the visit. Presbytery Clerk, Rev Bryan Kerr, said:
"We are delighted to be hosting the Moderator and Mrs Sinclair and we are grateful to New Lanark and all the other local people who have generously offered their hospitality.
"We have a very packed schedule of events and activities that will highlight some of our area's most beautiful and interesting places and give them an opportunity to visit local businesses and projects, meet local people and join in worship with church members."
Time capsule burials, horseback riding and dementia drop-in visits
Rt Rev Colin Sinclair's Lanark visit is packed with events including a tour of New Lanark where he will install a time capsule, as well as leading local church services and presenting long-service certificates to Elders.
During his time in the area, he will also meet with Rev Chris Blackshaw, the Ayrshire farming pioneer minister, as well as local farmers, to discuss the challenges they and their families are facing.
On Tuesday 29 October, he will visit the Clydesdale Community Initiative, which has been awarded the Social Enterprise of the Year award for its innovative carpentry and horticulture programmes, aimed at helping people improve their health, skills and confidence.
Later on that day, Rt Rev Colin Sinclair will visit Rev Elspeth MacLean and her Mainly Music group for parents and young children. He will then move on to The Haven charity, which works with people dealing with life limiting illness, and the Hear For You project, which runs out of St Nicholas Church in Lanark, and provides counselling and support to people thinking of suicide and their loved ones.
On Thursday 31 October, he will attend a gathering of headteachers and chaplains at Greyfriars Church in Lanark to discuss school chaplaincy and what it offers pupils today, before moving on to visit Scotland's highest village, Wanlockhead.
On Friday 1 November, he will visit the Clydesdale Food Bank to meet volunteers and learn about the challenges they face. He will visit then visit St Andrew's Church's Dementia Drop-In project, where volunteers have pioneered the Playlist For Life approach that uses favourite music tracks to support people with dementia.
Later that afternoon he will lead a short act of remembrance at the stone erected to mark the three Victoria Cross recipients from Carluke.
On Saturday 2 November, Rt Rev Colin Sinclair will explore the history of the Royal Burgh of Lanark with a horseback ride to the Lanark March Stones. Later, from St Nicholas Church, he will take part in a Covenanters Tour of Lanark, that will take in Steel's Cross, The Tolbooth, Old St. Kentigern's Church, and Covenanters Memorial.
On the final Saturday evening in Lanark Presbytery, he will host a meal for lawmakers from the Scottish, Westminster and European Parliaments.
Among those invited are: Aileen Campbell MSP (Cabinet Secretary for Communities and Local Government); Claudia Beamish MSP (List MSP for South Scotland); David Mundell MP (Dumfriesshire, Clydesdale & Tweeddale); Angela Crawley MP (Lanark & Hamilton East); Lisa Cameron MP (East Kilbride, Strathaven and Lesmahagow); and Aileen McLeod MEP.
Other visits across the 10 days will include museums, charities, civic receptions, hospitals, schools, and local gin, biscuit and jam factories.