The current Moderator
Rt Rev Dr Iain Greenshields is the current Moderator of the General Assembly of the Church of Scotland, succeeding the Rt Hon Lord Wallace (Jim Wallace) of Tankerness.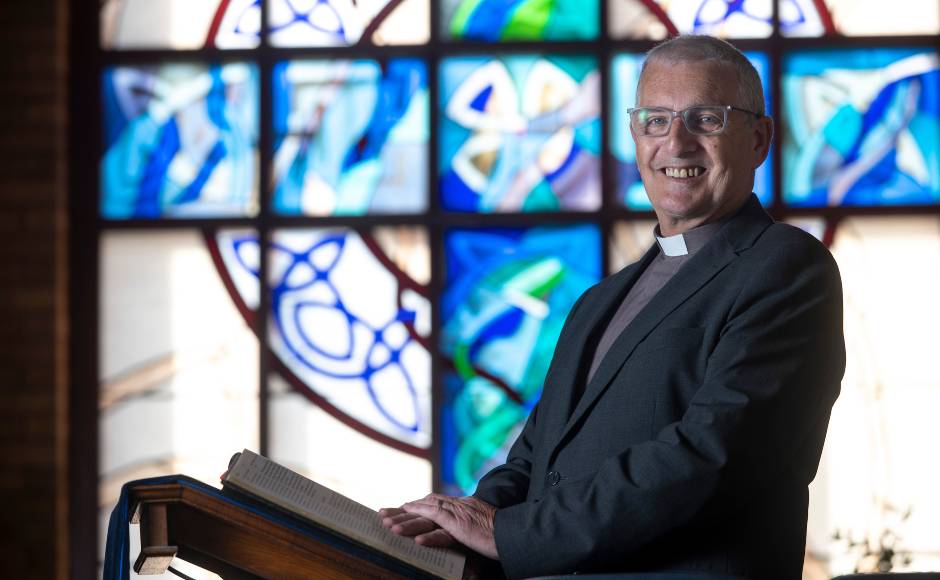 The 68-year-old minister of St Margaret's Community Church in Dunfermline, Fife became the Kirk's ambassador at home and abroad in May. He will serve in the role for one year, speaking out on issues important to the Church and its mission to follow and proclaim the example of Jesus Christ.
The Moderator, who became a Christian at the age of 22 and was ordained in 1984, said: "I am honoured and humbled to have been chosen as Moderator Designate and I aim to represent the Church and God in a way that is positive, instructive and hopeful.
"There are a great many challenges facing our society today, including climate change, poverty, mental health, social isolation, addiction and the Church is active in supporting those in genuine need.
"Ultimately the greatest need in our society is the spiritual vacuum that exists in the lives of so many."
Family
Born and brought up in the Drumchapel area of Glasgow, Mr Greenshields is married to Linda, a Religious, Moral and Philosophical Studies teacher at Levenmouth Academy in Buckhaven, Fife.
The couple have six children – Alistair, 31, Ross, 30, Caitlin, 27, Eilidh, 18, Siona, 15 and Suisaidh, 10, and a grandson, Oran, who was born in August 2021.
Their three youngest daughters come from different parts of China.
After adopting Eilidh in 2004, he and his wife set up a charity called Hope4China's Children the following year and it has raised £1.2 million to provide education, support, medical care and foster care for around 800 girls in Guangxi Province.
Mr Greenshields is a lifelong fan of Partick Thistle Football Club. He also enjoys reading, cycling, badminton and the very occasional game of golf.
Life in ministry
The minister's first-full-time position as a Minister of Word and Sacrament was in Cranhill near Easterhouse, a parish he served for nine years.
He was responsible for the formation of the Bellrock Trust, a community support organisation which grew to become the Cranhill Development Trust, which is based in the church building.
The minister's second charge was St Machan Parish Church in Larkhall, South Lanarkshire and he oversaw major refurbishment of the sanctuary and halls and establishment of the Machan Trust, which works with children, young people and their families.
One of the significant features of his ministry was ecumenical relations whereby all local congregations worked positively together in mission.
Mr Greenshields and his family moved to the Isle of Skye in 2002 when he became the minister of Snizort Church, which was a sort of homecoming because his father John grew up in Camuscross.
During his five years there, he served as a hospital chaplain and the Moderator of Lochcarron and Skye Presbytery in 2003-2004 as a well as its finance convener.
Mr Greenshields moved to St Margaret's Community Church in 2007 and over the years held various roles within the Presbytery of Dunfermline, including Moderator and clerk. He was also a National Assessor for the Church.
The minister was heavily involved in the task group established to oversee the formation of the new Fife Presbytery, a merger of the presbyteries of St Andrews, Kirkcaldy and Dunfermline, which held its first meeting in February this year.
Mr Greenshields also spent eight years serving as a chaplain at the former Longriggend Young Offenders' Institution in Airdrie, North Lanarkshire and nearby Shotts Prison.
Decriminalising drug possession
Rev Greenshields personally believes that drug possession should be decriminalised, and that addiction should be treated as a public health issue. Speaking in a personal capacity, he says that locking up people who are often "self-medicating" to cope with psychological challenges and severe life issues does not work, and that they should instead be treated in high-quality residential rehabilitation centres.
Mr Greenshields welcomed a recent announcement from Scotland's Lord Advocate, Dorothy Bain QC, that the police will be given the option of issuing recorded warnings for possession of any controlled drugs if appropriate instead of automatically referring all offenders to prosecutors.
"I have come into contact with so many broken lives as a consequence of either abuse or addiction," he said. "The reality is you are not going to stop people taking drugs… I realise that some people will throw their hands up in horror, but I am not saying I support drugs, I am just being realistic and pragmatic about the situation."
Looking to the future
Mr Greenshields said the Church is at a "crossroads" as it grapples with falling membership and minister numbers but he is excited by the prospect of reformation because the Good News of Jesus Christ is as relevant today as it has always been.
"I think the Church needs to regain confidence in its core message, which is powerful, life transforming and life changing," he said. "We have to find a way of communicating simply, effectively and with confidence what we believe."
Mr Greenshields said people throughout the Church have to be realistic about the future.
"We have to accept that if churches are not working anymore then we have to prune in order to free up resources to do things more efficiently and effectively.
"I am willing to play whatever positive role the Church might ask of me as it designs its new future and we embrace the Five Marks of Mission."