November 2023: Rev Attie van Wyk
Every month, the Church of Scotland's 'Talking Ministry' series shares a personal story from those serving in Christian ministry, along with resources filled with questions, prayers and reflections to help encourage reflection on how God might be calling you at this time.
For November, Rev Attie van Wyk speaks about the spiritual journey which has led him to become Minister of Word and Sacrament at Park Church in Stirling
My ministry: Rev Attie van Wyk, Park Church, Stirling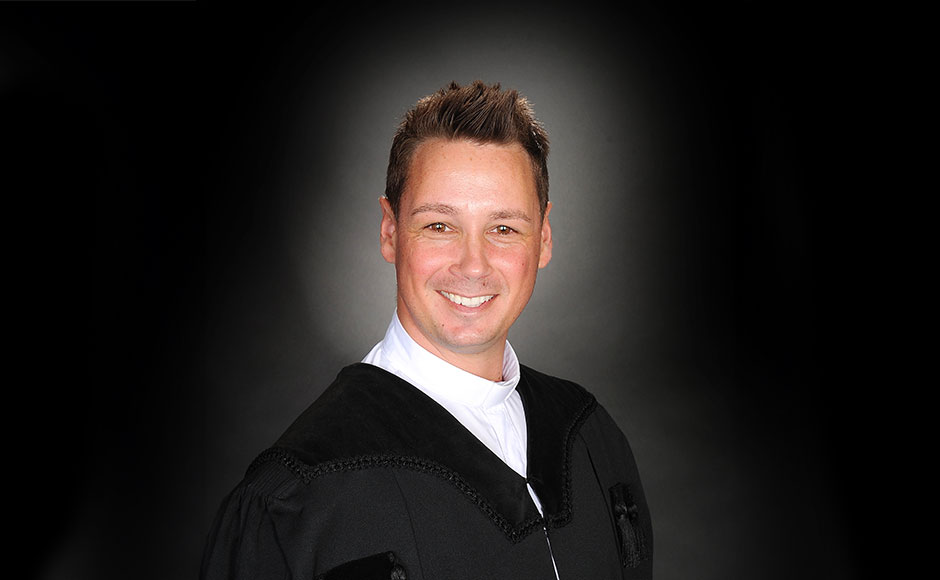 Originally from South Africa, Rev Attie van Wyk was a minister of the Dutch Reformed Church before following a call to serve in Scotland in 2019. He previously worked as a minister at St Andrew's Lhanbryde and Urquhart in Moray and Liberton Northfield Church in Edinburgh before taking up his current post at Stirling's Park Church last year. Away from the pulpit, he enjoys music and sport and is a national netball umpire for Scotland and South Africa.
Have you always been a Christian?
Well-known Christian author, Rick Warren, once said: "Worship is not a part of your life; it is your life. When we see worship simply as singing on Sundays, we miss that God calls us to live our lives as worship to him, loving him and loving those he loves."
The way Warren describes worship was, and is, the way we as a family have lived our lives. Faith has always been the central foundation of our family life. I can still clearly recall getting up in the morning and, with my brother, gathering on my dad and mum's bed where we would have our morning devotion together.
At night-time they would read to us from our children's Bible and to this day I remember its pictures, stories, and lessons. At the age of 13, I gave my life to Jesus and it was wonderful to be surrounded by Christian friends and family.
What keeps you motivated as a minister?
As a teenager I was invited to be part of a Christian outreach music and drama youth group where I enjoyed sharing the Gospel with others. From a young age, I wanted people to know that they were very much loved by God.
To this day, this is what makes me get out of bed in the morning, and what I love about ministry; to share this love of God with others and to encourage flourishment in the lives of those God sends me to.
What drew you to ministry in the first place?
Growing up in a caring Christian environment I always felt called to share the good news with others. Nearing the end of my school career, I wanted to become a veterinarian as I also had a great passion for animals. A music scholarship was offered to me at the same time, so there were various options for the future. Through discernment and prayer, I asked God to lead the way, and so he did by giving me the text of Isaiah 42:1-5 at a Christian Union camp:
"Here is my servant, I appoint him. I have chosen him, he enjoys my favour. I let my Spirit come upon him, he will make my will known to the nations. He will not call, he will not shout aloud, he will not let his voice be heard in the street."
"A broken reed, he will not break down, a lamp wick that burns dimly, he will not put out. He will make my will known as it is".
"He himself will not be extinguished or broken until he established my will on earth. The islands await what he will teach them."

Isaiah 42:1-5
What made you decide to leave South Africa to become a minister in Scotland?
Green grass-covered hills, people wearing kilts, drinking good whisky, living in ancient castles, eating haggis, and playing bagpipes – that was my stereotypical picture of Scotland before coming to this bonnie country.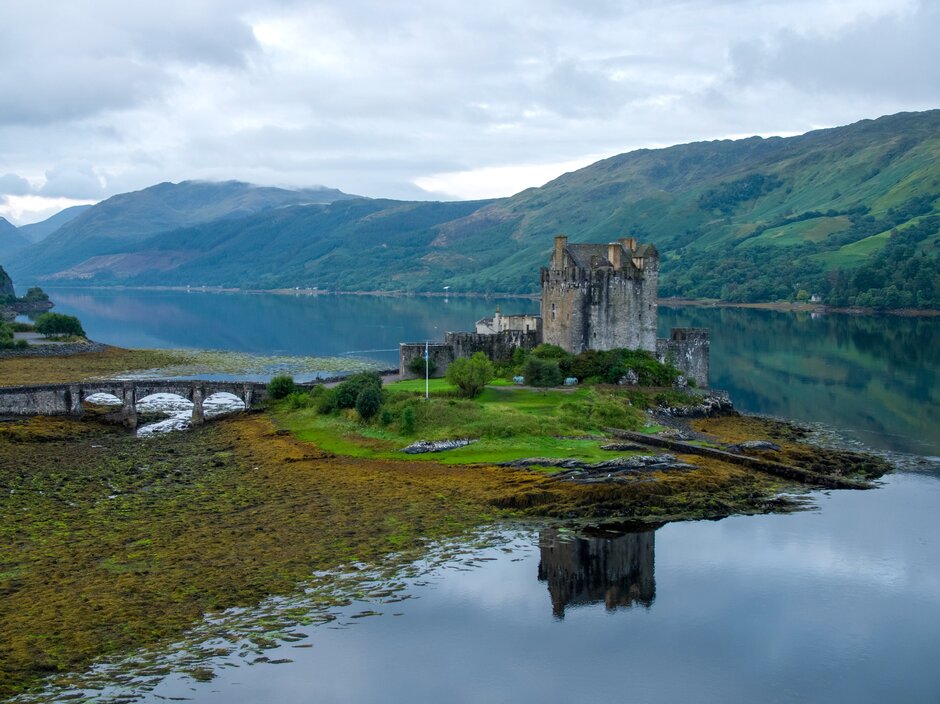 'Why Scotland?', you ask, as I grew up almost at the bottom tip of the continent of Africa. My response to that: "It's the Lord that called me here" – which is the honest truth.
As a serving minister in the Dutch Reformed Church in South Africa, I've discerned where God wanted me to minister in the next season of my life. It very quickly became evident that Scotland, and specifically the Church of Scotland, was where He wanted me. As part of this discerning process, the vocation text of Isaiah 42 kept coming back to me: "Here is my servant, I appoint him. I have chosen him, he enjoys my favour. I let my Spirit come upon him, he will make my will known to the nations. The islands await what he will teach them."
I knew, moved by the Holy Spirit, that God called me not only to serve in South Africa, but also to the "islands" – not knowing that to be the British Isles.
On my first visit, after being invited to an assessment conference by the Kirk, I spent two weeks in Scotland, traveling and exploring from Inverness down to the central belt. During these two weeks, it was raining and sleeting non-stop. My fantasy picture of Scotland wasn't completely met, although I did enjoy a hearty meal of haggis, neeps and tatties and also got to see three castles: Inverness, Stirling, and Edinburgh. For a sunny South African it was bitterly cold and wet, and I recall praying to God on my flight back home: "Lord, are you sure it's Scotland you're calling me to?" God is never in doubt, so Scotland it was.
What were your first impressions of preaching in Scotland?
During my familiarisation placement in the Kirk, I served in the villages of Llhanbryde and Urquhart in Moray, near the river Spey. It was a hearty welcome with villagers organizing a ceilidh to make the "newcomer" feel at home. After going around the tables, everyone soon was dancing, playing games, making music, sharing stories, and eating stovies. Now, stovies was a dish my Mum used to make when I was growing up, though no one else I knew ever made this. I always thought it was my Mum's own invention, but that night I realised that stovies was probably passed on from my Mum's grandmother, who was British, and I want to guess Scottish.
Looking back on my heritage, I realised how many Scottish influences there were around me growing up, and later ministering in South Africa, and that God had ministry in Scotland planned for me all along.
In the 1800s, many renowned preachers from the Church of Scotland served in South Africa and the Dutch Reformed Church. In the town of Cradock, where I served as minister, the first two ministers were from the Church of Scotland, John Evans and John Taylor. Many neighbouring town names were derived from Scottish ministers: Murraysburg named after the famous Dr Rev Andrew Murray; other towns like Robertson, Pears(ton), Alexandria, McGregor, Fraserburg and Sutherland were all named after Scottish ministers. In the parish I served, which had a radius of 75 miles, many old Scottish settlements, areas, and farms were to be found such as Arthur's Seat, Allendale, Aberdour, Alva, and Glencoe.
As a young minister, I always had and loved Scottish terriers and had an affinity for bagpipe music and took up playing the great Highland pipes.
As someone with experience of church on two continents, is there anything the churches in Scotland and South Africa can learn from each other?
Having my roots in the reformed tradition of the church, there are certain foundational values that I will always hold onto, and would like the church to also always build on: God first, then the church – not the other way around. Trust God, and know that the partnership and relationship will grow stronger and stronger.
We should always follow where God leads, even if change (reform) and the unknown is part of that.
We confess God to be Creator God; when any creative initiative in life happens, new possibilities open up.
During the process of creation, the old could still be part of the new, but the new and the old merge to create a newer space for God to be worshiped. Just think about the creation story found in Genesis: the way God creates involves forming, reforming, and making and bringing into existence something new. We are the Church, the imitators of God, and the process of being a Church through the ages should not be different. We as individuals go through change – we're still the person we were as children, and yet we're also fully different. The Church will always be Church when trusting God with the time and ways he leads us through.
It's difficult to speak about Church in general whether it be in South Africa or here in Scotland. What I have seen and experienced over and over again is that churches and congregations that commit to the commandment of love, always thrive: "Love the Lord your God with all your being" and "Love your neighbour as yourself".
Who has inspired your path to ministry?
For sure my parents, family, and two wonderful parish ministers played a forming role in adhering to God's call to ministry. With this, I recall the wonderful pedagogues, teachers, Sunday school teachers, and lecturers who always encouraged and inspired me to discover and stand in awe of God's wonders.
The old proverb rings true for my life: "It takes a village to raise a child". And I do believe that there's truth in this for the future of the Church. Regardless of your position in society, share and encourage others to discover our amazing and wonderful God.
What is the best advice you have been given?
There is a lot of very good advice I've been given, though the one I remember most was in the very first Hebrew class at university when the lecturer said: "Here at university, in ministry, and life you will hear and learn lots of things. It's up to you which filter you'll use to form your way forward, what to take onboard, and what to filter out.
"I can't tell you which filters you should use, but I can tell you that the filter you've used to get here, is a pretty good one."
What are your future hopes for yourself and the Church?
My hope for the Church is that we will be a place for all to flourish as God had made us to do. So, may we as a Church be, and continue by creating spaces to share and receive the love and grace of God with and from others.

November Discernment Resources: Pushing at Doors
Stepping through a door that is ajar takes us into what lies beyond, leaving one place behind and stepping into another. Stepping through a door can be an exciting or daunting experience as we leave the relative comfort of where we have been to step forward into a new reality.
Similarly, when Jesus says, "Come, follow me," it can be an exciting or daunting experience as we leave the relative comfort of the life we know to respond to the call of God.
Take the first disciples who were called by Jesus. They were called to leave their fishing nets behind, step out of their boats and follow Jesus.
18 As Jesus was walking beside the Sea of Galilee, he saw two brothers, Simon called Peter and his brother Andrew. They were casting a net into the lake, for they were fishermen. 19 'Come, follow me,' Jesus said, 'and I will send you out to fish for people.' 20 At once they left their nets and followed him. 21 Going on from there, he saw two other brothers, James son of Zebedee and his brother John. They were in a boat with their father Zebedee, preparing their nets. Jesus called them, 22 and immediately they left the boat and their father and followed him.

Matthew 4:18-22
Had Simon Peter and his brother Andrew been builders would Jesus have called them to build people up? Had they been doctors would Jesus have called them to heal people? Had they been farmers would Jesus have called them to grow people in their faith? They fished for a living, they caught fish, so Jesus called them to "fish for people".
7 'Ask and it will be given to you;
seek and you will find;
knock and the door will be opened to you.
8 For everyone who asks receives;
the one who seeks finds;
and to the one who knocks,
the door will be opened.

Matthew 7:7
What are we called by God to do? Is there a clue in what we already do? In the gifts that God has already given us? Whatever God calls us to, we can respond to the invitation by asking questions, praying and reflecting, by pushing at doors, searching for a door that is ajar, that we might step through it into whatever lies beyond, leaving one place behind and stepping into another.
To contemplate/discuss
What gifts has God given me?
What opportunities come my way?
What is stopping me from responding to God's call?
What questions do I have?
Who can help with answers?
Prayer
Lord God, who calls us out of darkness into marvellous light, help me to seek your call in my life. Help me to use the gifts you have given me to serve you. Help me to follow you in the sure and certain knowledge that you are always with me. Amen.
More information
If you would like to consider how God might be calling you to serve at this time, you may want to discuss further with your minister or be in touch with your Presbytery to explore local opportunities.
If you are interested in exploring a call to the recognised ministries of the Church, you can find more information on our vocations page and can contact ministry@churchofscotland.org.uk for a Discernment Conversation with one of the Recruitment Team.