Serve
Serving God means more than worship and prayers, and putting God before everything else. It is also about putting your love for God into action by carrying out work and service in his name.
The aim of the World Mission Council is to enable the Church of Scotland, as part of the holy catholic or universal Church, to participate effectively in the Mission of God in the world, following the example and priorities of Jesus Christ and seeking the guidance of the Holy Spirit.
The Go For It Fund supports and encourages creative initiatives addressing the needs in local communities and/or encouraging new ways of being the Church in Scotland today.
The conflict in Syria continues to rage, claiming the lives of thousands of people and leaving millions homeless and without the basic necessities of life.
Deacons have been ministering within the Church of Scotland for more than 120 years. At present there are 58 deacons in active service, the majority of whom work in parishes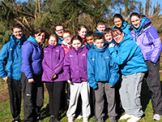 See our funded projects in action!
The world produces enough food for everyone, but not everyone has enough food. We can change this in 2013. IF we act together, we can make this year the beginning of the end for global hunger.
This year, the focus of our stamp appeal is The Living Water project run by a congregation from the ECCB (Evangelical Church of Czech Brethren) in Horní Krupá in the Czech-Moravian Highlands. Find out about the Living Water project and how you can contribute.