East Ayrshire Churches Homelessness Action
New Laigh Kirk has spent the last decade refining their approach to working with homeless people in Kilmarnock town centre.
Homelessness is a visible problem in our larger cities and we are familiar with many of the third-sector organisations which exist to support and work with people who find themselves homeless. Most of us are not quite so aware that homelessness is also a problem in less densely populated areas, and the solutions there are less obvious.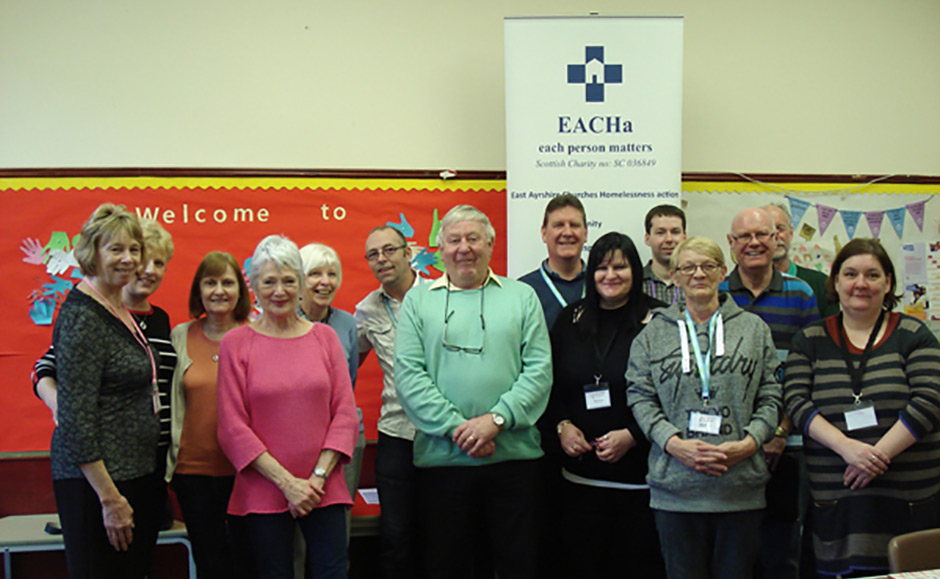 In the town of Kilmarnock the local churches have developed a project working with homeless people which offers them friendship, help, and advocacy. East Ayrshire Churches Housing Action (EACHa) is an ecumenical charity drawing volunteers from many churches and denominations and runs out of New Laigh Kirk's hall.
The project was started as a response to a lack of resource for homeless people locally, and they handed out hygiene packs. Around a thousand individuals or families find themselves homeless in East Ayrshire each year. Not satisfied with the hygiene packs, the project started to experiment with one-to-one befriending, but found that it didn't work especially well in that context, so they moved on to running a drop-in.
Now they run three drop-in sessions each week, and have built partnerships with local agencies so that people can get help on "their own turf". Staff members from the local council's Housing Options department attend the sessions in the church hall, as do NHS staff and others – offering a one stop shop for the most urgent needs.
Often, they find that service users are less anxious and more able to engage with services outside of the formal context. Volunteers can help the service users to access different services, and support them through the process, but most importantly they are able to offer a friendly ear and a lot of time. The motto of the organisation is "each person matters," and that is what they try to embody in their efforts to combat homelessness.
Janice Grant is Secretary of EACHa and volunteers at the drop in sessions. She said:
'Almost every week something will happen which makes us say that was a good day. For example, someone will say 'you're the only people who are kind to us', or other people who say, "oh a Christmas present - that's the only one I'll get."'
If you want to know more about this innovative and inspiring work check out EACHa's website.