Who's Who
The National Youth Assembly is a decision-making platform within the Church of Scotland and is led by the NYA Moderator and Clerk, both elected by their peers.
The Moderator chairs the Assembly, and ensures a safe place is maintained for all delegates to air their views, while ensuring conversations remain productive and pertinent to the key topics.
While the Moderator chairs, the Clerk supports their role, ensuring accurate records of the discussions are made, that through the year they can both produce an accurate report of proceedings to be presented at the General Assembly. There is also plenty of opportunity for the Moderator and Clerk to get involved at local, national and international levels over their term.
NYA Moderator
Role of Moderator
Each year a young adult is selected to take on the role of National Youth Assembly Moderator. The role involves chairing the discussions that take place at that years NYA event, collating a record of the event and producing a report for the General Assembly.
Throughout the year the Moderator works with the team of youth reps to explore how the discussions will be followed up and the voice of young people can be heard throughout the year. They also represent the NYA at various events and encourage young people to take an active role in the National Councils and Committees of the Church. Each Moderator takes on the role at an NYA event and holds it for the following year until the next person takes over at the next NYA event.
Current
Tamsin Dingwall began her role as NYA Moderator in August 2018.
"I am so honoured and still slightly shocked that I have been chosen to be the youth moderator of the National Youth Assembly this year. This will be only my second year at NYA and I am overjoyed that I will have the privilege of leading the discussions on end of life issues, ecumenism and social media. These are such topical issues and I feel some of the discussions may be rather difficult and emotional; I can't wait to see what people have to say regarding these topics.
"This is such a big honour and I truly hope that I can continue to take full advantage of all the amazing opportunities that the National Youth Assembly has given me. I would like to help other young people new to faith and NYA see what amazing things they can achieve with such an amazingly supportive Church."
From Aberfoyle Parish Church in Stirling, Tamsin volunteers as a youth worker at her own church and a neighbouring church's youth club, and as a member of the local high school's chaplaincy team, which involves assemblies and running the scripture union club.
Tamsin currently works in her family's Post Office, which is a fantastic opportunity to meet a variety of people from across the globe, share her faith and learn about others. Being from a small community also means that a lot of her work is community based and not necessarily what a regular Post Office would do, however it is a unique opportunity to build relationships with vulnerable people in the community, which has been incredibly educational and rewarding.
Passionate about charity work, Tamsin recently completed Sleep in the Park and has also (literally) walked across fire to raise money for Shelter. Currently she is training for the Loch Ness marathon to raise money for Alzheimer's Scotland, a charity close to heart after watching her dad fall ill with the disease. Tamsin really hopes to make him proud by completing the marathon and raising money to help combat the awful disease.
During her spare time, Tamsin can be found with her dog, going on walks, runs or even just having a quiet cuddle on the sofa. She also loves to Bible journal and spend time studying the Word.
Upcoming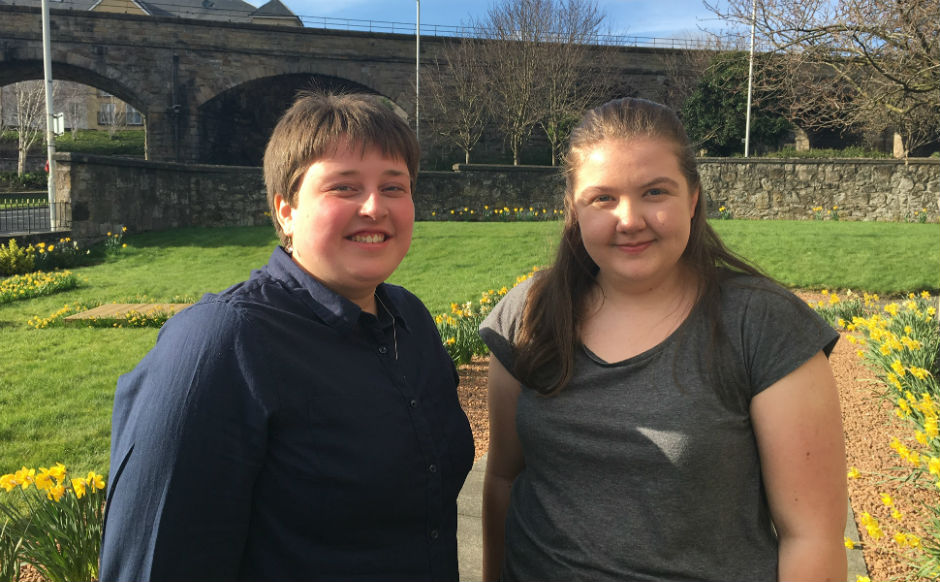 Dana McQuater will begin her role as NYA Moderator in August 2019.
Dana, 23, recently raised over £2,000 for MacMillan Cancer Support by shaving her head.
Ms McQuater, who also supports charities such as Clean Up Scotland and Autism Scotland through her role as 'Planet Champion' at her job in a local McDonalds restaurant, described her appointment as "a shock".
She said: "I'm always thankful for the way in which God guides me to the right places and people - those that know me have all helped me develop and gain in confidence over the last few years so that I'm able to accept this post for the next year."
"To the NYA Family, I hope that during this term of moderator I can give back what you have given me and I look forward to all the challenges and celebrations that we will share together."
The role of Moderator involves chairing the discussions that take place at the NYA, collating a record of the event, producing a report for the General Assembly, representing the Kirk at events, and ensuring the voice of young people is heard throughout the church.
Past
Robin Downie 2017
Andrew MacPherson 2016
Hannah Mary Goodlad 2015
Rachel Hutcheson 2014
Lynsey Martin 2013
Euan Patterson 2012
Amanda Phillip 2011
Kim Wood 2010
Iain McLarty 2008, 2009
NYA Clerk
Role of Clerk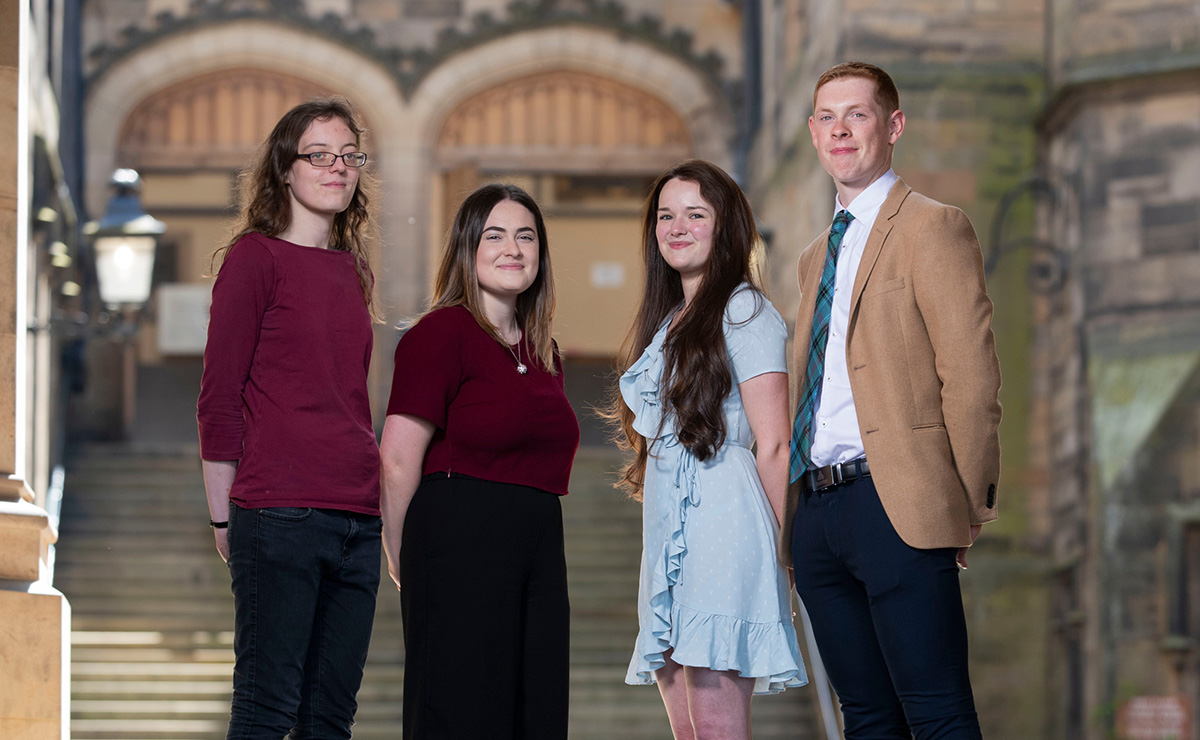 Each year a young adult is selected to take on the role of National Youth Assembly Clerk. This role involves supporting the NYA Moderator, producing reports to be presented at the General Assembly and getting involved in the Church at local, national and international levels.
Since 2013 another person has been selected to take on the role of clerk serving alongside the Moderator. While primarily a supportive role, the clerk is just as vital to proceedings and offers those - whose leadership skills are best utilised behind the scenes - an opportunity to be involved.
Current
Seonaid Knox began her role as NYA Clerk in August 2018.
"Over the past 10 years I've gone from someone who has doubted their faith to someone who is fully committed to the Church and its work. I've thrown myself into Church life and am looking forward to the next chapter as Clerk of the National Youth Assembly.
"I'm not afraid of hard work and recognise that it won't always be plain sailing, but that's what makes the future exciting. The National Youth Assembly – and Church of Scotland as a whole – are forward-thinking, progressive entities that I'm thrilled to be a part of. NYA might be preparing to undergo future reform but I still hope and believe that, regardless of what form it takes on, it can be a beacon for the Church and act as a platform for young people to grow in their faith.
"As NYA Clerk I seek to balance open-mindedness with conscientious judgement, ensuring that I remain open to new ideas and perspectives but still rooted in my faith to continue the amazing work of those who have held this position before me."
Baptised and brought up in St John's Church in Gourock, Seonaid has grown up in the church following the passion and commitment of her mum who was recently ordained as a minister and took up her first charge at Inchinnan Parish Church in February 2017.
Her involvement in church life has included being a youth group leader, taking part in St John's annual week-long summer holiday club, singing in their praise band, and now serving as an elder on the kirk session. She first attended National Youth Assembly at 16, and now at the age of 23 has only missed one Assembly since. As well as being a delegate, Seonaid has been a small group leader and been involved in the media team at NYA, and has been nominated as a youth rep twice – leading her to attend the General Assembly in 2013 on behalf of NYA.BBAs Seonaid nears the end of her NYA journey she is excited to serve this year as Clerk and continue to represent the Assembly in a new way.
Away from Church, Seonaid works as a researcher for a Member of the Scottish Parliament. She enjoys reading, trying new vegetarian restaurants and plays rugby for Greenock Wanderers RFC.
Upcoming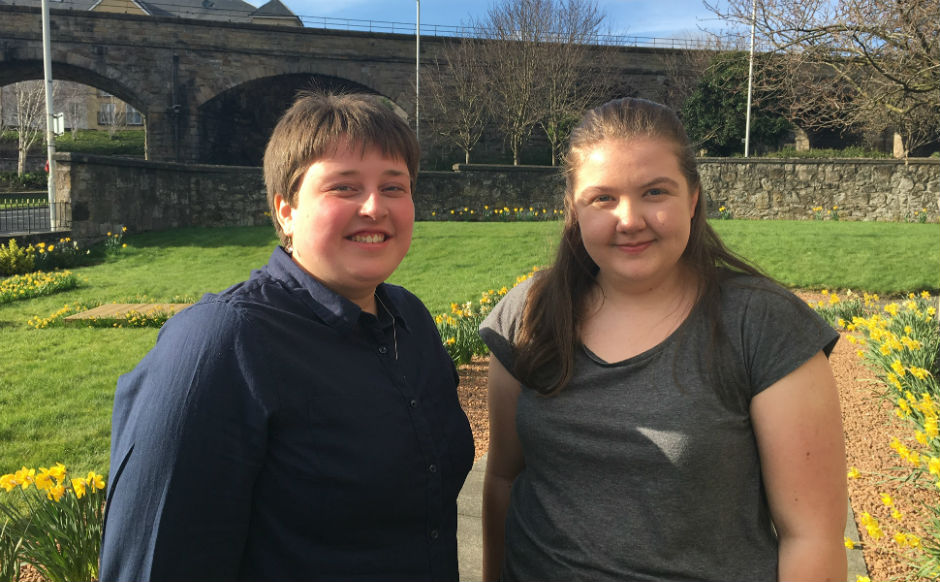 Hannah Dunlop will begin her role as NYA Clerk in August 2019.
Hannah, who is from Dalgety Bay where she is also an elder, has attended every youth assembly since she was 18 and says she "can't wait to get stuck in" as Clerk.
Working to support the Moderator, the Clerk is vital to proceedings and is a key player behind the scenes.
The social psychology student and mobile phone customer consultant said: "The National Youth Assembly has opened my eyes to all that the Church of Scotland does and this has encouraged and inspired me to get involved in my local congregation.
"I'm looking forward to hearing what the delegates have to say on our discussion topics and then working alongside Dana and the Youth Reps to take these thoughts and ideas forward," she added.
Past
Catriona Munro 2017
Lyndsay Kennedy 2016
Catriona Muckart 2015
John Haston 2014
Esther Nisbet 2013
NYA Youth Reps
Each year 18 people are selected from attendees at the NYA to serve alongside the Moderator and Clerk as youth reps. Their role is to continue the work discussed at the assembly, represent the NYA at presbytery meetings, Guild groups, churches and youth groups, and to encourage more young people to get involved. Nine of these youth reps are chosen to represent the NYA at the General Assembly, alongside the Moderator.
The youth reps for 2018 are Rachel Billes, Fraser Borland, Hannah Dunlop, Nicola Forbes, Kaspar Garnham, Shahrukh Gill, Amy Hannah, Rachel Hunter, Gemma King, Connor Macfadyen, Dana McQuater, Deborah Nicol, Esther Nisbet, Rebecca Pennykid, Blythe Rodger, Tasha Scotland and Tara Shannon.
MSYPs
For the past few years the NYA have had the privilege to be involved with the Scottish Youth Parliament (SYP). Every two years two people are elected to serve as MSYPs representing the Church of Scotland. This is a great opportunity for the church to get its voice heard in the wider community and be seen as politically engaged and active.
Our MSYPs for June 2017 – June 2019 are Connor MacFadyen and Rebecca Craig.
"One of our many tasks as Church of Scotland representatives is to communicate the work of the parliament to the young people of the Church. We use social media to conduct polls and gather the opinions of young Christians across the nation, then we take these results to SYP sittings.
"Sittings also take different forms, through our membership of various committees and working groups as well as appearing at SYP , voting on behalf of the young people in the Kirk when it comes to motions and making the voice of the Church of Scotland youth heard throughout debates.
"Our second role is to educate and inform. We have invited members to ask us questions and enquire; this has helped members understand what we believe in and how the Kirk works. It's a privilege to know we are taking the voice of our young people into secular society and ensuring that we are heard, especially when it's often hard to be listened to as a young person."