Youth Reflections from the National Youth Assembly
Young people aged 17-25 attend the Church of Scotland's National Youth Assembly every year. Here are their stories.
First time at the National Youth Assembly
Blythe Rodger reflects on her first time attending the National Youth Assembly in 2017.
I had never been to NYA before and didn't know much about it despite knowing a previous year's Youth Moderator, Andrew. I had never felt inclined to go and wasn't sure it would be my cup of tea, but I signed up for it on a whim after chatting to Andrew about his experiences following a very difficult year I had experienced in the church I grew up in.
I had always been encouraged to use the gifts God had given me in the church and loved being involved in Girls' Brigade, Sunday School, holiday clubs, and a band with other young people in the church. I then found myself in a position where I felt I wasn't able to do this and that I was being discouraged and prevented from doing so.
I immediately regretted signing up
As soon as I registered I started regretting it and remember driving to Gartmore with Andrew and commenting that there was one person in particular in my small group that was very chatty that I doubted I'd get on with. I felt very uncomfortable, out of my comfort zone and reluctant to join in. I wasn't keen on the worship initially, as it had been a few months since I'd been to church and found the Young People & Discipleship conversations in particular very difficult and upsetting. The pastoral team were amazing and chatting to them really helped me. All the other delegates were so friendly and welcoming that as the weekend went on I did start to feel better.
I felt a buzz for the rest of the day
The real turning point of the weekend for me was when we went to Gartmore Parish on Sunday morning where the sermon was on Psalm 139. The only thing I have in my Bible is a reflection on Psalm 139 that I'd been given years ago during one of the many Bible studies I'd done and had found reassuring at the time. I couldn't believe it. The rest of the Sunday I felt a real buzz and after chatting to the pastoral team, my small group leader, and friends, old and new (including the overly chatty person, who I'm now sure will be a lifelong friend), I decided to put my name forward to be a Youth Rep. When we were told that lots of people had put their name forward this year I remember thinking there was no way I'd be picked, I hadn't made enough friends or spoken to enough people or joined in enough.
Taking part in worship was a huge step for me
On the Monday morning I was asked to take part in the worship. I had a line to say and I was very nervous but I did it which was a huge step for me and I was very proud of myself. When the Youth Reps were announced later that day, I couldn't believe that I was going to be one of them. I was over the moon to have been chosen. The theme for the worship over the weekend had been gifts, and my experience at NYA and being chosen as a Youth Rep has made me realise that while I may not be involved in the church I grew up in anymore, there are many other ways I can use the gifts God has given me to serve the Church.
A Church regular's first time at the National Youth Assembly
Grant Henderson reflects on his experience with the National Youth Assembly
Having attended the National Children's Assembly when I was younger, I was always aware that the NYA existed, and fully intended on getting involved in it when I moved to Glasgow for university in 2016.
Attending the 2017 NYA planning weekend was a great way to get to know people, and by the time the bus arrived at Gartmore House in the summer of 2017 there were already plenty of familiar faces welcoming me.
I feel reassured about the future of the Church
The Youth Assembly was very uplifting. Most attendees are one of a very small number of young people within their own individual congregations, but at NYA everyone suddenly finds themselves thrown in to a large group of people of similar age and beliefs, and it's a wonderful thing to experience. I found it a very visible way of seeing God at work, and it was a reassuring sign of what an exciting future the Church of Scotland has with so many young people committed to sharing their faith with one another.
The Youth Assembly has also given me many other opportunities to explore my faith. Within Glasgow Presbytery we have a monthly meet-up for people aged 18-25. This consists of some familiar NYA faces along with some not so familiar and is another great way of exploring faith together with other young people. I am also attending the General Assembly as the Presbytery of Glasgow's youth representative in 2018 and look forward to learning more about the work of the National Church, which is another opportunity I would not have without the NYA.
A National Youth Assembly regular
Dana McQuater reflects on their journey with the National Youth Assembly as someone who will be attending their third Assembly this year.
I have attended the Youth Assembly two years in a row, and recently attended the planning meeting for 2018 NYA – and I cannot wait to see old friends and make new ones at the next event.
I enjoy being amongst fellow Christians who believe in the good we wish to achieve with and around the Church. I enjoy the worship time, fellowship, and prayers that we share and the feeling that God is with us as we greet the early morning sunrises.
I feel very privileged to be part of these events
Information from our discussions and workshops get passed along through our Blue Book and Supplementary Reports as well as the NYA Moderator's presentation at the General Assembly, and it is a great feeling to be part of this process. I feel very privileged to be part of these events and will hopefully experience the General Assembly for myself later this year.
I pass on my gratitude to my own local church, Alloa Ludgate, which supported me to attend the Youth Assembly and helped me pass on the knowledge and experience I gained at the assembly.
I hope that others will feel encouraged to put themselves forward for these types of events and to come together in God's name to encourage, empower, and support others.
What comes after the National Youth Assembly?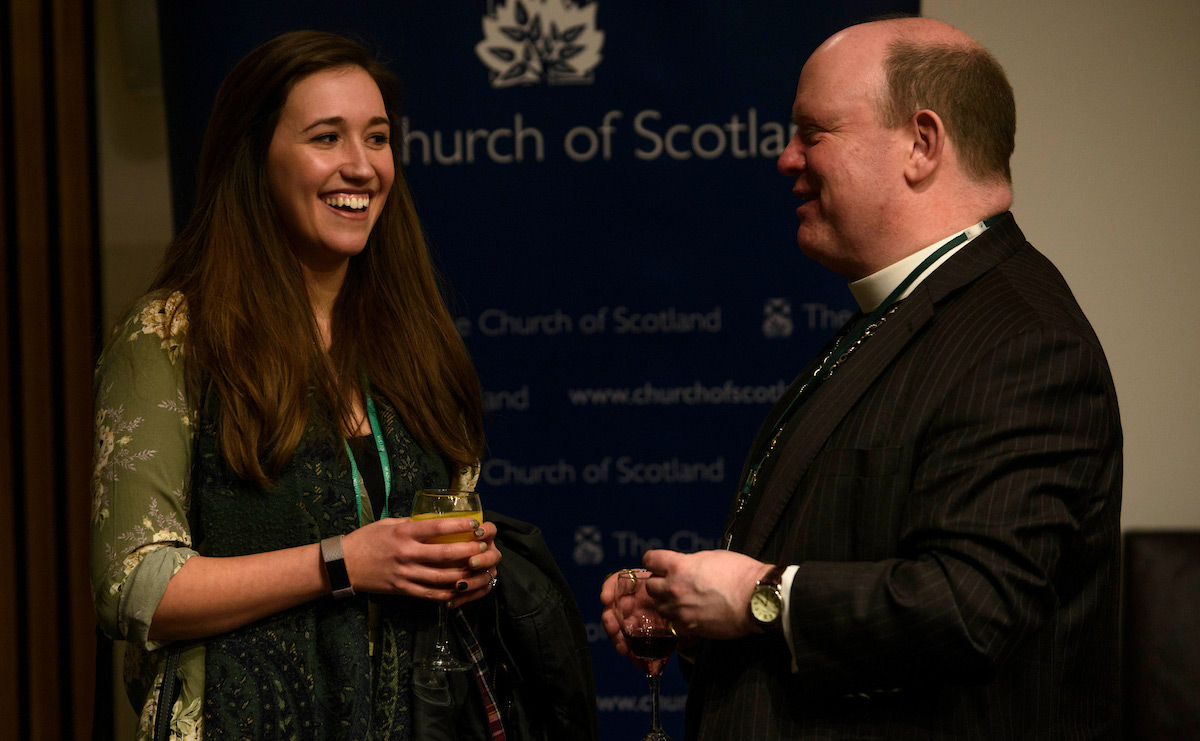 Gigha Lennox reflects on her journey with the National Youth Assembly as someone who has now aged-out.
2015 was a year of discovery for me. I returned to the Church after a time of absence during which I was studying and travelling. I started to feel a call to service and discovered that they were looking for a youth worker within my congregation. This was a new path for me - one that I had not planned to go down - but one I felt God leading me towards.
The General Assembly felt like home
Growing up I knew about the Kirk Session, our parish, and aspects of our congregational life, but I wasn't taught about the National Church or the General Assembly. When I applied to be a youth representative for my Presbytery I assumed I would be attending a monotonous conference for a week to simply sit and listen. I was soon to discover a world I had never known about, but felt just like home. Not only in the company of fellow young people of faith, but a place of discussion and decision all set for a higher purpose. This was definitely not the opinion of all those who attend the General Assembly. But the opportunity to spend the week with fellow Christians of all ages, and especially those of my own, was an enlightening experience that showed me a world beyond my own local Church.
This is when I was told about the National Youth Assembly, again something I knew nothing about. Having built wonderful friendships in my week at the General Assembly, beyond anything else, the opportunity to spend time together again was the initial pull. As it would be my first and unfortunately last time to attend the National Youth Assembly, I was determined to get as much out of it as possible. I was asked to be a small group leader; I put myself forward to be a youth representative for the year and threw myself into learning and experiencing all I could. The weekend was a chance to belong to a community.
What comes next for those who age out?
I learned a lot in my time at NYA and my year as a youth representative, and was also offered the opportunity to represent the Church of Scotland at the Starpoint Reformed Youth Festival in Hungary. But once all this came to an end, that was me: twenty-six-years-old and unable to connect with young people on a national level anymore.
However ,through my experiences I knew there were other ways I could be part of something bigger. Since no longer being considered "youth", I have been back to NYA as the "small group coordinator", been part of the Mission & Discipleship Council's working group for the Year of Young People 2018, become a member of the World Mission Council, and participated in the Interfaith Young Leader program to Rwanda, all of which have helped me learn new skills, build new and lasting relationships, and grow in my faith.
Every year 48 young people are selected to attend the General Assembly as presbytery youth representatives and 10 are selected to be National Youth Assembly representatives. Read more about their personal experiences of the General Assembly.
Regular at the General Assembly
Connor MacFadyen reflects on his experiences at the General Assembly as a regular attendee.
Let me set the scene: it's April 20 2017. Up and down the nation postmen groan as they shift hundreds of large white envelopes through the letterboxes of Scotland. You hear an almighty thud that shakes the very pictures on the walls and you know - The Blue Book has arrived.
I am someone who reads cover to cover every thought, word, and deed of the 30 committees and councils of the national Church - on the bus, in the car, on the tram, and even this year a plane. Everybody has their own way of tackling this Goliath book of reports. Some, like me, read, mark, and highlight. Others don't look at it until the reports come up in the order of Assembly Proceedings. Many use the electronic copy; some use both. One person I know even cuts the book up into individual days to make it easier to carry. Whatever your approach, the Blue Book is one of the most important tools of General Assembly, and after the Bible it is possibly the most important thing a youth rep can bring with them.
I have been to General Assembly twice - once in 2016 as the youth representative for Lothian Presbytery, and then again in 2017 as a National Youth Assembly representative.
Why I will be returning to the GA
"Why?!" exclaimed my Minister, when I told her I was going back. Well, that's a good question.
The General Assembly is the largest group of people I have ever met that truly represent God's message that 'no two people are the same'. All ages are represented, varying degrees of theological thought and opinion are there, all fashion trends too (grey suits are not a requirement). But above all I find three things bring those 800 people to the hall on the Mound.
First - a love for God and His people. Youth reps begin every day with an act of worship together, before attending the Assembly Halls where the first order of business is an act of worship. Through the week every decision is made through prayer, respect, and faith.
Secondly - fellowship. 800 people descend on Edinburgh for something so much more important than a big meeting. 800 people who love God and their Church come together once a year to share in His love and will later go back to their churches to report their experiences. It is a rare time when the Church is together in one place.
Thirdly - respect. In a constantly reforming Church, the General Assembly has seen its fair share of change, yet has itself remained relatively unchanged. It remains the highest court and the chief decision-making body of the Church, a role it has kept for the last 457 years. While many may feel that the Assembly is steeped in tradition and that change is long overdue, it can be seen that it still serves its function and it serves that function well. With space for 58 young adults to attend (48 presbytery reps and 10 National Youth Assembly reps) we aim to take an active a role within the Assembly's proceedings. We can propose amendments, speak on anything, and take forward new deliverances, and we do so every year. We are a group of young Christians doing our bit for our Church and praising God in the process. We have the best fun debating motions, discussing joint ventures, and engaging with all bodies of the Church, all the while representing young adults across the Church. Youth reps are well respected by the Assembly; indeed, many moderators have said they will almost always choose youth reps to address the Assembly (a fantastic honour). Many commissioners engage in conversation about our Church experiences and faith journeys and are grateful for our presence through the week.
No doubt it will be one of the busiest, quickest weeks of your year. You'll need sleep and your head will be splitting with information. But you will feel renewed and alive in the Church of Scotland and your faith.
That's why I go and will continue to go even when I can't attend as Youth Rep. I will be in the public gallery as long as God allows me to do so.
Over the 2017 Assembly, the theological forum's report on same-sex marriage proved to be one of the greatest views of respect I have ever seen. The Church's decision of categorising ministries proved controversial, the Church's response to the 100th anniversary of the Balfour Declaration proved divisive. But the Assembly never lost its respect for one another.
Everybody should experience the fellowship and love of the General Assembly at least once. While people may question it - is it too expensive, must it always be Edinburgh, must it be so big, should it be less restrictive, should there be youth reps at all and should they be allowed to vote. But it in the grand scheme of things these are minute in importance. The General Assembly will always serve the Church and its people, and I would encourage anybody to attend.
First time at the General Assembly
Gregor Penman reflects on his first time attending the General Assembly in 2017.
It was an immense privilege to participate in the proceedings at the highest court of our Church. Meeting so many different people from across Scotland and beyond really made me feel part of something bigger than my own congregation, and I think it's fantastic that we invite so many representatives from our ecumenical partners and others from overseas – they make a valuable contribution to the discussions.
Support for young people in the church
I was very much encouraged to see the degree of support for young people in the Church from the Commissioners who were in attendance. One can harbour all sorts of stereotypes of the "rest of the Church", and especially its attitude towards young people, but I was pleasantly surprised by the number of positive comments, in particular during the Mission and Discipleship (M&D) report. The discussion around the future of youth involvement in decision-making within the Church was a key issue for the youth reps, myself included, and we spent a fair amount of time as a group discussing the National Youth Assembly review, the M&D report, and what could be done to ensure the continuation of youth engagement with the Church. I also received several comments about the professionalism and maturity of the Moderator of the NYA, and the way in which he delivered the report of the NYA to the Assembly.
As it was my first time attending the Assembly, I gained a great deal of understanding about how decision-making works in practice, and quickly got the hang of amendments, counter-motions and all the other protocols! It was particularly exciting for me when the youth reps proposed an amendment to the M&D report regarding the future of the NYA. The whole process, from our choice of wording in the amendment to the meetings with the Convener of the Council was a privilege to be part of because our views and contributions were taken seriously.
Should youth reps be allowed to vote at the GA?
One issue that several people have asked me about is the fact that youth reps are not allowed to vote at the GA. I have been aware of this for some time through attendance at the NYA, and in a way had become used to it, but the experience of sitting in the Assembly Hall with all the other Commissioners, listening to the same reports, debates, and questions made me think again about the situation. Many people I have spoken to have expressed surprise (and often concern) that youth reps are denied this expression of their opinion. However, I am aware that all other Commissioners are ordained, and if youth reps were allowed to vote, I think other questions would be raised. Personally, I would ask why ordinary members of congregations, who haven't been ordained, aren't allowed to be Commissioners, and I think it raises the more general issue about why decision-making within the Church at all levels is made by ordained members only.
The future of youth in the church
I would like to stress how encouraged I was to hear the reports on the future and direction of the Church – one hears many things about the General Assembly, often describing it as slow, boring and "stuck in the mud", but my experience was that these descriptions are untrue. It was clear to me that the Church is moving forward and is really taking a good grip of the problems we face. For example, I am acutely aware of the lack of young people in the Church, and had been afraid that the Assembly would be given a somewhat sugar-coated impression of the level of engagement of youth in the Church. However, this was not the case, and the conveners of the Mission and Discipleship, Ministries, and Church and Society Councils in particular were clear about the challenge facing individual congregations of connecting with youth.
To conclude, it was an incredible experience and I would jump at the chance to go again in the future. I have spoken to congregations about my experience and I hope I have encouraged many others to consider attending if they are given the opportunity! It has given me a much greater sense of belonging to the Church of Scotland, and hope for the future of Christianity in Scotland.
What roles can I play in the Church?
Following the discussion on the priorities of the Church at NYA 2017, the Youth Reps felt one key priority should be better advertising the roles people can play within the Church.
However big or small, paid or voluntary, no role is insignificant, and we want people (especially younger people) to feel comfortable exploring these roles and taking them on.
The young people at NYA decided to produce a selection of videos to explain the strcture of the Church of Scotland and the roles people can play in the Church.
Explore the different roles you can play in the Church on the COSY Youtube Channel playlist