GA visitor thanks Church for supporting peacebuilding efforts in South Sudan
A former child soldier who went on to become a leading peacemaker and evangelist has praised the Church of Scotland for supporting efforts to end conflict in South Sudan.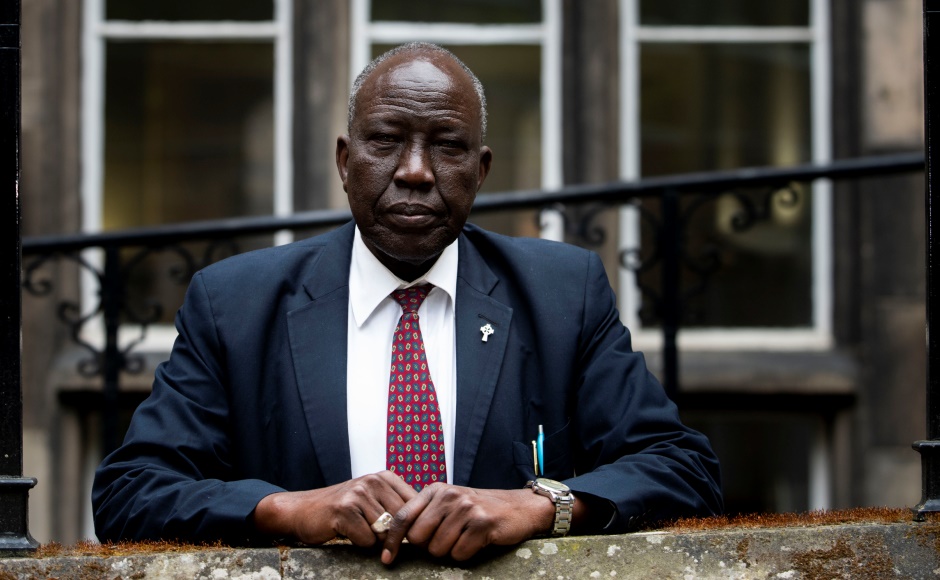 Rt Rev Peter Gai Lual, Moderator of the Presbyterian Church of South Sudan and Sudan, said that training in conflict resolution, offered through the Church of Scotland, is helping churches put an end to violence in his country.
"Our country is fragmented and polarised and we need to change the narrative of violence and hate speech," he said.
"The training we have received has helped us overcome the trauma we have suffered and given us the strength to be a voice for the voiceless.
"Ordinary citizens agree with the Church and they want peace—especially the women. But those who are fighting for position are saying they want peace as they carry on the fighting.
"The Church is creating hope for the people. We are delivering a consistent message to stop the fighting and keeping up the momentum for peace."
A struggle for power
Mr Gai spoke to the General Assembly of the Church of Scotland during the World Mission report on Africa explaining that churches are at the forefront of efforts to negotiate a peace agreement in the world's youngest country.
South Sudan, which is 80 percent Christian and has 62 different tribal groups, gained independence from largely Muslim Sudan in 2011, but the peace did not last.
After its fledging government was formed a struggle for power arose that turned into widespread fighting. Peace agreements have been negotiated but none has held so far.
The conflict has stopped food production in the country and displaced millions of people both internally and to neighbouring countries.
"Our country is in ruins and many people are going hungry," Mr Gai said.
"I am lamenting because I see my own children suffering and I cannot do anything for them. Life there is very difficult and everyone is living from hand to mouth. This is not just some individuals; it is affecting everyone in the country."
Seven years as a child soldier
Born in 1949, Peter had just left primary school when war broke out preventing him going to secondary school. Instead, at 14 years old he joined the rebel army fighting for independence.
"Everything was messed up and even though I was accepted to secondary school in Juba I could not go so I was happy to join people older than myself to liberate my country.
"I survived because I was surrounded by other people. When they moved forward I moved forward; when they ran away I ran away."
After seven years as a soldier, the war ended and he was able to continue his studies, first at a Bible school then later on at theological college in Kenya through the Presbyterian Church of East Africa.
"I got to know Christ through the missionary school and after the first peace agreement in 1971-72 I was called to ministry and began working as a volunteer evangelist for 50 congregations."
Attending peace negotiations
Officially employed by the 1.8 million member Presbyterian Church in 1983, Mr Gai went on to serve as director of Bible schools and theological training, as General Secretary and as head of the Department of Evangelism.
Then in 2012, he was chosen as Moderator, and in February this year, Mr Gai represented churches at peace negotiations in Addis Ababa.
"The Churches sent a document we called A Divine Warning, which was read to the two warring parties.
"We told them that the war must stop now, that it is senseless and has no moral justification. We said people are suffering and it must stop.
"The war is bringing hunger and disease. Let the guns be silent and we can begin to negotiate – because people are dying."
Church has helped with training
The peacebuilding training started in 2015, when Very Rev Dr John Chalmers visited South Sudan in 2015 and offered a one-day course in conflict resolution. It was so well received that South Sudan church leaders asked for additional training.
Since then the Church of Scotland has delivered two additional courses, with the latest last March bringing 11 pastors to Scotland for conflict resolution and mediation training with Place for Hope.
Churches are working together on a three-part plan to end the violence:
Advocacy and prayers for peace
Offering a neutral forum where the rival parties can talk in a safe place
Bringing people together for reconciliation
Hopes for peace
Now in the third year of his second 4-year term, Mr Gai hopes the work he is doing will result in a firm peace settlement.
"We will never stop talking about peace and we will never stop talking about people forgiving each other," he says.
"Women in the Church have created a day of fasting and prayer every Monday. When people see the mothers are really serious about peace it changes their hearts."
You can listen to Mr Gai speak on Sunday Morning With… Ricky Ross, on 27 May.
After his visit to the General Assembly Mr Gai will travel to London where he will visit Lambeth Palace and Westminster. He then visits the General Assembly of the Presbyterian Church in Ireland and to Switzerland for UN peacebuilding discussions before returning home to South Sudan.