Miniature donkeys bring Christmas story to life at Angus church
Published on 12 December 2017
A trio of miniature donkeys and "Mary and Joseph" stole the show at an Angus Church at the weekend.
More than 100 people attended the Messy Church bi-monthly children's event at Glens and Kirriemuir Old Parish Church (GKOPC ) on Sunday and were greeted by Summer, Milkshake and Cherry Lips in the driveway.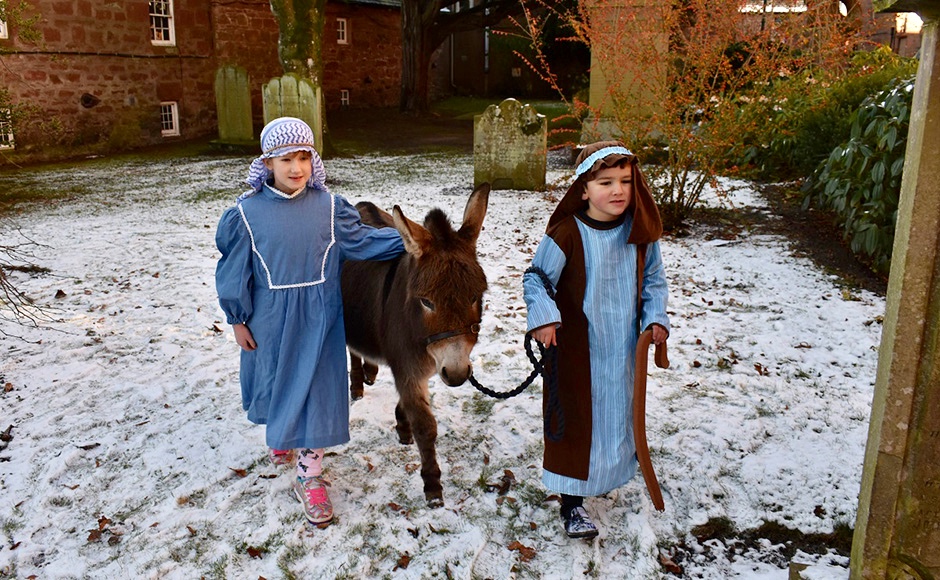 James Little, 5, and Matilda Bell, 7, dressed up as Mary and Joseph and led Cherry Lips around the garden to highlight the birth of Jesus Christ, the son of God.
Church minister, Rev Linda Stevens, said the youngsters all had a "blast" meeting and petting the donkeys.
"Our highlight of the day was the visit and one small boy said with awe 'it's just like Bethlehem," added the lead event organiser.
Thrilled
The donkeys, who live in Kingoldrum, Angus, were not an original part of the plan and only joined the agenda after a phone call from a local church member.
Mrs Stevens explained: "We promoted our event in the church newsletter and one of our GKOPC members, Jane McLean, read about it and contacted the Church office.
"She said her daughter, Catriona McLean who is the manager of McLean Equestrian Services, had three miniature donkeys and would we like them to visit us at Messy Church.
"We were absolutely thrilled at the news."
Mrs McLean, a local primary school teacher, said she was happy to bring the stunning animals to church with her daughter.
"It's lovely to see the different reactions by both children and adults when they meet our donkeys," she added.
"They definitely enjoyed the attention, so much so that it took us a while to get them back into the trailer."
Once the donkeys left, the children returned to the Church hall and continued with their activities.
Mrs Stevens said: "We had a fantastic day at Messy Donkeys celebrating Jesus' birth through crafts, food, singing and drama.
"We even built a stable for our real baby – Aled Wilson – to lie in the manger."
Family fun
Seven years ago, the Church searched for a fresh approach to children's work after the Sunday School closed down.
Mrs Stevens and office administrator, Julia Mitchell, came across Messy Church and held the first event in October 2010.
"We opened our doors and waited," said Mrs Stevens.
"Around fifty people poured in and we were astounded.
"It seemed like we had found the key to what young families of faith were seeking for their children.
"Since then we have gone from strength to strength and the Messy team of volunteers has also grown.
"We have food, crafts, puzzles, dramas, singing, puppets, messy activities, scripture, raising awareness of environmental and social issues, fund-raising for charity and lots of fun."