New Church of Scotland Moderator's National Prayer Breakfast message speaks of compassion
Published on 1 June 2022 3 minutes read
The newly appointed Moderator to the General Assembly, Rt Rev Dr Iain Greenshields, called for listeners to follow Christ's example and take up the challenge of compassion.
Dr Greenshields made the appeal while taking part in the National Prayer Breakfast for Scotland at Prestonfield House in Edinburgh this morning. The annual National Prayer Breakfast, which has taken place in various locations since 2005, is a public act of Christian witness led by speakers from different denominations.
You can read the full text of his address below.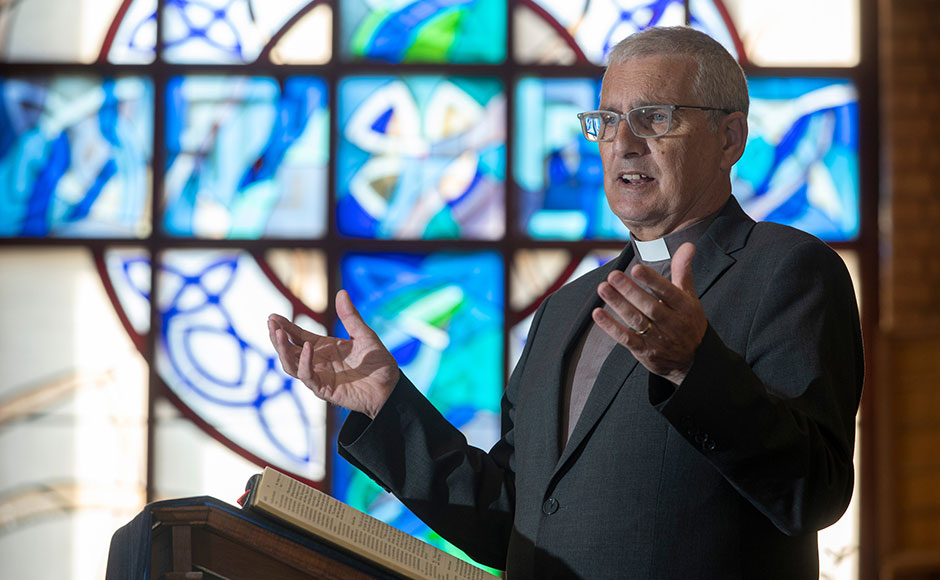 "The Lord, the Lord, the compassionate and gracious God, slow to anger, abounding in love and faithfulness…"
- Exodus 34 verse 6, NIV
Gracious and eternal God, Father, Son and Holy Spirit,
We confess and humbly recognise, that but for your desire to show compassion, none of us would have any hope either in this life or the next. We all realise that your choice to show compassion is the solid ground of our faith.
We acknowledge that Jesus was a man of unparalleled compassion, who exhibited in his life and death, a deep and unmatched concern for this world and all its people – love in its purity, perfection and action.
Humble us to recognise the call from you to be like Jesus – to love indiscriminately and even sacrificially. To love, even when it is not returned, valued or recognised. Enable us in and through your Spirit to be inspired to copy Jesus not just in action and content but in heart and emotion.
We turn our minds to consider, in your presence, those most in need of your compassion.
We remember those known and unknown to us who grieve – hearts broken by loss. Bless all who seek to bring friendship, hope and comfort in your name. Heal and restore their broken hearts.
We pray for all who seek to bring support and hope to those who are dying. Grant that they will have the inner and personal resources to bring physical, person and spiritual support as those that they serve near the end of life.
And for those known or unknown to us nearing the end of life or having to hear for the first time that their life will soon end – grant compassion to their families and friends as they travel with them to journey's end.
We pray for the many in our society gripped by addiction. It is so easy for us to judge those who already judge themselves, yet need the comfort and assurance that they are still valued and loved – loved in the manner and way that you, Lord, loved. Encourage us, even when it is difficult, to show compassion, friendship and support to those who travel the road of the many addictions in our society.
Lord, for those easily forgotten, in prison, we pray this day. We pray for chaplains who seek to establish contact and restoration – grant them a disposition of kindness and grace so that those many thousands in our society in prison might feel there is yet hope for them.
And for those who feel that they cannot forgive themselves – burdened with guilt and a sense of failure; enable them to look to the One who speaks words of grace and forgiveness; that they might feel enfolded in a love of a different kind.
Father, we look across our world in all of its need – our local neighbourhood, our country, significant needs in other countries. "Lord, have compassion," we rightly say. But maybe you are speaking to us and asking us to be the arms of your compassion reaching out – challenging us to do whatever is in our power to make a difference and saying to us –"You have compassion!"
Gracious Father, for inspiring us and showing to us your unconditional love, eternal grace and forever patience, despite our constant waywardness, we give you thanks. For the compassion that you show us every hour of every day, we give you thanks. Open our hearts to be more like you.
In the name of Jesus our Lord.
Amen