Lord Provost hosts civic dinner in honour of Aberdeen minister
Published on 15 March 2022 3 minutes read
A civic dinner was held in Aberdeen in honour of a Church of Scotland minister who has made a "unique contribution" to the city.
It was hosted in the Town House last night by Lord Provost Barney Crockett to thank Rev Scott Rennie for the part he has played in community life over the last 13 years.
The 49-year-old minister is leaving his role at Queen's Cross Church next month to become the new spiritual leader of Crown Court Church of Scotland in London.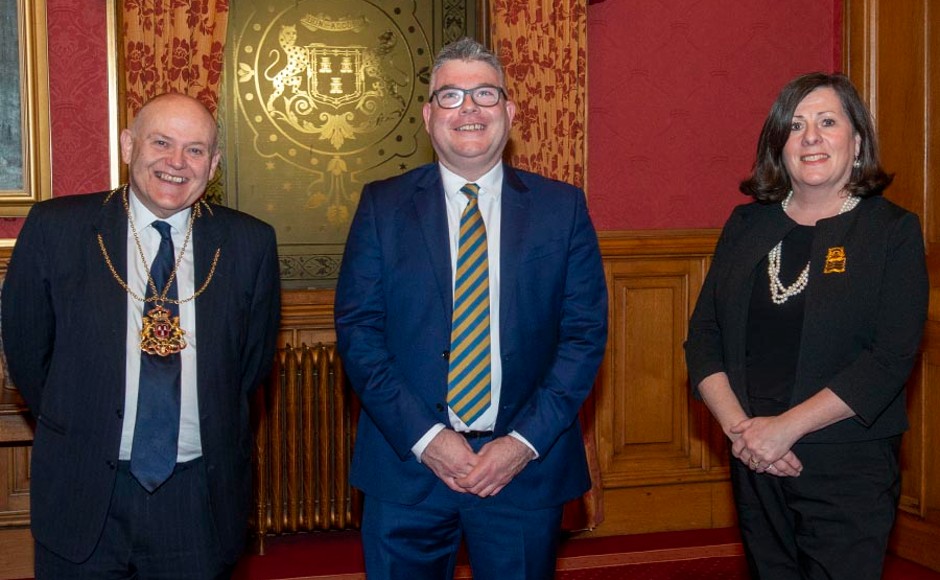 Mr Crockett said: "Scott has made a unique contribution during the time that he has been the minister at Queen's Cross Church.
"I am aware of the strength of feeling in the wider community about the impact he has made and the civic event was a great opportunity to have a joyful celebration about what he has achieved and express thanks.
"It was a terrific event, there was real warmth there and I don't think we have ever held one that people were so keen to come to."
Unexpected honour
Mr Rennie, who was presented with a Coat of Arms of the city,said he was "very surprised" and honoured that Mr Crockett and Depute Provost of Aberdeen, Jennifer Stewart, organised the event.
The guests included people who have played a key role in supporting Mr Rennie and his ministry over the years.
Mr Rennie said: "I was very surprised when the Deputy Provost, who is a local councillor, came to my door one Sunday night and said she and the Lord Provost were really sorry to hear that I was leaving Aberdeen because I had done so much for the community.
"She said they wanted to hold a small civic dinner as a thank-you which was very kind and most unexpected.
"I couldn't quite believe it and I was really touched because Aberdeen is my home town."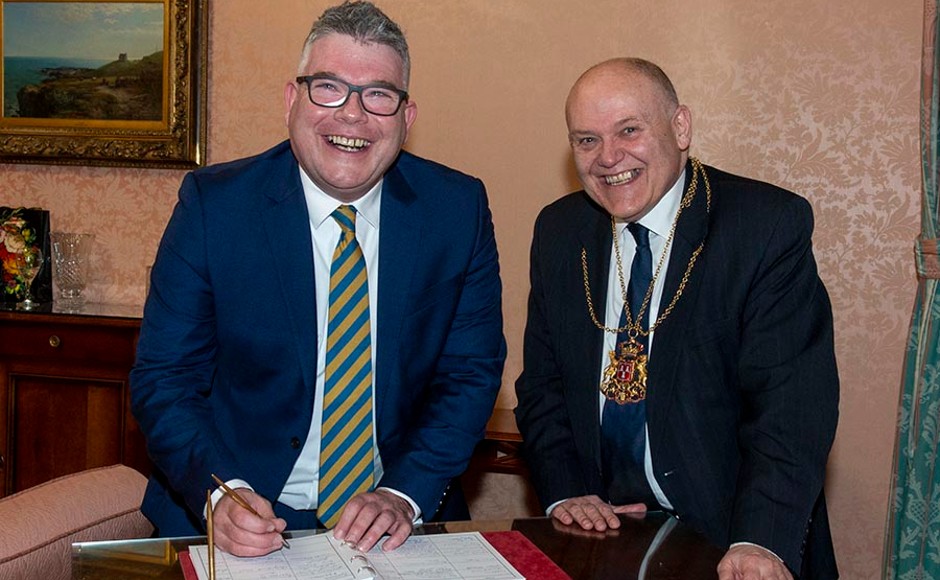 Mr Rennie is a strong supporter of a charity called Instant Neighbour, which helps people on low incomes set up their own homes, played a key part in welcoming Afghan refugees to Aberdeen and led civic Remembrance Sunday services beside the city's war memorial on Schoolhill.
Last June, he and members of Queen's Cross Church held a farmer's market in the grounds to help local businesses recover from the COVID-19 crisis.
In 2018, Mr Rennie and his Kirk Session oversaw the refurbishment of the church halls which underwent a £1.7million transformation into a modern community hub.
It comprises of a redeveloped pre-school nursery, complete with an outdoor play area, a flexible activity space used by a wide variety of groups such as senior citizens, people with special needs, those living with dementia and an artisan coffee shop.
Mr Rennie said: "The Church of Scotland contributes a lot to local communities all over the country in many different ways.
"Ministers do not work in isolation and have good people around them to help them drive important community outreach work.
"The civic reception is a wee reminder of the positive difference that the Church makes to the people they serve in Christ's name."
New adventure
Mr Rennie's last service at Queen's Cross is on Easter Sunday and he will be inducted into his role as minister of Crown Court Church in Covent Garden on the 5th of May.
"I have had the time of my life at Queen's Cross but it felt like the time was right to do something different," he explained.
"It was not an easy decision because I have really enjoyed my time here and I love my congregation and the city of Aberdeen where I grew up.
"I am a huge Dons fan and it will be a wrench not to be able to attend Pittodrie easily but I am looking forward to moving to London and it will be an adventure."
Mr Crockett's term as Lord Provost ends in May and he said he has used his time to highlight the important contribution that churches make in Aberdeen and the work of parish ministers.
He is hosting a Prayer Breakfast at the Town House on Friday.