Dean of the Chapel Royal in Scotland pays tribute to the Queen on 70th anniversary of her coronation
Published on 3 June 2022 6 minutes read
The Dean of the Chapel Royal in Scotland, Rev Professor David Fergusson, has shared this tribute to the Queen in this month's issue of Life and Work magazine.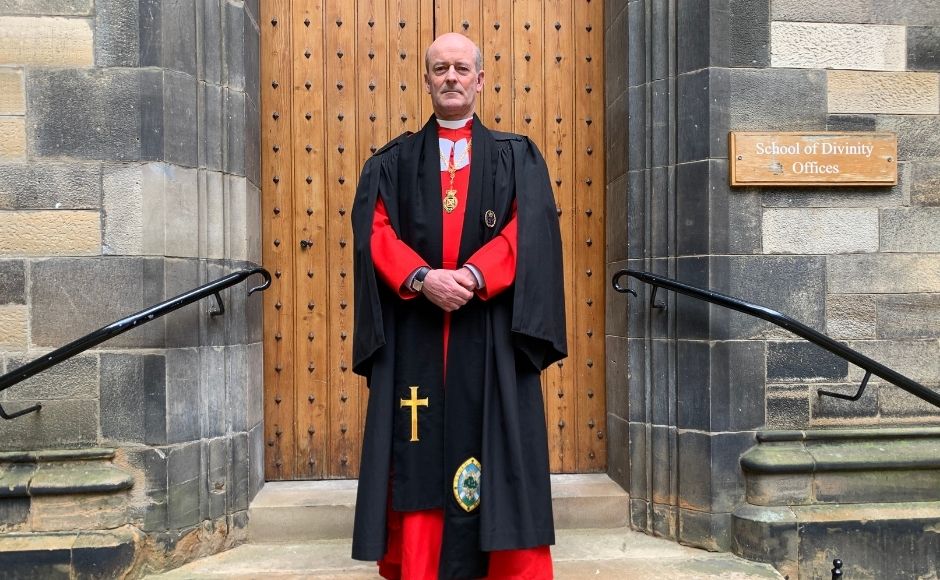 The celebration of Her Majesty's Platinum Jubilee on the weekend of June 2 to 5 provides a timely moment for reflection on the longest reign in the history of our monarchy.
Most of us have neither recollection nor experience of any other sovereign. As our Queen for seventy years, she has presided over much change in our national life, while providing a still point in a turning world. So familiar to us, the Queen is also extraordinary. None of us will see her like again.
The Queen's sense of vocation owes much to the inspiration of her father King George VI. Suddenly thrust upon him after the abdication crisis of 1936, the Crown was an unsought responsibility that he endeavored to fulfil with the support of his wife, later to become the Queen Mother. Aged ten, their elder daughter, Elizabeth, suddenly became heir to the throne. Acceding in 1952 upon the premature death of her father, she vowed solemnly to 'work as my father did through his reign, to advance the happiness and prosperity of my peoples.' Throughout her long life, she has unflinchingly fulfilled this promise together with the trust placed in her by her parents.
Recently published, the fine biography by Robert Hardman charts the momentous events, successes, and challenges faced by the Queen during her reign. Fourteen Prime Ministers have served under her.
She has met the leading political figures of our age, including several American presidents. Alone amongst them, her contemporary Nelson Mandela called her by her first name. She has faced numerous crises, including the so-called 'annus horribilis' of 1992 and the tragic death of Princess Diana in 1997. She has travelled the world by land, air and sea, working tirelessly to serve her other realms and territories. Her commitment to the Commonwealth has been unwavering, having in 1953 pledged to give herself heart and soul to an equal partnership of nations and races. Her momentous visit to Ireland in 2011 contributed to the healing of divisions.
The Queen has lived in the glare of constant media coverage, though very seldom do we know what she personally thinks on the issues and personalities of the day. She adheres unfailingly to the schedule produced by her government and advisers, always appearing well briefed and engaged with the people she meets. In frequently stressing her role in terms of service, she has earned the respect of royalists and republicans alike.
Amidst these Jubilee celebrations, we cannot fail to recall the enormous support Her Majesty derived from seventy three years of marriage to the Duke of Edinburgh. As Queen's consort, he forged for himself an uncharted and sometimes difficult role early in their married life; this required all his considerable intelligence, energy, and humour. As her 'strength and stay', Prince Philip provided advice and emotional support at each turn of the way. His loss will continue to be keenly felt.
The Queen's commitment to Scotland has been evident throughout her reign. Hardman notes that she is the most Scottish of monarchs to reign since James VI. This derives not only from her mother's upbringing at her ancestral home of Glamis Castle, but from the Queen's own love of our land and its people. Her commitment to the Balmoral estate is attested by the amount of time she spends there each year, whether in her private home or at the castle. She has travelled widely throughout Scotland, her interest in its civic life being shared by the Duke of Edinburgh and their children, especially the Princess Royal who succeeded her father as Chancellor of the University of Edinburgh. In recent years, a sizeable Scottish contingent has been represented at the Maundy Service. Although an Anglican occasion, it includes Christian people drawn from across the churches of the UK.
This engagement in Scottish life is also apparent in the Queen's involvement in the Kirk. Each year, she sends her representative to the General Assembly as Lord High Commissioner. This role has regularly been fulfilled by members of her own family, most recently the Duke of Cambridge.
The Queen herself has addressed the General Assembly on two occasions (1969 and 2002). While residing at Balmoral, she is regular in her attendance at morning worship in Crathie Kirk. During the Court season in August and September, she hosts the visiting preacher for two nights at Balmoral Castle. The Rev Ken MacKenzie, parish minister at Braemar and Crathie, estimates that several hundred Church of Scotland ministers will have been guests of the Queen at Balmoral during her reign. Some of these have faced over lunch a searching interrogation of their sermons from the Duke of Edinburgh. A fund of stories now circulates from these visits. The late Professor Bill Shaw, friend and former teacher, recalled an enjoyable weekend which included his viewing of the Last Night of the Proms with the Queen after Saturday dinner. Bill had become pleasantly drowsy in front of the Queen's TV when he suddenly realized that the orchestra had struck up the national anthem at the close of the concert. As he struggled out of the sofa to stand to attention, the Queen continued to watch the TV set while casually gesturing with her hand that he should remain seated. She then commented on the unusual setting of the music to dispel any lingering awkwardness.
Central to the life and work of the Queen has been her personal faith. Her Christmas broadcasts are punctuated with references to the strength that she derives from God's grace, together with the teaching and example of Christ. As the UK has become increasingly secularised, she seems to have returned to this theme more frequently and forcefully each year. Her sense of duty and commitment to public service are rooted in her faith. Though she might not herself put it this way, she represents 'the perseverance of the saints'. Her Christian faith is inclusive, focusing on what she regards as those essential elements that connect people of different religions through their shared commitment to the dual love of God and their neighbours.
Each of us will have some distinctive memory of the Queen that we will recall during these Platinum Jubilee celebrations; no doubt, this will be shaped by our age and location. Some may still remember the broadcasting of her coronation service. Others will recall earlier jubilee events – silver, golden and diamond – that have preceded this one. The Queen's annual attendance at the Cenotaph and her Christmas broadcasts have been regular features of our national life. Moments of sadness have been shared on occasions of national mourning, including the haunting scenes from Dunblane in 1996, where she was reported to have broken down during her visit to the town four days after the massacre. These poignant encounters remind us of the Queen's capacity to give her undivided attention to the circumstances of everyone she meets.
Throughout this month, our Queen's long and happy reign will be marked by heartfelt celebration. As we gather in church, we thank God for one who is not only respected but held everywhere in affection. For her long years of service to our country and for the faith that has sustained her through all the seasons of her life, we have good cause to be grateful.
This article was originally published in the June edition of Life and Work, the magazine of the Church of Scotland.
Subscribe to Life and Work with either a digital or print subscription on their website.