The Duke of Cambridge visits Kirk-supported charities in Edinburgh
During a week-long visit to Scotland, in his role as Lord High Commissioner to the Church of Scotland's General Assembly, Prince William spent Sunday (23 May) visiting a CrossReach care home, Queen's Bay Lodge, and the Grassmarket Community Project in Edinburgh.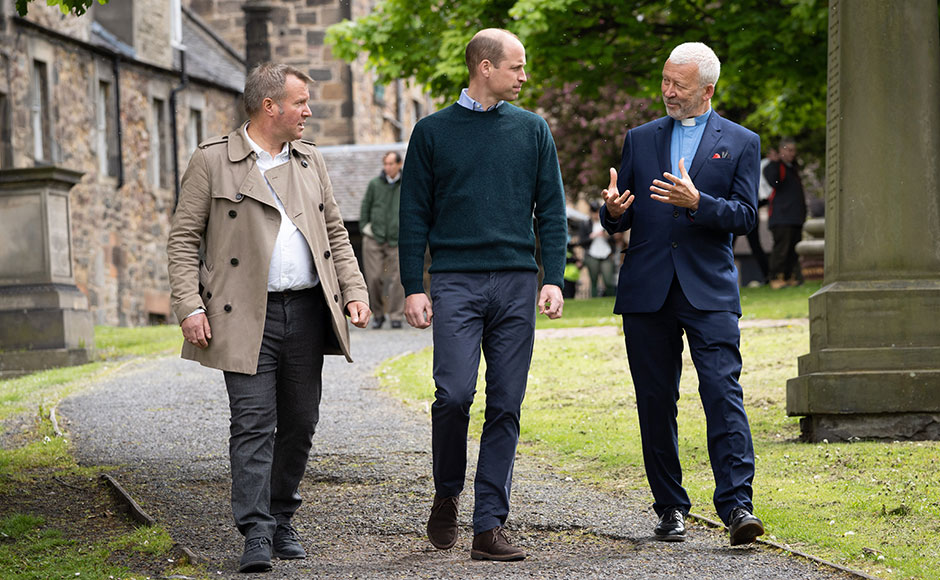 The Duke of Cambridge heard how communities and organisations associated with the Kirk have been affected by the Covid-19 pandemic, but have continued to support one another in spite of physical distance.
'The Church is able to create thriving communities of hope'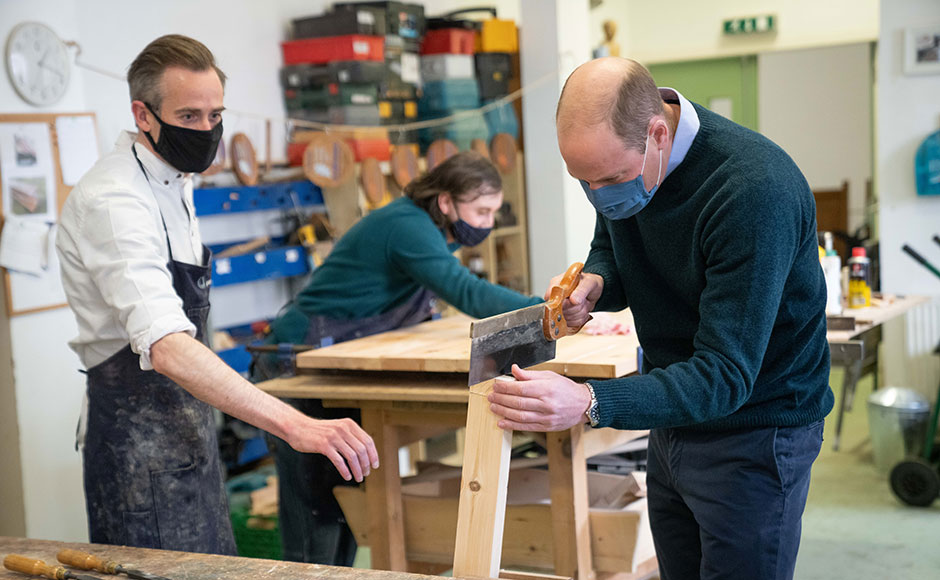 In the morning, The Duke visited the Grassmarket Community Project before joining attendees, staff and volunteers for Sunday lunch. The project was originally developed in partnership between Greyfriars Kirk and Grassmarket Mission in 1982 and provides sanctuary and support for vulnerable people through community innovation and social enterprise. They became a standalone charity in 2010.
During his time there, The Duke met with founder and Greyfriars Kirk minister, Rev Dr Richard Frazer, as well as Chief Executive Officer Jonny Kinross. The team shared how their work makes a positive difference to people who are dealing with a wide range of complex issues including mental and physical health problems, disabilities, learning difficulties, poverty, substance misuse, abuse, social isolation and more.
"It is wonderful to have had a visit from Prince William to our Grassmarket Community Project," said Dr Frazer.
"Over the years, the project has developed as our ministry of hospitality at Greyfriars Kirk to the community we seek to serve, and especially to those who have found themselves on the edge of society.
"The Grassmarket Community Project has collected numerous awards over the years for the outstanding and innovative approach it takes to supporting some of our most vulnerable citizens.
"Much of this work, which is about building a nurturing community, developing people's self-confidence and enabling people to contribute positively to their community, is rooted in Gospel values.
"The visit showcased the amazing work of the team of members, staff and volunteers who make the Grassmarket Community Project the thriving, supportive and enterprising place that it is. The project shows that the church, working with partners and people who share our values, is able to create thriving communities of hope."
The Duke also visited the Grassmarket Community Project's workshop, which makes furniture from recycled pews and other responsibly-resourced wood, to hear how the social enterprise creates volunteering, training, apprenticeships and employment for community members to develop work-related skills, ethics and experience.
Their diverse programme helps members develop confidence and resilience in ways that suit their individual needs, interests and abilities. A typical weekly programme includes practical (e.g. literacy, IT, gardening), creative (art, music, drama), physical (walking, yoga) and wellbeing (mindfulness, self-care) activities.
'Lifted everyone's spirits'
In the afternoon, The Duke then visited residents of Queen's Bay Lodge in Edinburgh, a care home for older people run by CrossReach, the Church of Scotland's Social Care Council.
Built in 1974, Queen's Bay Lodge provides round-the-clock residential care for older people. The Duke chatted to some of the home's 28 residents as they enjoyed afternoon tea in the garden and spoke to staff about the impact of Covid-19 on the home over the past year.
"Staff and residents were thrilled and honoured to have welcomed the Lord High Commissioner to Queen's Bay Lodge," said Maria Toth, the care home manager at Queen's Bay Lodge.
"There was a real sense of excitement and anticipation around the visit, which we hosted in our gardens.
"This really has lifted everyone's spirits following such a difficult and challenging year and will live long in our memories."
CrossReach was launched in June 2005 and continues the Church of Scotland's 150-year long tradition of providing high quality social care to the community. CrossReach supports over 10,000 people in Scotland living in challenging situations, making it one of the country's largest providers of social services.
Their services include care for children and families as well as older people and help with alcoholism, drug and mental health problems, assistance for homeless people and support for those with special learning needs. Although CrossReach is part of the Church of Scotland, its range of services are available to people of all faiths, or none at all.
Watch this year's General Assembly
The Duke of Cambridge was appointed by Her Majesty The Queen as her personal representative at the Kirk's annual General Assembly in Edinburgh which opened on Saturday 22 May.
This year's event is being held until Thursday 27 May, with commissioners and other attendees joining together remotely from across Scotland and around the world.
As in October 2020, the Assembly will be live streamed (with a British Sign Language interpretation option available) so those who are not commissioners can still watch the proceedings through our website.
The Blue Book reports (i.e. overviews of each Forum or committee's work over the last year, as well as their future plans) are available to read on our General Assembly pages.
You can also keep up to date with all the goings-on each day through our news coverage, Facebook and Twitter pages.