Running Rev embarks on "preaching" marathon in aid of mental health
Published on 28 September 2021
A minister is running the virtual London Marathon and conducting services at three different churches along the way.
Rev James Bissett has plotted a 26.2 mile route across the Contin and Strathpeffer parishes, north-west of Inverness in the Highlands, to raise money for the Scottish Association for Mental Health. (SAMH)
The 45-year-old is setting off at 8am on Sunday and hopes to arrive at Kinlochluichart Church at 11.30am where he will lead worship and will do the same at Contin Church at 5pm and Strathpeffer Church at 7pm.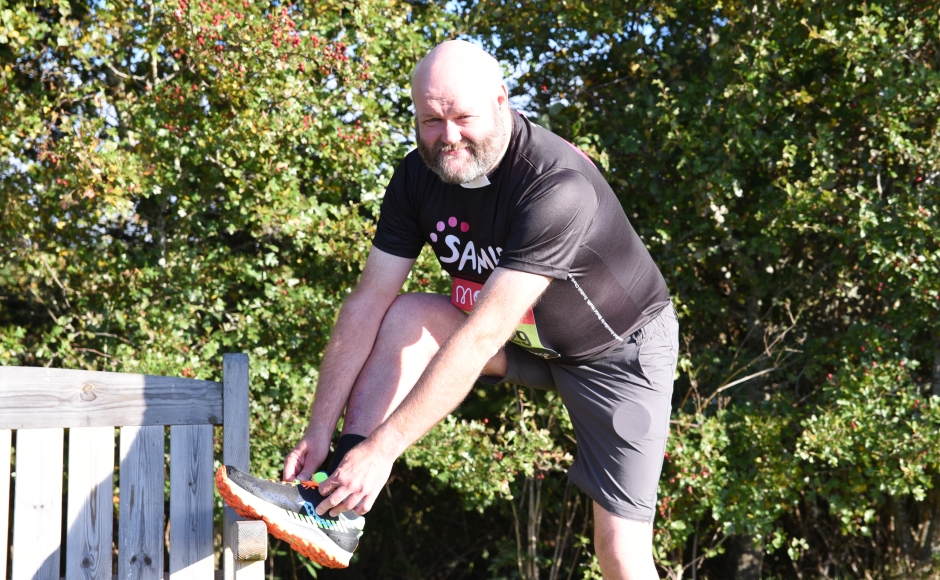 Mr Bissett said: "This is a big challenge for me because it is my first marathon and I am pretty unfit and about as far from an athlete as you can imagine.
"During the first lockdown I did the Couch to 5K NHS training programme for people who want to start running and surprisingly I quite enjoyed it.
"So, to give myself a target, I decided to do the Virtual London Marathon which allows you to set your own route via an app.
"I have 24 hours to run the length of the parish that I looked after until recently which stretches from Achnasheen to Strathpeffer.
"I am quite daunted but I have been training up for it and increasing my distances bit by bit and completed a half marathon in August which was quite a milestone.
"I have walked 26 miles before and I hope I do not get any injuries on the route which will be mainly on roads but also through forests."
Fragile
Mr Bissett said he will have a support team on hand nearby on the day to make sure that he is properly hydrated and eating properly and provide him with encouragement and moral support.
He added that the theme of running will be used in his sermons and arriving at the church in Strathpeffer will mark the end of the event.
The virtual London Marathon is the second event the minister has done this year in aid of SAMH and he raised £2,500 by wearing a bright pink wedding dress when he got his two COVID-19 jags.
Asked why he is supporting the charity, Mr Bissett explained: "I am a shareholder in Primordial Radio, an online rock and metal station, and they held a fundraiser concert in an Edinburgh pub last year and the funds went to SAMH.
"Rock metal fans have a reputation for being rough, ready, scary blokes in leather with lots of tattoos but we are all human and can be fragile.
"One of the pillars of this community is supporting mental health and I have seen a bit of the work that SAMH does to help people and I thought I could get behind them.
"The last 18 months has been hard for everyone and the mental health of some has taken a hit so that is why this is my cause of the year."
CrossReach runs mental wellbeing counselling services from its offices in Inverness, Glasgow, Buckie and Edinburgh – with provision also available online.
Services in Alloa, Stirling, Glasgow and Stornoway support people living with, and recovering from, mental ill-health.
CrossReach is looking to build on their successful mental health support groups which are running in Kilmarnock and across East Ayrshire.
The first step towards this is the Umbrella Project, a partnership with Irvine Old Parish Church.