Organist invites people to help mark 50th online concert
Published on 10 February 2021
A North Lanarkshire musician is inviting music lovers to help celebrate his 50th online organ recital since the first lockdown in 2020 on Wednesday 24 February.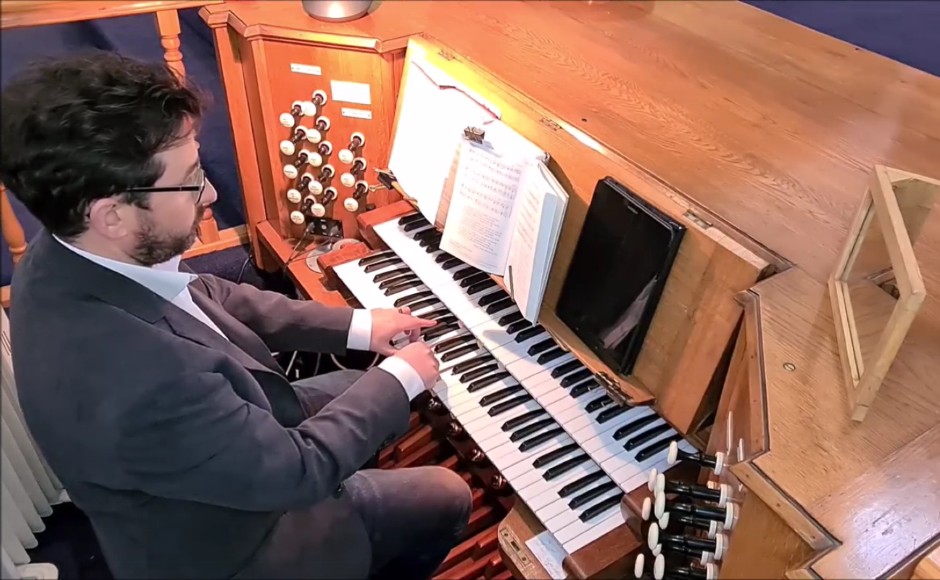 Alan Mathew, of Bellshill Central Parish Church, has held a regular concert called 'The Organist Entertains' on his church's Facebook page and YouTube channel since May of last year.
For what Alan is describing as a "super bumper edition", he is encouraging people to send in short video clips including hymn requests and why they have enjoyed the weekly show.
"None of us thought it would last as long as it has," he says.
"Initially it started because I needed to check the organ - they're valuable so once I was allowed to I went in every week.
"People started saying 'if you're in could you record a hymn for me' and from here it grew arms and legs.
"'The Organist Entertains' was my idea to help keep people connected with their church building, to let them hear and see familiar views and sounds.
Now listened to in countries as far away as Canada, South Africa and Australia, each edition includes hymns with the lyrics displayed so that people can sing from the safety of their own homes.
Performances initially only lasted about 10 minutes, but due to popular demand increased to around an hour in length and became weekly rather than every few days.
Alan welcomes requests and dedications from his online audience, with over 440 sent in so far. For the episode closest to Burns' night, he even included a special arrangement of 'A Red, Red rose' in tribute to Scotland's national poet.
The most requested hymn to date is 'The Lord's my shepherd', followed by 'Love Divine, all loves excelling' and 'What a friend we have in Jesus'.
The dedicated organist, who has been based with the congregation for six years, has also produced special episodes to mark big events such as wedding anniversaries.
Speaking about plans for the anniversary edition, Alan explains he's looking forward to people taking part.
"For the special 50th performance I'm invited people to join me on screen, virtually of course, to say how they've enjoyed the videos - how they've helped people keep a focus and how they've helped them keep connected.
Rev Kevin De Beer, the minister of Bellshill Central Parish Church, said the congregation was "blessed with a truly committed and creative organist".
"Alan started a ministry - 'The Organist entertains' - in a bid to offer a little musical inspiration during the lockdown.
"This ministry, which started as a project that simply asked for requests from people connected to Bellshill Central Parish Church, has now grown to a ministry that reaches well beyond our borders.
"We give thanks to God for Alan's ministry that has truly inspired many 'to sing for joy on their couches' during a challenging time in our community and country."