Moderator visits social care projects to mark CrossReach Week
Published on 26 October 2021
The Moderator of the General Assembly is embarking on a mini tour of "important" life changing social care projects run by CrossReach.
Lord Wallace said he was "very much looking forward" to seeing just a few examples of the diverse cradle to the grave services provided by the Church's social care council which has a history that stretches back more than 150 years.
He added that he has been "hugely impressed by the energy and dedication" of CrossReach staff that he has met since taking on the ambassador role of Moderator in May.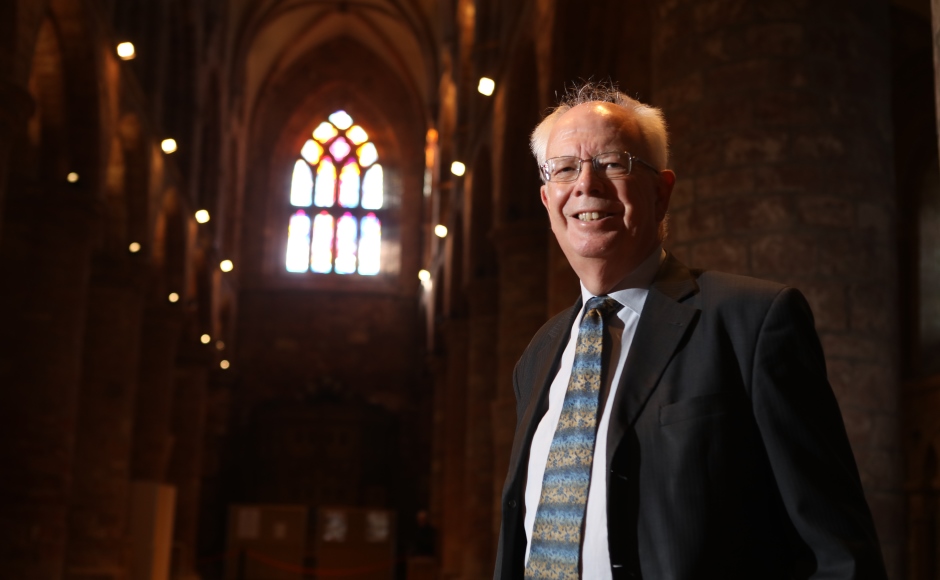 Lord Wallace said: "The range of services which I am visiting well illustrate the extent of the support which staff and volunteers give to people of all ages.
"It underlines just how important their contribution is to the life and well-being of communities across Scotland."
Diverse services
The Moderator's first stop today is Perth Prison Visitors Support and Advice Centre which caters for the families of prisoners, some of whom have to travel long distances to see their loved ones.

Staff work hard to try and reduce social isolation by helping people maintain connections and increase their confidence and self-esteem.
On Wednesday, the Moderator is visiting CrossReach's Young Adults Day Opportunities Service (Transitions) in Edinburgh.
It offers flexible person-centred community support that included crisis intervention to families during the ongoing COVID-19 pandemic.
One parent said: "My 18-year-old son who has autism hugged me for the first time in his life.
"I feel that this is down to the support and interaction he is getting from Threshold."

Lord Wallace will meet some of the people receiving support from Transitions and members of the team.
He will discuss a range of issues including the impact and benefits of the service in a climate where the availability of disability day services is in decline.
The Moderator will later take part in a roundtable discussion organised by Eurodiaconia, a European network of NGOs providing social and healthcare services and advocating for social justice.

It will be an opportunity for Eurodiaconia members to share ideas and knowledge about how to achieve net-zero targets for buildings.
The Moderator, who is attending the COP26 climate summit in Glasgow, will take part along with CrossReach officials Eoin McDunphy, finance and resources, Anthony Olowoyeye, head of estates, and David Bradwell, the Scottish Churches Parliamentary Officer.
Family relationships
Lord Wallace is visiting St Margaret's House in Polmont near Falkirk on Thursday - a specialist care home for people living with dementia.
He will take part in a discussion led by CrossReach's older people's services director, Allan Logan, which will focus on the significant impact the pandemic has had on residents, including the challenges of maintaining critical family relationships.
Staff will share some of the realities arising from recruitment challenges and the work that is being done to find ways of overcoming them.
Lord Wallace will attend the CrossReach Employee Awards on Thursday night, which celebrates the successes and achievements of Continuous Professional Development work completed by staff.
Tree planting
Hosted by BBC Scotland's former political editor Brian Taylor, anyone who has completed a relevant accredited qualification for their role will be recognised along with those dedicated to their jobs.
The Moderator said: "The event will be an opportunity to celebrate the remarkable work of CrossReach employees and to say a well-merited 'thank you'."
On Friday, Lord Wallace is visiting The Mallard, a house in the Springburn area of Glasgow which provides short residential breaks for young people.
He will meet children, parents and staff to see and hear first-hand about the vital services and support provided.
As part of the Queen's Green Canopy Platinum Jubilee initiative, Lord Wallace will be invited to plant a tree in the garden.
CrossReach Week is an annual opportunity to allow the Moderator to see for themselves some of the services run by CrossReach, the operating name of the Social Care Council of the Church of Scotland.