Moderator addresses Scottish Parliament
Published on 23 February 2021
The Moderator of the General Assembly has addressed the Scottish Parliament.
Rt Rev Dr Martin Fair gave Time for Reflection, the session that heralds the start of Holyrood's three-day business week.
His virtual address. which included greetings from the General Assembly to MSPs, was beamed into the debating chamber this afternoon.
It is part of the Moderator's annual visit to Holyrood which includes meetings with the leaders of Scotland's political parties who hold seats and Holyrood's presiding officer.
They have been held online this year due to pandemic lockdown restrictions.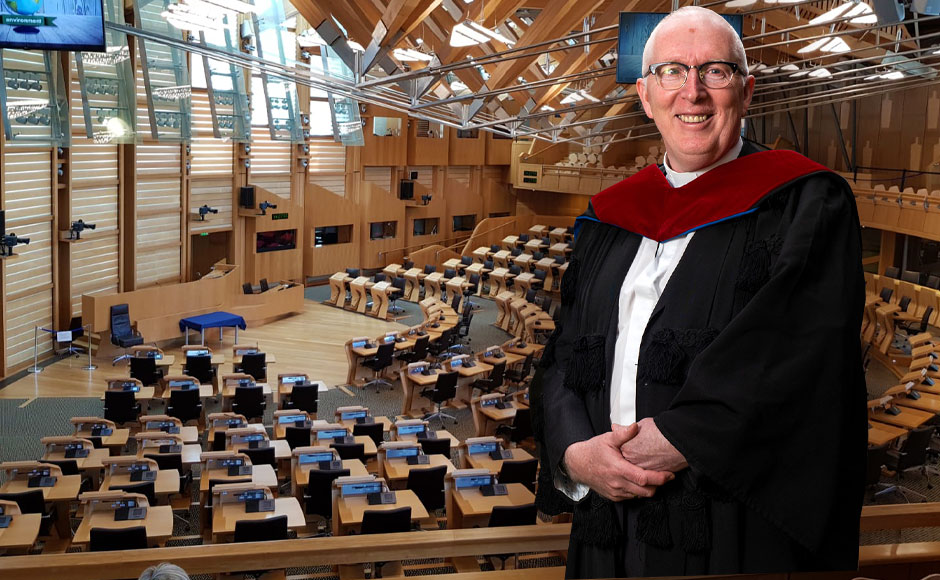 Here is what Dr Fair said:-
Three weeks ago yesterday, I listened with particular interest to the First Minister's daily briefing and to the Covid stats that she announced.
My wife's dad had died on the Saturday, in a care home, having contracted the virus, and I guess I just wanted to hear the numbers and to think that Mickey was included in them.
What I really would have liked would have been if the First Minister had actually mentioned him by name.
If she had given the total number of those who had died and then said, 'and of course that number includes Mickey Wiley.'
Well of course that's a daft notion. I understand that.
And yet how vital it is - not just important, vital - that we never forget that behind every number is a name and that every statistic is a 'somebody.'
I can't put into words how devastated my wife was to lose her dad in these circumstances, not having been able to see him.
And I guess the same is true in all of the other similar cases.
And if this is true for Covid deaths then also for all of those other times when, as part of our national record keeping, we announce numbers.
'Just another' drug death is someone's precious son or daughter.
Someone who started primary school with all the potential in the world, someone who could have thrived, someone who had a name.
Our hospital waiting lists, lists of those who are waiting for a referral to a cancer specialist or a mental health service.
Every line on every list is a life.
Statistics relating to children living in poverty, statistics documenting numbers of families using food banks.
Behind every statistic is someone special.
Everybody matters.
And names matter.
When we meet someone for the first time, we tell each other our names.
We get annoyed with ourselves when we can picture a person but can't remember their name.
In the prophet Isaiah, we read this: 'The Lord says, I have called you by your name and you are mine.
'Do not be afraid for you are precious in my sight.'
We all matter in the sight of God, even the least of these.
Let it be that Scotland is a country in which everyone matters.
In which we remember that behind every number is a name.