Kirk minister sets off down the River Ayr on 44-mile fundraising walk
Rev Steve Clipston, a minister who is no stranger to taking up fundraising challenges, recently set off on his latest sponsored walk to raise funds for his two parishes, Auchinleck and Catrine. This time, Steve's efforts saw him take on the 44-mile stretch of the River Ayr in one day.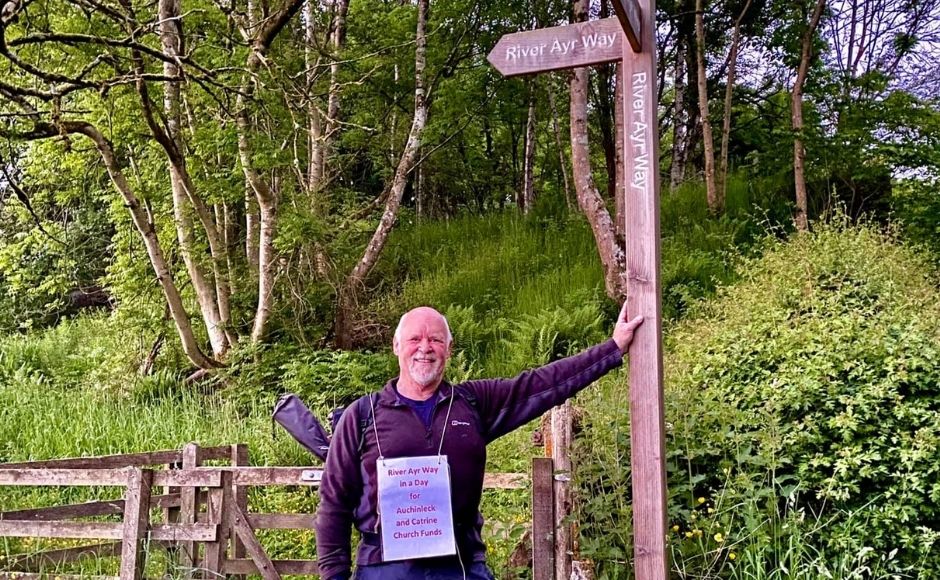 In a motion raised in the Scottish Parliament last week, cross-party MSPs "commended" Steve's achievement on the River Ayr Way and recognised his earlier success in completing a 200-mile walk over five weeks between January and February for Doddie Weir's Motor Neurone Disease (MND) charity, My Name'5 Doddie.
Steve set off on his journey at 3am on Monday 21 June with the support of primary 6 and 7s from the local Catrine Primary School, the local Ayrshire Walks walking group and members of his congregation to cheer him on for part of the walk.
"I found a renewed love of walking in January by taking part in the Doddie Weir Challenge, which was to walk 100 miles in 5 weeks. I managed over 200 miles in that time and helped raise awareness and funds for Doddie's MND charity.
"I then had a crazy idea to walk the River Ayr Way in a day to raise funds for my two churches, Auchinleck and Catrine."
Steve posted updates on the progress of his walk during the day to his Facebook page, including an unforeseen hilly detour to avoid a landslip, but unfortunately was unable to complete the last section towards Ayr due to blisters, exhaustion and hunger.
"I have walked the River Ayr Way in many sections and have also done both halves of the walk on different days - and my attempt was to do the whole walk in the same day, falling short by around 4 and a half miles. I hope to attempt the whole walk in the near future, with a far better idea of what is involved.
"Our churches are entirely reliant on donations from congregational members and others who want to support our work and presence in the community as we seek to share God's love and forgiveness.
"A Church leader many years ago said that 'the Church is the only organisation that exists for outsiders'.
"All proceeds raised will be divided between the two churches and the respective office bearers will discuss how to use them, whether for essential fabric repairs or to help pay the bills."
Donate to Auchinleck and Catrine churches
If you'd like to donate to support Steve's sponsored walk, you can use either of the donation buttons below:
All proceeds from donations will be split evenly between the maintenance and upkeep of both the Auchinleck and Catrine church buildings.
Other donations can be passed on via Steve himself or other office bearers in his parishes. On request, details for standing orders or online banking can be provided.