From designer to preacher: new minister welcomed to Eaglesham
Published on 10 September 2021
A former designer has been inducted as the minister of Eaglesham Parish Church in East Renfrewshire.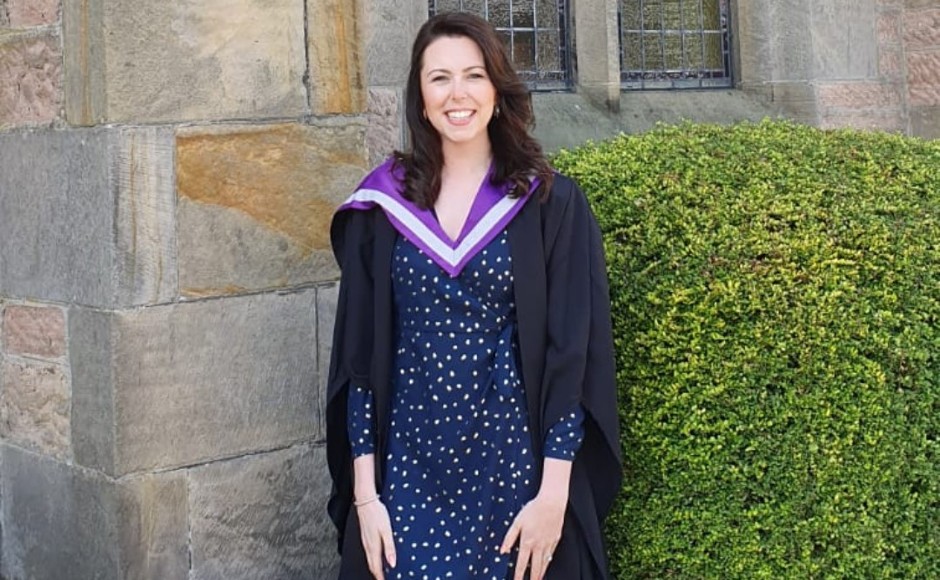 Rev Jade Ableitner, who is originally from Holytown in North Lanarkshire, was also ordained during the special service on Thursday evening.
Speaking about her new role, Ms Ableitner said she'd been particularly drawn to the parish because "they're a really strong church family".
"They're very community focused and they have great outreach. They help each other, they use one another's gifts, and they're strong on youth work," she said.
"For me I'll be able to walk with them, being a servant-leader and discerning where God is in our midst.
"It's about me getting to know people, getting to know where God is already at work.
"I preached as sole nominee about the parable of the lost son - and I just love the image of Jesus with his arms wide open.
"He loves you just as you are."
For Ms Ableitner, a call to ministry was not something she thought about when younger.
"Growing up I wanted to be an actor and I was an extra in some TV shows and involved with the theatre," she explained.
"I studied design as I love art and from there I moved to New Zealand.
On returning to Scotland she eventually became the visual merchandising manager for Habitat in Glasgow.
However, Ms Ableitner had grown up in the Church and with parents who "absolutely led by example".
"It was clear they lived their lives putting their faith into action," she said.
"My Mum was a Sunday school teacher and my dad an elder in the church.
"My gran stayed with us and had Alzheimer's and I shared a bunk bed with her - she was on the bottom bunk."
After a while Ms Ableitner began to explore following where her faith was leading her.
"I'd felt the call to ministry but I thought how is this going to be possible?
"I was on my own and had a mortgage, had a car," she said.
"Then I got a phone call about a job doing office management which was four days a week with flexibility to work from home and it was for a company specialising on detecting cervical cancer early - which was what my mum passed away from.
"So I thought it was absolutely meant to be."
Ms Ableitner then studied for a theology degree at Highland Theological College as they were able to offer distanced learning.
"Before I entered ministry I used to be a very impatient person but I knew it would be a long process," she said.
"But God really instilled in me to just put one step in front of the other. To get out of the boat and completely put my trust in Him.
"It's turned my life around and it's just been the best thing that has ever happened to me."
Whilst a student minister, Ms Ableitner was even married at Bothwell Parish Church, whilst she was there on placement.

When her husband Eric who is originally from the United States, had to move to north-west Germany for work, Ms Ableitner was able to find a placement in the town of Bochum with an English speaking church.
Now also with toddler Frederick, who was born four days before lockdown last year, she is ready to begin the next chapter.
"My hope would be for discernment, to be a prayerful Church, a church that's always looking to God to direct our plans," she said.
"For His plans are always the best made ones."